8:00 PM ET, September 7, 2013
Michigan Stadium, Ann Arbor, MI
Top Performers
Passing: D. Gardner (MICH) - 294 YDS, 4 TD, 1 INT
Rushing: D. Gardner (MICH) - 13 CAR, 82 YDS, 1 TD
Receiving: J. Gallon (MICH) - 8 REC, 184 YDS, 3 TD
ANN ARBOR, Mich. -- When it was over, Michigan took one last swipe at Notre Dame before the Fighting Irish said goodbye to the Big House -- at least for a while.
Devin Gardner, wearing No. 98 to honor Michigan great Tom Harmon, threw four touchdown passes and ran for another score to lead the 17th-ranked Wolverines to a 41-30 win over the 14th-ranked Fighting Irish.
Rittenberg: Michigan Quiets The Echoes

Unlike in recent years, Devin Gardner and Michigan weathered the pressure and are focusing on bigger goals, Adam Rittenberg writes. Story
• Instant Analysis | Michigan blog
• Big Ten blog | Notre Dame blog
Soon after Gardner took the final snap, the "Chicken Dance" blared over the stadium sound system, and the Michigan fans who made up most of the NCAA-record crowd of 115,109 celebrated.
Michigan coach Brady Hoke said Notre Dame was "chickening out" of the series four months ago, drawing laughs at a luncheon. The Irish opted out of their contract with the Wolverines and made next year's game in South Bend, Ind., the last guaranteed matchup in a series that dates to 1887 and cancelling three previously scheduled games.
Hoke insisted he didn't tell his team that Irish coach Brian Kelly kicked off the week by saying the series was "a big regional game" even though it features teams with the top winning percentages in college football. Hoke would acknowledge, though, that he and his players were pretty fired up to face the Irish.
"There's certain games that you get very excited about," Hoke said.
Michigan has won four straight at home against the Irish.
That winning streak will stand for a while because the two storied programs won't play at the Big House again anytime soon.
The Irish likely will be among next year's opponents hoping Gardner doesn't return for his final season of eligibility.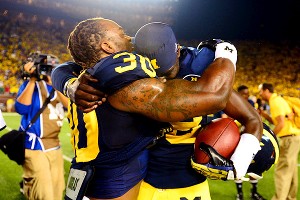 Andrew Weber/USA TODAY Sports
Devin Gardner (right) celebrates Saturday night's win with safety Thomas Gordon.
Gardner sealed the victory with a 4-yard TD pass to Drew Dileo with 4:18 left and ran for 14 yards to convert the final third down in the final seconds to set off a celebration.
Gardner was 21 of 33 for 294 yards. His one interception was costly, though. Trying to avoid a sack in the end zone, he flipped a pass to no one in particular that defensive end Stephon Tuitt came up with to give Notre Dame hope.
Gardner also ran 13 times for 82 yards and a score.
He traded in his No. 12 for a unique number for a quarterback these days, sporting No. 98 with a Michigan Football Legend patch. Harmon became Michigan's first Heisman Trophy winner in 1940.
"It's an amazing feeling to wear that number," Gardner said. "I knew about all the great things that he did on the field, but there are all the other things he did. He played two years of basketball, he fought for his country and he was a great human being. It's an honor to know that his family felt I deserved to wear that jersey."
The Wolverines (2-0) had a pair of 14-point leads, but the Fighting Irish (1-1) refused to be routed.
Notre Dame pulled within a TD early in the fourth quarter when Tuitt made a diving interception in the end zone -- a few snaps after the Irish turned the ball over on downs -- on a pass Gardner was trying to throw away to avoid a safety.
"I made a horrible decision," Gardner said. "But the defense gave me a place to stand. They told me they believed in me and I finished it."
No Luck For Irish
Brian Kelly is the fourth straight Notre Dame coach with a losing record at Michigan. Here's a look at how the last five have fared:
Coach
W-L
Brian Kelly
0-2
Charlie Weis
1-2
Tyrone Willingham
0-1
Bob Davie
0-2
Lou Holtz
3-1
-- All games since 1987
-- ESPN Stats & Information
Kyle Brindza made a 40-yard field goal with 9:15 left to pull Notre Dame within four points.
The Irish were called for pass interference twice -- once on a questionable call when Bennett Jackson intercepted Gardner's pass deep in Notre Dame territory -- on the ensuing drive and Gardner later took advantage by accounting for a fifth TD.
Tommy Rees threw a second interception with 1:29 left.
"We came up just short on some key plays," Kelly said.
Michigan's Jeremy Gallon had career highs with three TDs and 184 yards receiving.
"I can't even imagine having a game like this," he said. "My teammates made this happen, not me."
Fitzgerald Toussaint gave the Wolverines just enough of a running game, gaining 71 yards on 22 carries and he also turned a short pass into a 31-yard catch on the final scoring drive.
Rees was 29 of 51 for 314 yards with two TDs and two interceptions -- both to Blake Countess. The first pick helped Michigan take a 27-13 lead at halftime.
"I'd like to have that one throw right before the half back," Kelly said.
That was one of many passes Rees lamented.
"I take accountability for some of those throws and missed opportunities," Rees said.
TJ Jones had nine receptions for 94 yards and a TD. Amir Carlisle ran for 64 yards on 12 attempts for the Irish.
The attendance record beat the one set two years ago when the Wolverines beat Notre Dame 35-31 -- a game with three lead changes in the last 1:12 -- that captivated 114,804 at Michigan Stadium.
Photo Wire
ANN ARBOR, MI - SEPTEMBER 07: Head coach Brady Hoke of the Michigan Wolverines arrives prior to the game against...
(Photo by Gregory Shamus/Getty Images)
Top 25 Overview
It was over when... Michigan's Blake Countess intercepted a tipped pass in the end zone with 1:29 remaining in the game.
Gameball goes to... Jeremy Gallon had three touchdowns on eight receptions and his 184 yards were a career high.
Stat of the game... 4: Louis Nix III recorded just four tackles and not once did Notre Dame's stud defensive lineman get to Devin Gardner.
Team Stat Comparison
| | ND | MICH |
| --- | --- | --- |
| 1st Downs | 23 | 25 |
| Total Yards | 410 | 460 |
| Passing | 314 | 294 |
| Rushing | 96 | 166 |
| Penalties | 4-33 | 6-50 |
| 3rd Down Conversions | 8-15 | 6-12 |
| 4th Down Conversions | 0-2 | 0-0 |
| Turnovers | 2 | 1 |
| Possession | 25:56 | 34:04 |
Scoring Summary
FIRST QUARTER
ND
MICH
FG
09:00
Brendan Gibbons 44 Yd
0
3
TD
05:35
Jeremy Gallon 61 Yd Pass From Devin Gardner (Brendan Gibbons Kick)
0
10
TD
02:01
TJ Jones 4 Yd Pass From Tommy Rees (Kyle Brindza Kick)
7
10
SECOND QUARTER
ND
MICH
FG
14:05
Kyle Brindza 44 Yd
10
10
TD
08:43
Devin Gardner 2 Yd Run (Brendan Gibbons Kick)
10
17
FG
05:49
Kyle Brindza 24 Yd
13
17
FG
01:56
Brendan Gibbons 38 Yd
13
20
TD
01:09
Jeremy Gallon 12 Yd Pass From Devin Gardner (Brendan Gibbons Kick)
13
27
THIRD QUARTER
ND
MICH
TD
04:55
Troy Niklas 20 Yd Pass From Tommy Rees (Kyle Brindza Kick)
20
27
TD
01:54
Jeremy Gallon 13 Yd Pass From Devin Gardner (Brendan Gibbons Kick)
20
34
FOURTH QUARTER
ND
MICH
TD
12:06
Stephon Tuitt 0 Yd Interception Return (Kyle Brindza Kick)
27
34
FG
09:15
Kyle Brindza 40 Yd
30
34
TD
04:18
Drew Dileo 4 Yd Pass From Devin Gardner (Brendan Gibbons Kick)
30
41
Research Notes
NEXT LEVEL:
Devin Gardner
made the Fighting Irish pay when they brought four or fewer pass rushers, completing more than 80% of passes against a standard pass rush. His go-to receiver was
Jeremy Gallon
, who had 143 of his career-high 184 yards in those situations. When the Irish did blitz, Gardner committed his only turnover of the game and completed less than 50% of his passes.
[+]
NEXT LEVEL: Michigan scored a touchdown on all four of its red-zone trips on Saturday, with
Devin Gardner
accounting for every score. The Wolverines have scored a touchdown on 23-of-27 red-zone trips with Gardner at quarterback in his seven career starts. Gardner has accounted for 19 of those touchdowns, and has not committing a single turnover.
[+]
Brendan Gibbons
has now made 15 straight field goals, setting the Michigan record for consecutive FG made. Previous record was 14 set by Remy Hamilton in 1996.
NEXT LEVEL: After completing 56% of his passes thrown 15 yards or longer last week against Temple,
Tommy Rees
struggled on such throws Saturday against Michigan. Rees barely completed 30% of such throws against Michigan, including going 0-for-5 in second half.
[+]
Stephen Tuitt's 0-yard interception return touchdown was rare. There have been four 0-yard interception return touchdowns in the last 10 seasons with the most recent before Saturday recorded by UCLA's Akeem Ayers against Oregon in 2009.
[+]
Michigan and Notre Dame is a rivalry that dates back to 1887, just 2 years after the first gas automobile was developed. It's also the same year that Hall of Fame hurler Walter Johnson was born, and that first meeting happened 2 years before the Eiffel Tower opened. Idaho was also 3 years away from being named a state.
[+]
ESPN Stats & Information