12:00 PM ET, October 12, 2013
Top Performers
Passing: C. McCoy (TEX) - 190 YDS, 2 TD, 1 INT
Rushing: J. Gray (TEX) - 29 CAR, 123 YDS
Receiving: M. Johnson (TEX) - 1 REC, 59 YDS, 1 TD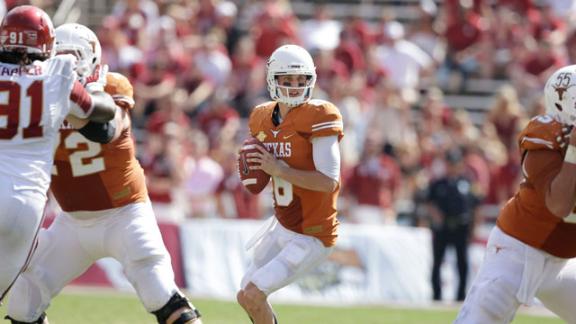 Texas Lands Haymaker on Sooners, Beats OU 36-20
The Longhorns are now undefeated in the Big 12 (3-0) heading into a bye week.
Texas Lands Haymaker on Sooners, Beats OU 36-20
VIDEO PLAYLIST
DALLAS -- Mack Brown stood with his players in front of the Texas band cherishing a victory over Oklahoma in the Red River Rivalry that few outside of Austin expected.
After the coach accepted the Golden Hat trophy that came with their 36-20 win Saturday over the 12th-ranked Sooners, Case McCoy and these Texas seniors especially enjoyed passing around the prize and taking turns putting it atop their heads for the first time.
"I didn't think I was very emotional at all. I thought I did a great, great job," Brown said. "Besides that, you all wanted me to be more emotional than I was in the past. I had 97 cameras in my face. ... I thought I was appropriately really happy."
More from ESPN.com

Texas' win over Oklahoma gives both the Longhorns and the much-maligned Mack Brown a chance to survive, Mark Schlabach writes. Story
• Sooners Big 12 hopes dwindling • Longhorns shows up | Recruits react

• Rough for ranked teams | Big 12 blog

McCoy threw two touchdowns, 295-pound defensive tackle Chris Whaley returned an interception 31 yards for a score and the Longhorns (4-2, 3-0 Big 12) ended Oklahoma's three-game winning streak in the rivalry to give Brown at least a temporary reprieve from all the gloomy talk about his future with the Longhorns.
Brown insisted this victory was special for what it was -- finally a win for this senior group over Oklahoma, a 3-0 start in Big 12 play and the possibility of a league title and BCS game still in their future.
"You shouldn't leave this school without beating Oklahoma. You need to do that," Brown said. "This thing goes in streaks. And I guess we've won five of the last nine now. For you that's counting."
As for those speculating about his future, Brown insists that he does his best to ignore that. So do his players.
"It's wasn't something we talked about," said Jackson Jeffcoat, the senior defensive end who had two sacks. "We know every game is important for coach Brown."
The 154 victories for Brown in his 16 seasons at Texas are second most in school history behind Darrell Royal. They also match coach Bob Stoops' win total in 15 seasons with the Sooners. The head-to-head record for the only active Big 12 coaches who have won national championships is now Stoops 9, Brown 6.
Texas, a two-touchdown underdog, never trailed after the impressive rumble late in the first quarter by converted running back Whaley and went on to a double-digit win of its own. There was also an 85-yard punt return for a touchdown by Daje Johnson in the third quarter after Oklahoma had gotten within 23-13.
Rare Blowout Win For Texas
Despite not being ranked, Texas rolled to a 16-point win over No. 12 Oklahoma on Saturday. It was the Longhorns' third-largest victory as an unranked team against an opponent inside the top 15.
Texas' Largest Wins as Unranked Team vs. Top-15 Opponent
Year
Opponent
Margin
1949
Baylor
20-0
1957
Arkansas
17-0
2013
Oklahoma
36-20
1955
Texas A&M
21-6
-- ESPN Stats & Information
The Sooners (5-1, 2-1) had won the last two games in the series by a combined score of 118-38, but came out with their 10-game Big 12 winning streak snapped.
"Those are always difference makers in this game. And they were a big part of the game today," Oklahoma coach Bob Stoops said of Texas' first two non-offensive TDs this season. "They made some big pass plays that were big plays in the game, and we didn't have hardly any big plays that way offensively. In each part of the game I thought they outplayed us."
Texas had two 100-yard rushers in Johnathan Gray (29 carries for 123 yards) and Malcolm Brown (23 carries for 120 yards).
With David Ash still out because of lingering concussion symptoms, McCoy got his second Red River Rivalry start. And McCoy didn't get shut out in the series. Older brother Colt led the Longhorns to three wins over Oklahoma and a BCS national championship appearance four seasons ago.
McCoy completed 13 of 21 passes for 190 yards with an interception, which defensive lineman Geneo Grissom returned 54 yards for a score in the fourth quarter for OU.
McCoy threw a 59-yard TD to Marcus Johnson in the second quarter and a 38-yarder in the third quarter to Mike Davis, the receiver reprimanded by the Big 12 but not suspended for his cheap shot against an Iowa State defender in Texas' previous game.
"We hear a great speech before the game about stepping up to the challenge and overcoming something, that we've been put to the challenge of this game," said McCoy, who was sacked three times in his 2011 loss but threw two late TDs in last year's rout.
Since that championship game loss to Alabama after the 2009 season, Brown is 26-18, and now with his first victory over Oklahoma in that span.
A 1-2 start to this season with 19 returning starters had put Brown in a precarious spot, changing his defensive coordinator in season and having to answer questions about how much longer he would be Texas' coach.
Things felt much better this second Saturday in October for the Longhorns, evident by the early-exiting crowd from the crimson side of the stadium that missed Grissom reaching up in front of McCoy for the pick.
Texas led in the series for the first time since 2009 on Antony Fera's 31-yard field goal to end the opening drive, on which the Longhorns converted three third downs. Fera later had kicks of 50 and 43 yards, the last on the final play of the first half for a 23-10 lead.
The Sooners got even on Michael Hunnicutt's 34-yard field goal on their first possession. They could have been ahead if Brennan Clay hadn't let a pass go through his hands in the end zone, a play that had Blake Bell putting both heads on his helmet.
Bell ran for four TDs in the Sooners' 63-21 victory last year. This time, as the Oklahoma starter instead of the short-yardage run specialist, he was sacked four times and had minus-27 yards on seven carries. Bell completed 12 of 26 passes for 133 yards with two interceptions.
"Well, he needs support," Stoops said. "In some areas our protection broke down. Give them credit. They beat us in protections, they covered us."
And finally took back the Golden Hat.
Photo Wire
DALLAS, TX - OCTOBER 12: Head coach Mack Brown of the Texas Longhorns arrives at Cotton Bowl as the Longhorns...
(Photo by Tom Pennington/Getty Images)
Top 25 Overview
It was over when... Jackson Jeffcoat sacked Blake Bell on fourth-and-13 with just over five minutes left, ending the Sooners' attempt to make it a one-possession game.
Gameball goes to... Johnathan Gray and Malcolm Brown. Neither RB reached the end zone, but they gave Texas balance offensively, combining for 243 yards on 52 carries.
Stat of the game... 23-10. Texas was outscored 70-12 in the first half during its last two meetings against OU but entered halftime Saturday with a 13-point lead.
Team Stat Comparison
| | OKLA | TEX |
| --- | --- | --- |
| 1st Downs | 13 | 24 |
| Total Yards | 263 | 445 |
| Passing | 133 | 190 |
| Rushing | 130 | 255 |
| Penalties | 8-63 | 3-15 |
| 3rd Down Conversions | 2-13 | 13-20 |
| 4th Down Conversions | 0-1 | 0-1 |
| Turnovers | 2 | 2 |
| Possession | 24:45 | 35:15 |
Scoring Summary
FIRST QUARTER
OKLA
TEX
FG
10:13
Anthony Fera 31 Yd
0
3
FG
06:53
Michael Hunnicutt 34 Yd
3
3
TD
02:29
Chris Whaley 31 Yd Interception Return (Anthony Fera Kick)
3
10
SECOND QUARTER
OKLA
TEX
TD
08:46
Marcus Johnson 59 Yd Pass From Case McCoy (Anthony Fera Kick)
3
17
FG
03:22
Anthony Fera 50 Yd
3
20
TD
01:06
Damien Williams 3 Yd Run (Michael Hunnicutt Kick)
10
20
FG
00:00
Anthony Fera 43 Yd
10
23
THIRD QUARTER
OKLA
TEX
FG
11:08
Michael Hunnicutt 37 Yd
13
23
TD
07:22
Daje Johnson 85 Yd Punt Return (Pat Blocked)
13
29
TD
00:21
Mike Davis 38 Yd Pass From Case McCoy (Anthony Fera Kick)
13
36
FOURTH QUARTER
OKLA
TEX
TD
10:07
Geneo Grissom 54 Yd Interception Return (Michael Hunnicutt Kick)
20
36
Research Notes
Texas had an INT return TD (
Chris Whaley
) and a punt return TD (
Daje Johnson
) in today's win over Oklahoma... The Horns hadn't done that in a single game since 2009 vs Colorado when Jordan Shipley returned a punt for a score and Earl Thomas had a pick-6.
Chris Whaley
's INT return TD was the 1st by Texas since 2012 vs Oklahoma. In that game, Landry Jones was picked off by
Carrington Byndom
who returned it 28 yards for a score.
ESPN Stats & Information