8:00 PM ET, December 7, 2013
Top Performers
Passing: J. Winston (FSU) - 330 YDS, 3 TD, 2 INT
Rushing: D. Freeman (FSU) - 18 CAR, 91 YDS, 1 TD
Receiving: K. Benjamin (FSU) - 5 REC, 119 YDS, 2 TD
Jameis Winston (4 total TDs) helps No. 1 FSU to 2nd straight ACC title
CHARLOTTE, N.C. -- Jameis Winston and No. 1 Florida State made it look easy again.
The Seminoles are headed to the VIZIO BCS National Championship after one of the most dominant regular seasons in college football history.
"This whole week has been very high emotion," Winston said. "We wanted to win this championship so bad. We were looking forward to having an undefeated season."
More from ESPN.com

Florida State quarterback Jameis Winston wasn't at his best Saturday, but came away with the win for the Seminoles after his name was cleared from a sexual assault investigation, writes David Hale. Story
---

Florida State has been building toward this moment for some time and now finally gets a chance to play for college football's crown, writes Andrea Adelson. Story
---

Auburn got more good fortune Saturday, pounding Missouri while Ohio State suffered its first loss under Urban Meyer, writes Mark Schlabach. Story
Two days after prosecutors decided not to press charges against him in a sexual assault case, the 19-year-old redshirt freshman threw three touchdown passes and ran for a score, and Florida State stormed into the title game with a 45-7 victory over No. 20 Duke on Saturday night in the ACC championship game.
The Seminoles (13-0) are expected to face No. 3 Auburn in Pasadena, Calif., on Jan. 6 after No. 2 Ohio State lost to Michigan State.
The Heisman Trophy favorite was 19 of 32 for 330 yards and set FBS freshman records for TD passes (38) and yards passing (3,820) in a season.
Winston threw two touchdown passes to 6-foot-5, 234-pound receiver Kelvin Benjamin and ran for a 17-yard score to overcome two interceptions.
"The football field is our sanctuary," Winston said. "Every time I stepped on the field, every time we stepped on that field, everything that happened outside of our family, it was just zoned out."
As Queen's "We Are the Champions" was playing as a backdrop on the celebration, Seminoles coach Jimbo Fisher said: "We're not champs yet."
Florida State's defense was dominant, holding Duke (10-3) to 239 yards and forcing three turnovers to help the Seminoles win their second straight ACC title. The Blue Devils had eight possessions in the first half and failed to pick up a first down on seven of them.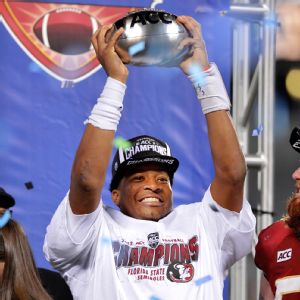 Bob Donnan/USA TODAY Sports
Freshman quarterback Jameis Winston hoists the ACC championship trophy into the air after accounting for four TDs in the Seminoles' rout of Duke on Saturday night.
"Offensively we were out of sync early," Fisher said. "Our defense was the key tonight and they were absolutely outstanding."
It was Florida State's 12th win by at least 27 points. The Seminoles entered as 29-point favorites after outscoring its opponents by an average of 43 points.
Florida State outgained Duke 569-239.
Winston struggled early with overthrowing receivers and the Seminoles failed to score in the first quarter for the first time this season.
Florida State's first scoring opportunity ended when Devonta Freeman coughed up the ball at the Duke 3 following a 22-yard run.
But it wouldn't matter.
Florida State slowly took charge in the second quarter and built a 17-0 halftime lead behind a stifling defense.
Winston got the Seminoles on the board early in the second quarter when he found Benjamin for a 14-yard touchdown pass in the left corner of the end zone. Karlos Williams bowled over two defenders on a 12-yard touchdown inside run to make it 14-0 after Lamarcus Joyner intercepted Duke quarterback Anthony Boone's pass.
The Blue Devils simply couldn't move the ball in the first half and were held to 94 total yards.
Given enough chances, Winston finally made them pay.
No Stopping Noles
Florida State isn't just winning, it's winning big. Saturday night's 45-7 rout of Duke marked the 13th straight time the Seminoles have scored at least 35 points, the second-longest streak in major college football history:
Years
Team
Streak
2011-12
Oregon
15
2013
Florida State
13
2012-13
Baylor
13
2012-13
Texas A&M
13
2008
Oklahoma
13
1995-96
Nebraska
13
-- ESPN Stats & Information
"I don't know if we were demoralized," Duke coach David Cutcliffe said. "It's no fun, but we competed with them. We were on the field a little too much. You know going in that a big, strong quarterback that moves around well will extend plays, so you have to maintain your discipline in coverage -- and we did for the most part. But their defense does a good job of getting the other offense off the field, and unfortunately that worked well for them tonight."
The onslaught continued in the second half with Winston hooking up on a 54-yard touchdown reception with Benjamin, who showed he's not only big but can move too after blowing by defenders. He finished with 119 yards receiving.
Freeman ran for 91 yards and a touchdown and Williams had 59 yards on the ground.
Winston, a redshirt freshman and the game's MVP, was far from perfect.
He threw two interceptions and also made a bad decision on a shovel pass as he falling to the ground. The ball hit linebacker Kelby Brown in the hands, but he couldn't corral the ill-advised pass.
There was a heated moment midway through the fourth quarter when Winston took exception to what he felt was a late hit on the Blue Devils after he released a pass.
Duke's only points came with 1:01 left when Josh Snead scored on a 5-yard run.
SportsNation: BCS Championship

We will see a Florida State-Auburn BCS National Championship. Which team will win?
• Cast your votes!
Boone struggled all night for the Blue Devils and finished 20 of 40 passing for 138 yards with two interceptions and one fumble leading to 14 Florida State points.
Despite the rough night, his spirit wasn't broken.
"This has been one heck of a year and we'll definitely be back here next year, I promise you that," Boone said. "And we've still got a bowl game to win. That's still one of our big goals for the year. We went to a bowl game last year, got a taste of it, but this year we want to leave with a victory and finish this year 11-3."
Said Duke defensive end Kenny Anunike: "This doesn't define our season."
Game notes
Jamison Crowder
set a Duke single-season record in yards receiving in the first quarter. ... Florida State kicker Robert Aguayo set a new ACC record with 142 points on the season when he converted a 45-yard field goal late in the second quarter. ... Duke sophomore safety
Dwayne Norman
was flagged for targeting a receiver with his helmet and ejected in the fourth quarter. He will not be eligible to play in the first half of Duke's bowl game.
Photo Wire
CHARLOTTE, NC - DECEMBER 07: Quarterback Jameis Winston #5 of the Florida State Seminoles warms up before the ACC...
(Photo by Streeter Lecka/Getty Images)
Top 25 Overview
It was over when... The Seminoles followed a 17-point second quarter with a 21-point third to go up 38-0.
Gameball goes to... Who else but Seminoles QB Jameis Winston, who accounted for four TDs and 389 yards.
Stat of the game... 43.7. Average margin of victory for ACC champion Florida State, now 13-0.
Team Stat Comparison
| | DUKE | FSU |
| --- | --- | --- |
| 1st Downs | 15 | 31 |
| Total Yards | 239 | 569 |
| Passing | 140 | 330 |
| Rushing | 99 | 239 |
| Penalties | 3-32 | 6-65 |
| 3rd Down Conversions | 7-20 | 6-11 |
| 4th Down Conversions | 0-0 | 0-0 |
| Turnovers | 3 | 3 |
| Possession | 30:44 | 29:16 |
Scoring Summary
SECOND QUARTER
DUKE
FSU
TD
12:36
Kelvin Benjamin 14 Yd Pass From Jameis Winston (Roberto Aguayo Kick)
0
7
TD
03:37
Karlos Williams 12 Yd Run (Roberto Aguayo Kick)
0
14
FG
00:25
Roberto Aguayo 45 Yd
0
17
THIRD QUARTER
DUKE
FSU
TD
09:52
Kenny Shaw 11 Yd Pass From Jameis Winston (Roberto Aguayo Kick)
0
24
TD
06:31
Kelvin Benjamin 54 Yd Pass From Jameis Winston (Roberto Aguayo Kick)
0
31
TD
02:38
Jameis Winston 17 Yd Run (Roberto Aguayo Kick)
0
38
FOURTH QUARTER
DUKE
FSU
TD
07:25
Devonta Freeman 7 Yd Run (Roberto Aguayo Kick)
0
45
TD
01:01
Josh Snead 5 Yd Run (Ross Martin Kick)
7
45
Research Notes
It's been a while since Florida State even trailed in a game. The last FSU deficit came more than two months ago: Sept. 28 at Boston College. The Seminoles trailed that game up until 1:49 left in the second quarter, when
Chad Abram
caught a 10-yard TD pass to tie the game. Since then, Florida State has played 511:49 minutes of football and has been tied or had a lead the entire time.
Florida State had twice as many rushing yards on designed runs as Duke Saturday. Before Duke's final drive, the Blue Devils had 78 yards on designed runs, the same amount of rushing yards after contact that Florida State finished with.
[+]
Jameis Winston
completed 2-of-9 passes thrown 15 or more yards downfield in the first half Saturday. It was the most such incompletions for Winston in a half this season. In the second half, Winston completed three of his first four passes thrown 15-plus yards, including a 54-yard touchdown to
Kelvin Benjamin
.
[+]
Jameis Winston
(FSU): 4 1st quarter incompletions in his previous 4 games ... 5 1st quarter incompletions so far tonight.
ESPN Stats & Information