12:00 PM ET, August 30, 2014
Scott Stadium, Charlottesville, VA
Top Performers
Passing: M. Johns (UVA) - 154 YDS, 2 TD
Rushing: P. Perkins (UCLA) - 16 CAR, 80 YDS
Receiving: J. Payton (UCLA) - 8 REC, 98 YDS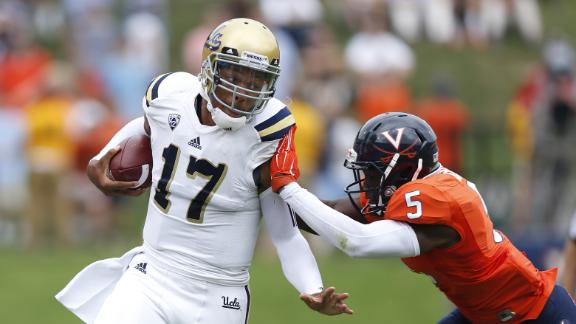 UCLA's Defense Overwhelms Virginia
UCLA scored three defensive touchdowns en route to a 28-20 win over Virginia.
UCLA's Defense Overwhelms Virginia
VIDEO PLAYLIST
CHARLOTTESVILLE, Va. -- Brett Hundley was all smiles, mostly because of his defense.
Seventh-ranked UCLA scored three defensive touchdowns in the second quarter Saturday and Hundley led them on a critical second-half scoring drive as the Bruins escaped Virginia 28-20 in the opener for both teams.
"Sometimes a game like this might be good to get our team understanding that every game we have to come with it," the quarterback said. "We have to understand what we train for and we have to do it. ... We have a lot of stuff to work on."
Hundley, widely regarded as one of the nation's top quarterbacks, was harassed all day by Virginia's pressure defense, which sacked him five times, and made the biggest play of the day for UCLA with his feet. It came on a 6-yard touchdown run late in the third quarter when safety Quin Blanding met him around the 3 yard-line, and Hundley overpowered him.
"Great players made plays when they need to be made," Bruins coach Jim Mora Jr. said.
That he only had to make one was thanks to the defense, which registered three scores for the first time since 1986.
"When you stop the run like we did and put the ball in the end zone three times, that's a pretty special day," Mora said.
The Cavaliers had a first down at the Bruins' 19 late in the game, but three running plays netted just two yards, and linebacker Myles Jack disrupted Matt Johns' fourth-and-8 pass to Doni Dowling.
The third-down run was Johns' fault, he said.
"I read the wrong line of my wristband," he said.
That Johns was even in the game was a surprise, but he came on to replace Greyson Lambert late in the first half, after the Bruins' third defensive touchdown gave them a 21-3 lead. Johns then led a touchdown drive and played the entire second half, creating questions about what had seemed to be a settled quarterback situation for Virginia.
Throughout the preseason, the development of Lambert as a player and a leader was touted by players and coaches as a great reason to be optimistic about the season. Then Johns outplayed him.
"Most of all, it's about players that can perform, and he rose to the occasion given his opportunity," Virginia coach Mike London said of Johns, a redshirt sophomore. "Like any other position, you have to perform."
The Bruins have no such problem behind center, and when he needed to, Hundley showed why.
UCLA led just 21-17 and had not scored an offensive touchdown when it took over at its 34 late in the third quarter.
Hundley completed passes of 15 yards to Eldridge Massington and 25 yards to Thomas Duarte on the 66-yard march, and capped it with the run up the middle, bulling over safety Blanding for the TD.
That made it 28-17, and all the momentum brought by Johns' play dissipated.
Johns put together his second touchdown march on Virginia's second drive of the second half. He kept it alive by hitting Dowling for 11 yards on a third-and-6, saw Kevin Parks run for 13 on a fourth-and-2 to the Bruins' 13, then hit Darius Jennings for 23 yards and the touchdown to make it 21-17.
The drive brought life back into the crowd of 44,479, the smallest for a Virginia opener since 1998, but after the teams exchanged possessions, Hundley put together the drive that proved the difference.
Lambert and the Cavaliers' defense were heralded as reasons for optimism, and while the defense was solid all day, Lambert didn't even make it to halftime. He had one passed tipped at the line and intercepted by Ishmael Adams, who returned it 20 yards for a touchdown, and another one that Eric Kendricks picked off and took 37 yards for a score. In between, Lambert hit Kyle Dockins for what appeared to be a third-down conversion in Bruins territory, but Dockins fumbled into the hands of Randall Goforth, who returned it 75 yards for a TD.
When Johns came on for the next series, he found Canaan Severin for 32 yards and Andre Levrone for 29 yards and the touchdown to make it 21-10.
Photo Wire
CHARLOTTESVILLE, VA - AUGUST 30: Ishmael Adams #1 of the UCLA Bruins celebrates after returning an interception...
(Photo by Joe Robbins/Getty Images)
Top 25 Overview
It was over when... When UCLA LB Myles Jack broke up a pass intended for Virginia's Doni Dowling with 3:20 left to play.
Gameball goes to... UCLA's D. The defense scored 3 TDs -- a pair of Pick-6's and a 75-yard fumble return for a score -- and carried UCLA to the win.
Stat of the game... 7. The number of offensive points UCLA scored. Reminder that UCLA ranked 20th in scoring offense last season.
Team Stat Comparison
| | UCLA | UVA |
| --- | --- | --- |
| 1st Downs | 16 | 17 |
| Total Yards | 358 | 386 |
| Passing | 242 | 266 |
| Rushing | 116 | 120 |
| Penalties | 12-87 | 4-20 |
| 3rd Down Conversions | 7-18 | 9-23 |
| 4th Down Conversions | 0-2 | 2-3 |
| Turnovers | 2 | 3 |
| Possession | 25:30 | 34:30 |
Scoring Summary
SECOND QUARTER
UCLA
UVA
TD
13:35
Ishmael Adams 20 Yd Interception Return (Ka'imi Fairbairn Kick)Watch Highlight
7
0
FG
8:35
Ian Frye 35 Yd Field Goal Watch Highlight
7
3
TD
2:55
Randall Goforth 75 Yd Fumble Return (Ka'imi Fairbairn Kick)Watch Highlight
14
3
TD
1:20
Eric Kendricks 37 Yd Interception Return (Ka'imi Fairbairn Kick)Watch Highlight
21
3
TD
0:52
Andre Levrone 29 Yd pass from Matt Johns (Ian Frye Kick)Watch Highlight
21
10
THIRD QUARTER
UCLA
UVA
TD
7:33
Darius Jennings 23 Yd pass from Matt Johns (Ian Frye Kick)Watch Highlight
21
17
TD
1:02
Brett Hundley 6 Yd Run (Ka'imi Fairbairn Kick)Watch Highlight
28
17
FOURTH QUARTER
UCLA
UVA
FG
6:47
Ian Frye 27 Yd Field Goal Watch Highlight
28
20
Research Notes
At No. 7, UCLA begins the year with its highest AP Preseason Poll ranking since 1998 (also 7th). That team, led by QB Cade McNown, began the year 10-0 and climbed to No. 2 in the nation before losing its final two games at Miami (FL) and against No. 9 Wisconsin in the Rose Bowl. The 1998 season remains the Bruins' last Pac-10/12 championship to date.
UCLA is the first team with three defensive TD in a 1st half since Cincinnati did it against Akron on September 17, 2011.
UCLA has just 7 points late in 2nd quarter. It was held under 10 points before halftime just one time all last season (a scoreless 1st half in eventual 24-10 loss at Stanford).
Virginia has lost four straight games against AP-ranked opponents since winning at No. 23 Florida State on Nov. 19, 2011. The Cavaliers haven't beaten a team ranked in the Top 10 since Oct. 15, 2005 against No. 4 Florida State (0-7 in such games since).
UCLA had 3 defensive touchdowns in the 2nd quarter today vs Virginia. The last team to have 3 defensive TD in a single quarter was East Carolina in 2009 against Tulsa (4th quarter).
ESPN Stats & Information