4:00 PM ET, August 30, 2014
Jordan-Hare Stadium, Auburn, AL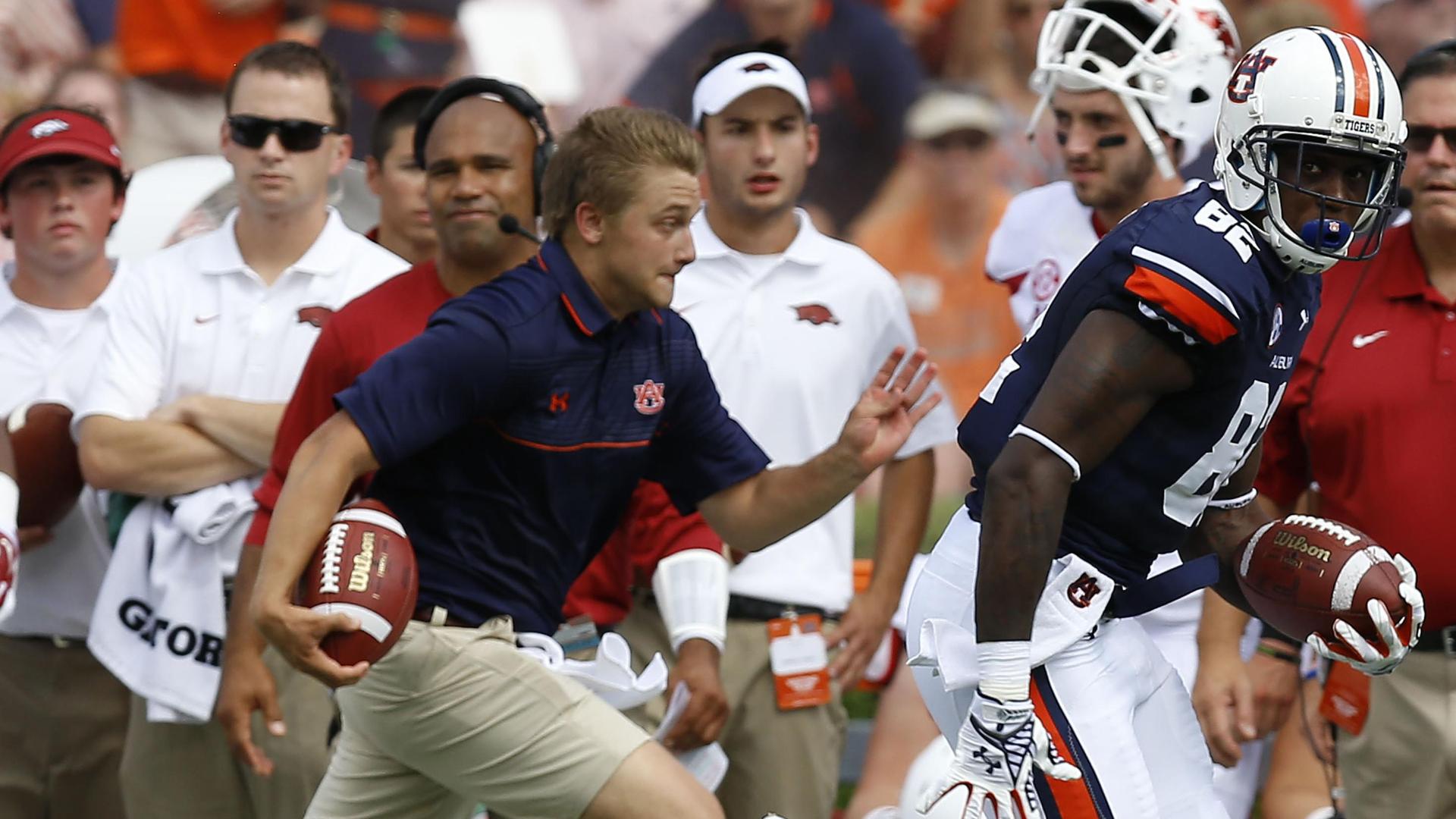 Ball Boy Turns On His Jets
The Auburn ball boy nearly beat Auburn wide receiver Melvin Ray in a footrace as Ray caught a 49-yard touchdown.
Ball Boy Turns On His Jets
VIDEO PLAYLIST
AUBURN, Ala. -- The Auburn offense didn't slow down a bit, even with Nick Marshall a spectator for half the game.
Jeremy Johnson passed for 243 yards and two touchdowns in the first half and Marshall returned from suspension with a 19-yard scoring run to lift No. 6 Auburn to a 45-21 opening victory over Arkansas on Saturday. Plus, Cameron Artis-Payne and junior college transfer D'haquille Williams had huge games.
Johnson supplied the big passing numbers but the Tigers seemed to get a spark when the Heisman Trophy candidate Marshall came in after the half.
More from ESPN.com

It was a tale of two halves in No. 6 Auburn's matchup with Arkansas, both with their quarterbacks and with their defense. Story
"Nick's our leader," coach Gus Malzahn said, adding that Marshall remains the starter. "All our players respond to him but overall I thought the key in the second half was our defense really stepping up."
The Tigers scored the final 24 points after the Razorbacks managed to force a halftime deadlock. The game was delayed 1 hour, 28 minutes due to lightning in the area during the fourth quarter and Auburn added one more touchdown after that.
Marshall, who led Auburn to the SEC title last season and the national championship game, served the punishment for getting ticketed in July for possession of a small amount of marijuana. The much-hyped Williams supplied the most electrifying performance with nine catches for 154 yards in his debut, including a 62-yard bomb and an 18-yard touchdown from Johnson.
"I didn't even know that I was going to play the full half," Johnson said. "That's just how the game went."
Artis-Payne rushed for a career-high 177 yards and a touchdown on 26 carries after replacing Heisman Trophy finalist Tre Mason. Jermaine Whitehead returned an interception off Brandon Allen 33 yards for a touchdown.
Allen completed 18 of 31 passes for 175 yards and two touchdowns, five days after his truck was burned early Monday morning. Alex Collins ran for 68 yards on 10 carries.
"We got the rhythm rolling in the first half, but could not keep things moving forward in the second half," Allen said.
Auburn outgained the Razorbacks 595-328, allowing just 61 yards in the second half after a shaky start defensively. It was the sixth-most yards Auburn has gained against an SEC team.
The Tigers, who led the nation in rushing last season, gained 302 yards on the ground after managing just 68 by halftime.
"Overall, obviously, two quarters of football we can live with, and two that we can't," Arkansas coach Bret Bielema said.
Marshall watched from the sidelines until warming up on an exercise bike before going into the game. His touchdown run was the only time Arkansas gave him room to run. He was just 4-of-6 passing for 50 yards while gaining 19 yards on eight carries, counting a sack.
Marshall darted up the middle for a touchdown after coming into the game to start the second half, giving the Tigers a 28-21 lead. He also had a 28-yard third-down completion to a leaping Melvin Ray, who made a one-handed grab.
Arkansas stopped Auburn on the next two drives to stay within striking distance. Then Robenson Therezie hit Allen as he threw to force a badly underthrown ball. Whitehead picked it off and raced for the end zone.
Therezie had been cleared to play Friday night after unspecified questions about his eligibility.
Before that play, Allen had been mostly holding his own after struggling most of last season with shoulder problems. He led the Razorbacks back from a 21-7 deficit with two second quarter touchdown drives. Jonathan Williams' 6-yard run capped a 93-yard march and tied the game at 21-21 with 4:28 left.
"I think the big swing was when BA got hit as he was throwing the ball there," Bielema said. "I thought he played a pretty clean game, was on his reads, on his routes."
Johnson completed his first eight passes. He threw for a 49-yard touchdown to Ray, a former minor league baseball player, and an 18-yarder to Williams.
"We've said before that we feel like he could start for most teams in college," Malzahn said. "I think everybody saw that (Saturday)."
Photo Wire
AUBURN, AL - AUGUST 30: Wide receiver Melvin Ray #82 of the Auburn Tigers scores a first quarter touchdown during...
(Photo by Mike Zarrilli/Getty Images)
Top 25 Overview
It was over when... Auburn and Arkansas went back and forth through the first three quarters until a Jermaine Whitehead pick-six put the Tigers up by two TDs.
Gameball goes to... Auburn's one-two rushing punch of Cameron Artis-Payne and Corey Grant pounded the Razorbacks for 264 yards and two scores.
Stat of the game... Auburn rushed for only 68 yards in the first half but finished with 302. It outgained Arkansas 595 to 328 total yards.
Team Stat Comparison
| | ARK | AUB |
| --- | --- | --- |
| 1st Downs | 20 | 27 |
| Total Yards | 328 | 595 |
| Passing | 175 | 293 |
| Rushing | 153 | 302 |
| Penalties | 4-40 | 7-71 |
| 3rd Down Conversions | 2-11 | 9-14 |
| 4th Down Conversions | 0-1 | 0-0 |
| Turnovers | 1 | 1 |
| Possession | 27:17 | 32:43 |
Scoring Summary
FIRST QUARTER
ARK
AUB
TD
9:37
Melvin Ray 49 Yd pass from Jeremy Johnson (Daniel Carlson Kick)Watch Highlight
0
7
TD
6:44
Hunter Henry 14 Yd pass from Brandon Allen (John Henson Kick)Watch Highlight
7
7
TD
4:01
Cameron Artis-Payne 1 Yd Run (Daniel Carlson Kick)Watch Highlight
7
14
SECOND QUARTER
ARK
AUB
TD
13:20
D'haquille Williams 18 Yd pass from Jeremy Johnson (Daniel Carlson Kick)Watch Highlight
7
21
TD
11:06
AJ Derby 17 Yd pass from Brandon Allen (John Henson Kick)Watch Highlight
14
21
TD
4:28
Jonathan Williams 6 Yd Run (John Henson Kick)
21
21
THIRD QUARTER
ARK
AUB
TD
10:42
Nick Marshall 19 Yd Run (Daniel Carlson Kick)Watch Highlight
21
28
TD
2:39
Jermaine Whitehead 33 Yd Interception Return (Daniel Carlson Kick)Watch Highlight
21
35
FOURTH QUARTER
ARK
AUB
FG
9:55
Daniel Carlson 45 Yd Field Goal Watch Highlight
21
38
TD
3:15
Corey Grant 3 Yd Run (Daniel Carlson Kick)Watch Highlight
21
45
Research Notes
Jeremy Johnson
threw for 243 yards in the 1st half against Arkansas. He is the first Auburn player to throw for at least 200 yards in a half since Cam Newton in 2010.
This is the first time in the Bret Bielema era that Arkansas has NOT trailed at halftime in an SEC game. Arkansas went 0-8 in the SEC last season.
The Tigers led the nation in rushing last season, and a big reason why was
Nick Marshall
. He was one of only 5 quarterbacks to rush for over 1,000 yards. He was 5th among signal callers with 6.2 yards per rush.
ESPN Stats & Information