Coverage: ESPN/WatchESPN
12:00 PM ET, March 30, 2014
KFC Yum! Center, Louisville, Kentucky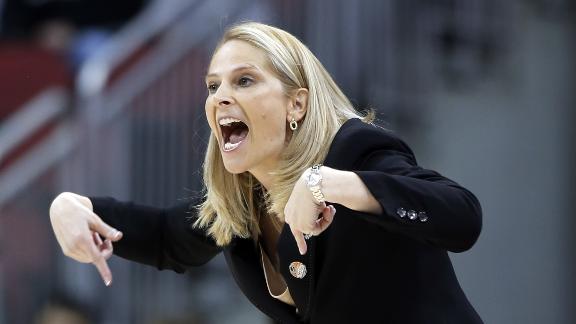 Maryland, Louisville Advance
Dave O'Brien and Doris Burke recap Maryland and Louisville's Sweet 16 wins and look ahead to their matchup in the Elite Eight of the women's NCAA tournament.
Maryland, Louisville Advance
VIDEO PLAYLIST
LOUISVILLE, Ky. -- Maryland coach Brenda Frese wanted her Terrapins to send a reminder that they're still playing, too. They did just that by sending home an eight-time national champion and putting themselves a win away from a Final Four.
Alyssa Thomas scored a career-high 33 points and grabbed 13 rebounds as fourth-seeded Maryland upset No. 1 seed Tennessee 73-62 on Sunday in the Louisville Region semifinal.
Maryland celebrated with a brief message on a board in the locker room: "THEY KNOW OUR NAME NOW!"
"Maybe people will start talking about Maryland and what Maryland's accomplished," Frese said. "We have a story too. We have tradition. I'm so proud of how these kids fought."
The Terrapins (27-6) reached their ninth regional final and first since 2012. They did it against a program the Terps had beaten only four times previously and never before in the NCAA tournament. Maryland improved to 5-10 against Tennessee (29-6) with a little revenge for their previous tournament loss in the 1989 Final Four.
Guard Katie Rutan said Frese fired them up before tipoff.
"No one has really been talking about us all year," Rutan said. "Just to come out and throw that punch, show them that we're here, we are Maryland and we are going down fighting no matter what. We're going to come out on top."
The Lady Vols' self-titled "GrindFor9" in their chase for a ninth national championship is over. They will miss the Final Four for a sixth straight season. This hurts even more with the national championship game being played April 8 in Nashville just 179 miles from their home in Knoxville.
"We're Tennessee, and we're not happy that we're not playing for a national championship," Tennessee coach Holly Warlick said. "That's in our DNA."
Thomas scored the most points allowed to a single player by Tennessee this season, and she also extended her school record with her 65th career double-double. Lexie Brown added 14 points, Laurin Mincy had 11 and Shatori Walker-Kimbrough 10. But Warlick said Thomas hurt them the most with Tennessee unable to find a way to stop her.
"She did just about everything she wanted to do," Warlick said.
Maryland will face Louisville on Tuesday night with a trip to the Final Four at stake. The Terps haven't been back there since winning the national championship in 2006, and they had lost earlier this season to UConn, Notre Dame and Duke. Brown credited those losses with helping them now.
"We have a lot to prove in this tournament and to get a big win over Tennessee is just giving us a lot more momentum going into our next game," Brown said.
Meighan Simmons scored 31 points for Tennessee.
Jasmine Jones also had 11 points for Tennessee, which had won 15 of its last 16 games. Andraya Carter covered her face with her jersey walking off the floor, while another Lady Vol walked off with a towel over her head. Cierra Burdick sat crying with a towel over her head after a loss that sophomore Baashara Graves called different from others.
"Just knowing that we're not going to make it to the Final Four is kind of heartbreaking," Graves said.
The Terrapins trailed only once at 3-2 before taking control for good using a 13-2 spurt. Maryland dominated inside with a 38-28 scoring edge in the paint, and the Terrapins also outrebounded Tennessee 38-28. The only place the Lady Vols dominated was at the free-throw line, hitting more there (20 of 27) than from the floor (19 of 53).
Maryland led 41-27 at halftime, the biggest deficit Tennessee had faced all season. The Lady Vols rallied from double digits in each of their games to win the Southeastern Conference tournament title, but they found themselves needing the biggest comeback for this program since Jan. 3, 2009, when they beat Rutgers after trailing by 23.
The Terrapins pushed their lead to as much as 18 when Thomas scored to put the Terrapins up 51-33 with 12:11 left. Tennessee finally put together its best stretch of the game but couldn't get closer than eight with Simmons scoring 17 in the second half trying to spark the rally. Each time the Lady Vols scored, Maryland, or rather Thomas, responded with bucket after bucket.
Copyright by STATS LLC and The Associated Press
Team Stat Comparison
| | MD | TENN |
| --- | --- | --- |
| Points | 73 | 62 |
| FG Made-Attempted | 27-70 (.386) | 19-53 (.358) |
| 3P Made-Attempted | 5-18 (.278) | 4-11 (.364) |
| FT Made-Attempted | 14-19 (.737) | 20-27 (.741) |
| Fouls (Tech/Flagrant) | 25 (0/0) | 18 (0/0) |
Game Leaders
| | MD | TENN |
| --- | --- | --- |
| Points | A. Thomas 33 | M. Simmons 31 |
| Rebounds | A. Thomas 13 | B. Graves 14 |
| Assists | A. Thomas 3 | A. Carter 3 |
| Steals | L. Brown 5 | A. Carter 2 |
Research Notes
Maryland scored 14 points off 14 Tennessee turnovers in the first half Sunday. That's more points that the Lady Vols allowed off turnovers in either of its first two NCAA Tournament games this season.
Maryland's Alyssa Thomas recorded her 27th double-double of the season Sunday, tied for second-most in Division I.
The SEC sent a field-high five teams to the Sweet 16, but only Texas A&M survived - and the Aggies reward is an Elite 8 matchup with 37-0 Connecticut.
[+]
ESPN Stats & Information