1:00 PM ET, September 23, 2012
FirstEnergy Stadium, Cleveland, OH
Top Performers
Passing: B. Weeden (CLE) - 237 YDS, 1 TD, 2 INT
Rushing: T. Choice (BUF) - 20 CAR, 91 YDS
Receiving: S. Johnson (BUF) - 7 REC, 61 YDS, 1 TD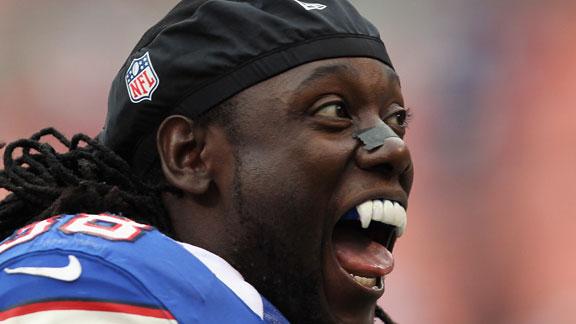 Sunday Blitz: Bills-Browns Recap
Sunday Blitz: Bills-Browns Recap
VIDEO PLAYLIST
C.J. Spiller came up big again, but solid defense, special teams and quarterback play also helped the Buffalo Bills break into the win column last week.
The Cleveland Browns are still looking for the right combination that will help them earn their first victory in nine games, which they'll try for Sunday against a Buffalo team looking to end an eight-game road slide.
After committing four turnovers and recording no sacks in a 48-28 road loss to the New York Jets a week earlier, the Bills (1-1) did not give the ball away and had five sacks in a 35-17 victory over Kansas City on Sunday.
"I think that's a great winning formula," said Buffalo's Ryan Fitzpatrick, who had two touchdowns and 178 passing yards after getting picked off three times in the opener. "Looking at what we did this offseason, that's something we wanted to do: limit turnovers. And you saw with the so many additions we made, we have a dominant defense, which I think we've got a good shot at doing that."
End Mario Williams feels the same way. He's still after his first sack in a Bills uniform, but he recovered a fumble last week that led to tight end Scott Chandler's 10-yard TD reception.
Buffalo forced three turnovers against the Chiefs and held them to 184 yards through three quarters.
"We had a sense of urgency. It was just different from the very beginning," Williams said. "We went out there and put it all on the line. Unfortunately, that didn't happen last week, but we have to build on this and continue."
The Bills can only hope Spiller can keep up his blistering pace with Fred Jackson likely out a few more weeks with a sprained knee ligament.
Spiller leads the NFL with 292 rushing yards and 364 yards from scrimmage after running for 123 and two scores Sunday.
His 10.1 yards-per-carry average is the highest by a player with at least 25 carries through the first two games since Cleveland's Jim Brown averaged 11.3 to begin 1963.
"C.J.'s a stud. That kid can run," Bills center Eric Wood said.
Apparently, so can the Browns' Trent Richardson. Held to 39 yards on 19 carries in a 17-16 season-opening loss to Philadelphia, he ran 19 times for 109 yards and a TD in a 34-27 loss at Cincinnati last Sunday.
Richardson also had a 23-yard TD reception to become the first Browns rookie to rush for 100 yards and score on a run and a pass in the same game.
"I wouldn't call it a complete game. It's coming along," Richardson said. "We did a good job, but I think we can be even better."
Cleveland, winless since a 14-10 victory over Jacksonville on Nov. 20, needs rookie quarterback Brandon Weeden to keep making strides.
His 322-yard passing performance with two TDs last Sunday was definitely a step in the right direction after getting picked off four times and recording a 5.1 rating in Week 1.
"The running game definitely takes a lot of pressure off of me," Weeden said.
Fewer penalties could also help the Browns, as they committed 10 against the Bengals. Two of those were offsides calls on cornerback Dimitri Patterson, who was starting with Joe Haden serving a four-game suspension for violating the NFL's policy on performance-enhancing substances.
"The (penalties) that I don't like are the pre-snap ones, of course, that are correctable," coach Pat Shurmur said. "The ones involving effort and all that business, judgment of whether it was or wasn't (a penalty), you have to coach against making those types of errors."
Shurmur is also looking for better special teams play after Cleveland gave up an 81-yard punt return for a score in the opening minutes last week.
Buffalo's Leodis McKelvin leads the league with a 31.3 punt return average after returning one 88 yards for a TD versus Kansas City.
The Bills, whose last road victory was 41-7 over the Chiefs last Sept. 11, lost 8-0 on Dec. 16, 2007, in their last visit to Cleveland.
In the teams' most recent meeting, Buffalo ended a three-game skid in the series with a 13-6 win Dec. 12, 2010.
More from ESPN.com
Seahawks to host Packers in season opener
The Super Bowl champion Seattle Seahawks will open the 2014-15 NFL season against the Green Bay Packers on Thursday, Sept. 4.
Giants-Lions, Chargers-Cards to open MNF
ESPN's 2014 Monday Night Football slate will open in Detroit and Glendale, Ariz., for the season-opening Sept. 8 doubleheader as 26 of the league's 32 teams will make an appearance on MNF.
Ex-cheerleaders sue Bills for low pay, treatment
Five former Buffalo Bills cheerleaders on Tuesday sued the team over a pay system they say had them working hundreds of hours for free at games and at mandatory public appearances.
Bills' Marrone had cancerous mole removed
Buffalo Bills coach Doug Marrone says he has had a cancerous mole removed following a recent doctor's visit, and adds it will not have any effect on his ability to continue coaching.
Scouting Report
Bills-Browns: What to watch
After watching film of both teams, Scouts Inc. breaks down key elements of the Week 3 Bills-Browns matchup.
• Establish a physical ground attack: The Browns appear to have the advantage in setting the tempo in the trenches offensively. Trent Richardson had a big day between the tackles, averaging 5.7 yards per attempt in Week 2. They also have stretched the edges with Travis Benjamin and Josh Cribbs on sweeps. Buffalo has been exploited against the run, giving up an average of 134 yards early in the season. Look for Cleveland offensive coordinator Brad Childress to pound the rock to set up his young quarterback for success in the play-action game.
Matchup
BUF

CLE

W-L
2-1
0-3
Avg Points
29.0
19.0
Avg Points Allowed
26.3
25.0
Home Record
1-0
0-2
Road Record
1-1
0-1
Division Record
0-1
0-1
Conference Record
2-1
0-2
Complete Standings
Team Averages & NFL Ranks
TEAM OFFENSE
TEAM
PER GAME AVERAGE
Total Yards
BUF

343
CLE

314
Yards Passing
BUF

204
CLE

215
Yards Rushing
BUF

139
CLE

100
TEAM DEFENSE
TEAM
PER GAME AVERAGE
Yards Allowed
BUF

363
CLE

364
Pass Yds Allowed
BUF

217
CLE

245
Rush Yds Allowed
BUF

146
CLE

119
Head to Head Matchups (Since 2001)
Series tied 3-3
Dec 12, 2010
BUF 13, CLE 6
Oct 11, 2009
BUF 3, CLE 6
Nov 17, 2008
BUF 27, CLE 29
Dec 16, 2007
BUF 0, @CLE 8
Dec 12, 2004
BUF 37, CLE 7