1:00 PM ET, October 28, 2012
Ford Field, Detroit, MI
Top Performers
Passing: M. Stafford (DET) - 352 YDS, 3 TD, 1 INT
Rushing: M. Lynch (SEA) - 12 CAR, 105 YDS, 1 TD
Receiving: T. Young (DET) - 9 REC, 100 YDS, 2 TD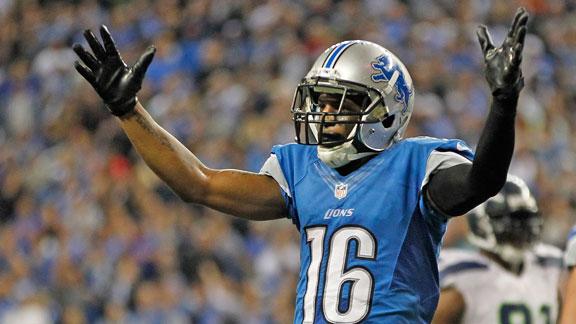 Sunday Blitz: Seahawks-Lions Recap
Sunday Blitz: Seahawks-Lions Recap
VIDEO PLAYLIST
History says a second straight trip to the postseason is highly unlikely for the Detroit Lions after multiple turnovers cost them a chance at a victory in their last contest.
Holding on to the ball has been particularly difficult for the Seattle Seahawks on the road.
After squandering countless offensive opportunities in their latest losses, the Lions and Seahawks will look to bounce back when they meet Sunday in the Motor City.
Detroit (2-4) sits at the bottom of the NFC North and committed three red-zone turnovers -- four overall -- in Monday night's 13-7 loss at Chicago. Only 18 of the 208 teams that started the season with the same record have made the playoffs, most recently accomplished by Tim Tebow-led Denver last season.
Matthew Stafford finished 28 of 46 for 263 yards and a late touchdown pass to Ryan Broyles -- just his fifth through six games after having 15 at the same point a year ago.
"Talk is cheap," Stafford said. "We can talk about taking care of the football. We can talk about making sure we're on the same page. We can talk about making plays, but we just have to go out there and do it.
"I'm glad it's a short week. I don't want to be sitting around thinking about this one too much longer."
The three giveaways inside the 20 gave Detroit an NFL-worst five red-zone turnovers. The Lions had three all of last season.
"If you face a tough opponent on the road, that's not a very good recipe to score," coach Jim Schwartz said.
Seattle is all too familiar with that sentiment, as nine of its 11 total giveaways have come while going 1/3 on the road. Russell Wilson threw a fourth-quarter interception in a 13-6 loss to San Francisco on Oct. 18 that kept the Seahawks (4-3) from taking over first place in the NFC West.
Despite coming away with points on 16 of their 18 trips to the red zone, Seattle has scored a TD only a third of the time -- the NFC's worst success rate.
"You've got to score touchdowns when you get in the red zone," fullback Michael Robinson said. "Three points just isn't going to do it."
Wilson finished 9 of 23 for 122 yards and went only 3 of 10 for 19 yards in the second half. He has led Seattle to victories in each of its three home games while throwing six touchdowns and zero interceptions with a 116.9 passer rating, but he's tossed seven picks with a 55.7 rating in his road starts.
Despite that clear discrepancy, coach Pete Carroll is confident his rookie quarterback will continue to improve -- though he won't have receiver Doug Baldwin (ankle) at Ford Field.
"We've noticed the numbers are quite a bit different there," Carroll said. "He's grown, he's corrected things, he's totally in control poise-wise. I think he can do special things. It's just going to take time.
"We're expecting him to have a great second half of the season."
Despite blowing a chance to turn the NFC North into a tight four-team race Monday, Detroit's ability to get in position to score certainly can be viewed as a positive as it hopes to make consecutive playoff appearances for the first time since a run of three straight from 1993-95.
Still, only one team in the highly competitive NFC has a worse record than the Lions.
"We have a lesser margin of error than we did (Monday)," Schwartz said. "We need to move on to the next one. ... We have to put it in a spot and move on to Seattle. We have a home game coming up and we're a team that needs a win."
The offense, though, will have to move ahead without former Seattle wide receiver Nate Burleson, who suffered a broken leg against Chicago. Calvin Johnson will look to bounce back after he was held to season lows of three catches and 34 yards on Monday.
Moving the ball likely won't be easy for either team Sunday. The Seahawks rank fifth in the league in total defense, allowing an average of 297.3 yards, while the Lions are eighth, giving up 319.3 per game.
Seattle has won three straight matchups, including a 32-20 victory in the most recent meeting Nov. 8, 2009, when Stafford threw a career-worst five interceptions at CenturyLink Field and Detroit blew a 17-0 lead.
More from ESPN.com
Lions launching Ford Field bowl, sources say
The Detroit Lions are expected to create and operate a new bowl game at Ford Field starting in 2014, which would eliminate the Little Caesars Pizza Bowl after this season, sources said Tuesday.
Seahawks' Avril has foot injury
New Seattle Seahawks defensive end Cliff Avril did not participate in the team's voluntary workouts Monday after suffering a plantar fascia injury in his foot about four weeks ago.
Seahawks could be fined for multiple bans
The Seattle Seahawks face a possible fine for multiple members of the team being suspended for violating the NFL's steroid and personal conduct policy, league spokesman Greg Aiello told NFL.com.
Lions' Johnson played with injured fingers
Detroit Lions receiver Calvin Johnson had a record-breaking night.
ESPN Local
Russell Wilson "million miles ahead" from rookie year, Pete Carroll says
Seattle Seahawks coach Pete Carroll is a little more excited than usual when talking about what his second-year quarterback Russell Wilson can do after a breakout rookie season. Talking to reporters after the Seahawks' first organized team activity of 20
Miami Dolphins Lose Out On Chance To Host Super Bowl
The Seattle Seahawks have made some big moves in the offseason and have addressed their needs on the defensive line in doing so. They used free agency to acquire defensive ends Cliff Avril and Michael Bennett and took advantage of a deep 2013 NFL Draft c
Irvin shorn, perhaps reborn after bad news
RENTON After his latest transgression, Seattle Seahawks defensive end Bruce Irvin is hitting the reset button. And part of that process was recently shaving his trademark dreadlocks into a closely cropped haircut before Seattle began its first organize
Detroit Lions starting bowl game featuring ACC and Big Ten opponents
04:22 PM ET 05.21 | The Detroit Lions of the NFL are prepared to make a foray into the world of college football. The Lions will put together a new bowl game for the 2014 season. It will feature a Big Ten team battling an ACC team on Ford Field. This cou
Detroit Lions' Reggie Bush bucking NFL trend of the three-year running back career
Heismen hype, controversy and questions as to whether he can be an every down back have contributed to the outside perception that Detroit Lions running back Reggie Bush has had a disappointing NFL career. Detroit Lions running back Reggie Bush has alway
Pizza Bowl could move to Comerica Park in 2014
With the Detroit Lions and Ford Field pursuing their own bowl game , the Little Caesars Bowl has to find its own landing spot  potentially at Comerica Park for the 2014 season. ÂItÂs my feeling that Mr. (Mike) Ilitch and Little Caesars would entertain t
Scouting Report
Seahawks-Lions: What to watch
After watching film of both teams, Scouts Inc. breaks down key elements of the Week 8 Seahawks-Lions matchup.
• Roll coverage to Megatron: Seattle has large, physical cornerbacks who can physically match up with most receivers in the league. As big as they are, Seattle's corners will still be giving up 2-3 inches to Calvin Johnson, so look for defensive coordinator Gus Bradley to roll coverage to provide help over the top on Johnson's side. The key will be how well the Seahawks can single cover on the backside, where Detroit will be missing its No. 2 receiver, Nate Burleson, who is out for the year.
Matchup
SEA

DET

W-L
4-4
3-4
Avg Points
17.5
23.0
Avg Points Allowed
16.8
24.9
Home Record
3-0
2-1
Road Record
1-4
1-3
Division Record
0-3
0-2
Conference Record
3-4
3-3
Complete Standings
Team Averages & NFL Ranks
TEAM OFFENSE
TEAM
PER GAME AVERAGE
Total Yards
SEA

351
DET

409
Yards Passing
SEA

189
DET

308
Yards Rushing
SEA

161
DET

101
TEAM DEFENSE
TEAM
PER GAME AVERAGE
Yards Allowed
SEA

306
DET

341
Pass Yds Allowed
SEA

203
DET

223
Rush Yds Allowed
SEA

103
DET

118
Head to Head Matchups (Since 2001)
Seattle leads 3-1
Nov 8, 2009
SEA 32, DET 20
Sep 10, 2006
SEA 9, @DET 6
Nov 16, 2003
SEA 35, DET 14
Research Notes
The Lions have made first contact with a rusher in the backfield on 25.5 percent of opponents rushes this season, the second-highest rate in the NFL.
Marshawn Lynch
has been first hit in the backfield on 8.2 percent of his rushes this season, third-lowest among players with 50 rushes.
Matthew Stafford
has faced four or fewer rushers on the highest percentage of dropbacks this season. Stafford has completed 61.3 percent of his throws against such pressure, compared to 68.3 percent against five or more.
[+]
ESPN Stats & Information