1:00 PM ET, November 25, 2012
Sun Life Stadium, Miami, FL
Top Performers
Passing: R. Tannehill (MIA) - 253 YDS, 1 TD, 1 INT
Rushing: R. Bush (MIA) - 14 CAR, 87 YDS, 1 TD
Receiving: D. Bess (MIA) - 7 REC, 129 YDS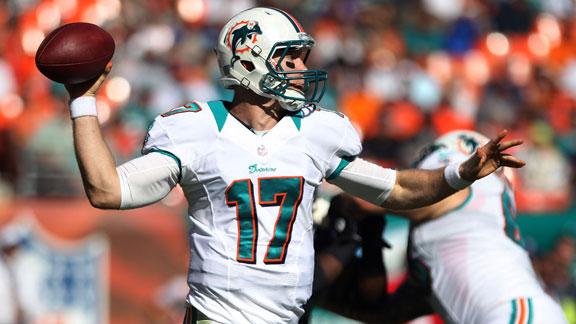 Sunday Blitz: Seahawks-Dolphins Recap
Sunday Blitz: Seahawks-Dolphins Recap
VIDEO PLAYLIST
The Seattle Seahawks have been one of the best home teams in the NFL. If they want to parlay their best start since 2007 into a playoff appearance, however, they'll likely need to play more consistently on the road.
They can start Sunday when they visit a Miami Dolphins team looking to avoid its fourth straight loss.
Seattle has won two in a row coming out of its bye and is 6-4 for the first time since its last 10-win season in 2007, but its 1-4 road mark leaves much to be desired. The road losses have come by a combined 21 points.
"Disappointed in the way we've played on the road that we didn't find a way to get a couple more of those wins," coach Pete Carroll said. "We've been in every one of them. We understand all of that.
"I think we're getting harder to beat."
The Seahawks' last two away games are against Chicago next week and Buffalo on Dec. 16.
Carroll gave his players the entire bye week off after a team meeting last Monday, but he and his staff are still trying to eliminate some deficiencies, one of them on defense.
Seattle ranks third in the league with 296.8 yards allowed per game, but opponents are converting 40.6 percent of their third downs. The Seahawks showed improvement in their last two games, holding Minnesota and New York to a combined five of 21 on third downs.
"For as good as we can play on defense at times to be at 40 percent, that's not good enough for us," Carroll said. "We need to knock that thing down."
The Dolphins (4-6) have numerous problems, having lost three in a row after looking like a possible playoff team through the first seven games. An ineffective running game and turnovers have been the biggest factors in the slide.
After Reggie Bush's hot start -- he ran for 241 yards the first two weeks -- the Dolphins haven't rushed for 100 in a game since September. Bush has averaged 3.0 yards per carry in his last six contests.
The Miami offense has accounted for one touchdown over the last 10 quarters.
"The running game hasn't been effective lately," guard Richie Incognito said. "That puts a lot of pressure on the rest of the offense. We know we have to get the running game going and execute better. It comes down to guys winning one-on-one blocks."
Ryan Tannehill has been at the center of the Dolphins' failure to take care of the ball. Miami has turned it over seven times in the last two games, five on Tannehill interceptions.
"It's really frustrating," said Tannehill, whose 70.8 passer rating ranks 30th in the league. "Especially with some of the success we had earlier in the year being able to move the ball."
A Miami run defense that suddenly appears vulnerable could be taken advantage of by Seattle's Marshawn Lynch. The Dolphins allowed 83.9 rushing yards per game through their first eight, but 148.5 in the last two.
Lynch is second in the NFL with 1,005 rushing yards and has reached the 100 mark in four consecutive games, including back-to-back season highs of 124 yards in the past two contests.
Seattle should be healthier after the bye, as 13 players were listed on the team's final injury report before their last game. Only guard James Carpenter was unable to practice Monday as he continues to undergo tests for a concussion suffered three weeks ago.
The Dolphins won the teams' last meeting in 2008 in Miami, 21-19.
More from ESPN.com
San Francisco, Houston win Super Bowl bids
The San Francisco Bay Area was awarded hosting rights to Super Bowl L in 2016, while Houston will host Super Bowl LI in 2017, commissioner Roger Goodell announced at the NFL's spring owners meetings in Boston on Tuesday.
Reilly: My top 20 NFL coaches
Rick Reilly submits his ballot for the top 20 coaches in NFL history. He lets you see whom he voted for and whom he didn't.
Seahawks' Avril has foot injury
New Seattle Seahawks defensive end Cliff Avril did not participate in the team's voluntary workouts Monday after suffering a plantar fascia injury in his foot about four weeks ago.
Falcons granted $200M loan for new stadium
The NFL will celebrate its 50th Super Bowl in northern California, where its newest, most high-tech venue is being built.
ESPN Local
QB Portis released by Seahawks after arrest
tool goes here Seattle Seahawks coach Pete Carroll indicated Monday that his team would ramp up efforts to hold players accountable for off-the-field issues. Carroll backed up that talk Tuesday when Seattle waived backup quarterback Josh Portis a day aft
Column: Play ball with Goodell and NFL _ or else
The NFL is free to twist arms, just like anybody else. So maybe it's just coincidence that all five of the new stadiums that will come on line during Roger Goodell's brief tenure as NFL commissioner have now been awarded Super Bowls. Or maybe not. Goodel
Column: Play ball with Goodell and NFL _ or else
Miami Dolphins owner Stephen Ross, right, reacts as South Florida bid chairman Rodney Barreto speaks during a news conference at the NFL spring meetings in Boston, Tuesday, May 21, 2013, discussing their unsuccessful bids to host the NFL's Super Bowls in
Bay Bowl: San Francisco to host 50th Super Bowl
BOSTON (AP) Build a new stadium, host the Super Bowl to show it off. The NFL rewarded the San Francisco Bay Area on Tuesday with hosting rights for the 2016 championship game, slotting the 50th Super Bowl in the 49ers high-tech Santa Clara stadium sch
Scouting Report
Seahawks-Dolphins: What to watch
After watching film of both teams, Scouts Inc. breaks down key elements of the Week 12 Seahawks-Dolphins matchup.
• Stop Lynch: The Dolphins are one of the hardest teams to run against in the league, but Seattle will not abandon its physical rushing attack that is led by Marshawn Lynch. Few backs can wear a defense down like Lynch. Max Unger has quietly been one of the best centers in the league and will have a stiff challenge against Paul Soliai in the run game. Miami linebacker Karlos Dansby has been quite impressive on the second level, especially against the run. Seattle's offensive line, which takes a lot of penalties, will have its hands full on the road.
Matchup
SEA

MIA

W-L
6-5
5-6
Avg Points
19.9
19.2
Avg Points Allowed
16.8
20.5
Home Record
5-0
3-2
Road Record
1-5
2-4
Division Record
0-3
1-2
Conference Record
4-4
3-5
Complete Standings
Team Averages & NFL Ranks
TEAM OFFENSE
TEAM
PER GAME AVERAGE
Total Yards
SEA

351
MIA

312
Yards Passing
SEA

189
MIA

199
Yards Rushing
SEA

161
MIA

113
TEAM DEFENSE
TEAM
PER GAME AVERAGE
Yards Allowed
SEA

306
MIA

357
Pass Yds Allowed
SEA

203
MIA

248
Rush Yds Allowed
SEA

103
MIA

108
Head to Head Matchups (Since 2001)
Miami leads 3-1
Nov 9, 2008
SEA 19, @MIA 21
Nov 21, 2004
SEA 24, MIA 17
Oct 28, 2001
SEA 20, MIA 24