1:00 PM ET, December 2, 2012
Sun Life Stadium, Miami, FL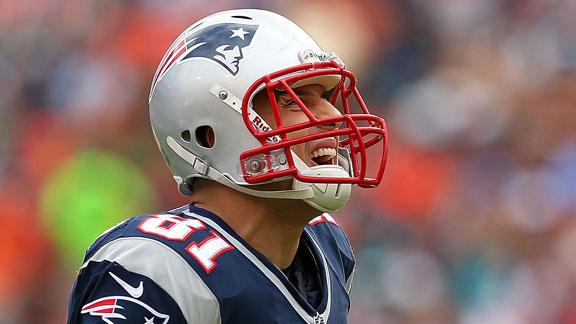 Sunday Blitz: Patriots-Dolphins Recap
Sunday Blitz: Patriots-Dolphins Recap
VIDEO PLAYLIST
The New England Patriots routinely dominate the AFC East, and this season is proving to be no different.
After their latest division victory turned into a laugher, the Patriots look to clinch their ninth East title in 10 seasons by beating the Miami Dolphins for a fifth consecutive time Sunday.
New England (8-3) is 28-6 in divisional play over the past six seasons, winning eight in a row since a loss at Buffalo in Week 3 of 2011.
The most lopsided victory in that recent stretch came on Thanksgiving with a 49-19 road rout of the New York Jets. The Patriots broke the game open by tying a franchise record with 35 points in the second quarter, including three touchdowns in a span of 52 seconds en route to their fifth win in a row.
Making it six straight would mean a fourth straight division title.
"That's huge," special teams captain Matthew Slater said. "We're really thankful as a team to be where we are right now, to have a chance to be in position to play for something else. But we realize that eight wins doesn't get us anything. That'll get us a ticket home at the end of the season."
That's not likely since with the Patriots have the NFL's best offense, averaging 435.8 yards and 37.0 points. They also play three of their remaining five games against teams with losing records -- two against the Dolphins and another against Jacksonville.
New England has been practically unstoppable during its winning streak, averaging 43.8 points with six of its staggering 28 touchdowns coming via the defense and special teams.
Tom Brady has been superb in that stretch, completing 64.4 percent of his passes for 1,454 yards with 14 touchdowns and no interceptions while compiling a 116.3 passer rating. He tossed three of those TDs last week, adding another on a 1-yard plunge.
"I think we've done some things well in the last couple of games," coach Bill Belichick said. "I don't think that really has any bearing on this game; different team, different matchups, different schemes. It's all different."
One area that's mattered all season is turnovers. The Patriots' offense has turned the ball over a league-low eight times, while the 32 created by the defense ranks only behind Chicago's 33. New England has forced 16 turnovers while giving it away twice during its winning streak.
"It's important to an offensive football team not turning the ball over," Brady said. "Whether that's myself throwing it or whether the back's carrying it or the receiver's carrying it. I think it all goes together. It's the whole offensive system. Every time we talk about what we want to do each week, it starts with 'no turnovers.'"
That's been the case during the Patriots' four-game winning streak against the Dolphins (5-6), as they're plus-7 in the turnover department. Brady has keyed that run by connecting on 65.7 percent of his passes for 1,173 yards with eight TDs and one INT.
The Dolphins are trying to return to .500 by building on last weekend's 24-21 win over Seattle. Rookie Ryan Tannehill brought Miami back in the fourth quarter by throwing a touchdown to Charles Clay with 5:13 left before Dan Carpenter hit a 43-yard field goal as time expired.
Despite the dramatics, Tannehill has two touchdowns compared to six interceptions over the past three games. He's aware those mistakes will need to stop if Miami is to compete with New England.
"They're an opportunistic defense," Tannehill said. "The focus this week -- as it is every week -- is to not have turnovers. In order for us to win that battle, we can't turn it over."
Tannehill should be helped by a rejuvenated running game that totaled 189 yards last week as Reggie Bush and Daniel Thomas reached the end zone. Miami hadn't managed a 100-yard game since gaining 185 in a 23-20 overtime loss to the Jets in Week 3.
The Dolphins are also trying to continue improving their run defense, which held the Seahawks to 96 yards after surrendering an average of 132.2 yards over the previous five games.
"It's important for us to be a good running football team, and a good defend-the-run team," coach Joe Philbin said.
Miami may find some success running the ball this week since the Patriots' Jermaine Cunningham will serve the first of a four-game suspension for violating the NFL's policy on performance-enhancing substances.
While New England has the division title in its sights, the Dolphins are only a game behind Pittsburgh and Cincinnati for the AFC's final playoff berth.
"Every game is a playoff game from now on out," Miami linebacker Kevin Burnett said. "Now is the time."
More from ESPN.com
Pats' Amendola building rapport with Brady
New England Patriots wide receiver Danny Amendola got a head start on his work with quarterback Tom Brady this offseason, as the two convened in Southern California to take part in workouts at USC.
Kraft: Positive reports on Gronk's surgery
One day after New England Patriots tight end Rob Gronkowski underwent a fourth surgery on his left forearm, team owner Robert Kraft said he has received positive reports from doctors.
San Francisco, Houston win Super Bowl bids
The San Francisco Bay Area was awarded hosting rights to Super Bowl L in 2016, while Houston will host Super Bowl LI in 2017, commissioner Roger Goodell announced at the NFL's spring owners meetings in Boston on Tuesday.
Reilly: My top 20 NFL coaches
Rick Reilly submits his ballot for the top 20 coaches in NFL history. He lets you see whom he voted for and whom he didn't.
ESPN Local
Column: Play ball with Goodell and NFL _ or else
The NFL is free to twist arms, just like anybody else. So maybe it's just coincidence that all five of the new stadiums that will come on line during Roger Goodell's brief tenure as NFL commissioner have now been awarded Super Bowls. Or maybe not. Goodel
Column: Play ball with Goodell and NFL _ or else
Miami Dolphins owner Stephen Ross, right, reacts as South Florida bid chairman Rodney Barreto speaks during a news conference at the NFL spring meetings in Boston, Tuesday, May 21, 2013, discussing their unsuccessful bids to host the NFL's Super Bowls in
Bay Bowl: San Francisco to host 50th Super Bowl
BOSTON (AP) Build a new stadium, host the Super Bowl to show it off. The NFL rewarded the San Francisco Bay Area on Tuesday with hosting rights for the 2016 championship game, slotting the 50th Super Bowl in the 49ers high-tech Santa Clara stadium sch
Scouting Report
Patriots-Dolphins: What to watch
After watching film of both teams, Scouts Inc. breaks down key elements of the Week 13 Patriots-Dolphins matchup.
• Stay balanced, Pats: New England is balanced this season with its offensive approach, which keeps opposing defenses guessing. Miami has been solid defending the run but inconsistent against the pass. Look for Patriots offensive coordinator Josh McDaniels to continue with a good mixture of runs and high-percentage passes on early downs while utilizing a variety of formations to get the best matchups when he wants to air it out.
Matchup
NE

MIA

W-L
9-3
5-7
Avg Points
35.8
18.9
Avg Points Allowed
21.7
20.8
Home Record
4-1
3-3
Road Record
5-2
2-4
Division Record
5-0
1-3
Conference Record
8-1
3-6
Complete Standings
Team Averages & NFL Ranks
TEAM OFFENSE
TEAM
PER GAME AVERAGE
Total Yards
NE

428
MIA

312
Yards Passing
NE

291
MIA

199
Yards Rushing
NE

137
MIA

113
TEAM DEFENSE
TEAM
PER GAME AVERAGE
Yards Allowed
NE

373
MIA

357
Pass Yds Allowed
NE

271
MIA

248
Rush Yds Allowed
NE

102
MIA

108
Head to Head Matchups (Since 2001)
New England leads 17-7
Dec 24, 2011
NE 27, MIA 24
Sep 12, 2011
NE 38, @MIA 24
Jan 2, 2011
NE 38, MIA 7
Oct 4, 2010
NE 41, @MIA 14
Dec 6, 2009
NE 21, @MIA 22
Nov 8, 2009
NE 27, MIA 17
Nov 23, 2008
NE 48, @MIA 28
Sep 21, 2008
NE 13, MIA 38
Dec 23, 2007
NE 28, MIA 7
Oct 21, 2007
NE 49, @MIA 28
Dec 10, 2006
NE 0, @MIA 21
Oct 8, 2006
NE 20, MIA 10
Jan 1, 2006
NE 26, MIA 28
Nov 13, 2005
NE 23, @MIA 16
Dec 20, 2004
NE 28, @MIA 29
Oct 10, 2004
NE 24, MIA 10
Dec 7, 2003
NE 12, MIA 0
Oct 19, 2003
NE 19, @MIA 13
Dec 29, 2002
NE 27, MIA 24
Oct 6, 2002
NE 13, @MIA 26
Dec 22, 2001
NE 20, MIA 13
Oct 7, 2001
NE 10, @MIA 30
Research Notes
Since acquiring
Aqib Talib
, the Patriots have rushed five or more at a higher rate (26.7 percent up from 15.0 percent) and have been more successful when doing so, holding opponents to a 56.5 completion percentage.
[+]
ESPN Stats & Information