8:20 PM ET, December 23, 2012
CenturyLink Field, Seattle, WA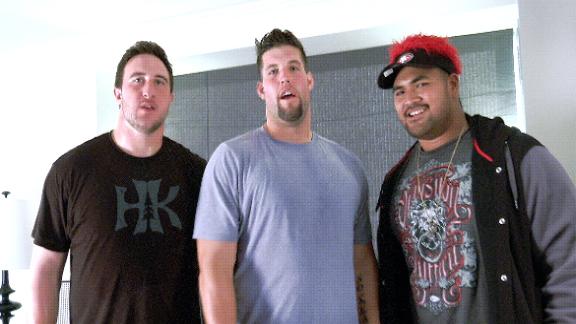 Techin' In with the 49ers O-Line
Katie Linendoll visits San Fran to talk tech and challenge the 49ers offensive linemen Joe Staley, Alex Boone and Mike Iupati to a dance-off in Just Dance 4
Techin' In with the 49ers O-Line
VIDEO PLAYLIST
Techin' In with the 49ers O-Line

Techin' In with the 49ers O-Line

Katie Linendoll visits San Fran to talk tech and challenge the 49ers offensive linemen Joe Staley, Alex Boone and Mike Iupati to a dance-off in Just Dance 4
The San Francisco 49ers need one win to clinch their second straight NFC West title.
Getting that done this week will mean doing something no other team has this season -- winning in Seattle.
The 49ers' top-ranked scoring defense could be in for a major test Sunday night when the high-scoring Seahawks will try to clinch their second playoff berth in three seasons and stay in the West race.
San Francisco (10-3-1) could have found itself in danger of letting the division lead slip away in Seattle after the Seahawks ripped Buffalo 50-17 at Toronto on Sunday, but instead turned in an impressive performance in their first of back-to-back prime-time contests. The 49ers built a 28-point lead at New England and hung on for a 41-34 win over the AFC East champs, clinching a playoff berth.
"Our team has now hung in in a lot of big-time pressure games," said coach Jim Harbaugh, whose team is in the driver's seat over 10-4 Green Bay for the NFC's No. 2 seed. "They've overcome adversity. They've shown they can do that."
The 49ers, though, have yet to show they can win three in a row this season, going 0-3-1 in their previous four chances. San Francisco has won four straight in this divisional matchup following a 13-6 victory on Oct. 18, but the Seahawks (9-5) are a much different team now with three consecutive wins and five in six games.
"The Seahawks are a hot team right now," 49ers quarterback Colin Kaepernick, who threw four TDs in Foxborough to earn NFC offensive player of the week honors, told the team's official website. "Their defense is playing great. Their offense is putting up points. So we have to be ready."
San Francisco's defense is the best in terms of points allowed (15.6 per game, one total point less than the Seahawks) and second in total yards (293.0), but Seattle's offense has been clicking lately. After setting a team record for points in a 58-0 win over Arizona on Dec. 9, the Seahawks became the first team in 62 years to score at least 50 points in consecutive weeks.
Their 108 points in those contests is tied for the third-most over a two-game stretch.
"We're definitely clicking well," said quarterback Russell Wilson, who ran for three scores and threw for another against the Bills. "I've been on a couple of teams that have scored that many in college. But to do it in the National Football League, I mean that's really tough to do."
No rookie QB since the 1970 merger had won his first six home games, but that's exactly what Wilson has accomplished.
Since he posted a season-low 38.7 passer rating in the loss at San Francisco, Wilson has completed 66.3 of his passes for 13 TDs with just two picks and a 111.3 rating.
Seattle is averaging 33.4 points in those contests -- second only to the Patriots' 41.3 during that stretch.
"I'm just thrilled that (Wilson's) been able to continue to grow," coach Pete Carroll said. "For a time, we were just trying to get the offense going and not screw it up and make sure he could keep growing.
"Well, we're past that now."
While Wilson and Marshawn Lynch -- who is 121 yards shy of becoming the third Seahawk back to reach 1,500 -- deserve much of the credit for Seattle's improved offense, the defense has been equally as impressive. This unit has allowed 14.2 points per game and forced 17 turnovers during this 5-1 run.
Seattle has been winning without cornerback Brandon Browner, who's served half of a four-game suspension for using performance-enhancing substances, but the news could get worse. Teammate Richard Sherman will have an appeal of the same suspension heard Friday, and if he loses it, he could also be forced to sit as soon as Sunday.
The Seahawks could also be without cornerbacks Walter Thurmond and Marcus Trufant, both of whom are nursing hamstring injuries. Should they be unable to go, Seattle would be down to rookie Jeremy Lane, Byron Maxwell and Ron Parker in the secondary.
Those absences figure to make it more difficult to keep 49ers wide receiver Michael Crabtree in check. Crabtree has 23 receptions for 301 yards and two TDs in the last three contests.
The 49ers rank second in the league with 162.9 yards per game on the ground, but leading rusher Frank Gore hasn't totaled 100 since running for a season-best 131 against Seattle.
If the Seahawks win, they'll still have a chance to win the West. Even with a loss, Seattle can clinch a playoff spot Sunday with losses by the Bears, Vikings and Redskins.
"It's a big division finish for us and we'll see how it goes," Carroll said.
"All we can do is focus on this game right here. We'll have no trouble focusing. They're a great team and coming home and all that it will be exciting to get ready."
San Francisco was the last visitor to win in Seattle with a 19-17 victory last Dec. 24.
Scouting Report
49ers-Seahawks: What to watch
After watching film of both teams, Scouts Inc. breaks down key elements of the Week 16 49ers-Seahawks matchup.
• Who runs the read option best? The Seahawks slashed the Buffalo Bills last week with their version of the read option. QB Russell Wilson scored on runs of 14, 25 and 13 yards, and Marshawn Lynch gashed the defense for 113 yards when Wilson handed the ball off. Both teams will rely on their athletic quarterbacks to move the game with their legs, making it more difficult for the defenses to key on stopping individuals.
Matchup
SF

SEA

W-L
10-4-1
10-5
Avg Points
24.7
26.1
Avg Points Allowed
17.3
15.5
Home Record
5-1-1
7-0
Road Record
5-3
3-5
Division Record
2-2-1
2-3
Conference Record
6-4-1
7-4
Complete Standings
Team Averages & NFL Ranks
TEAM OFFENSE
TEAM
PER GAME AVERAGE
Total Yards
SF

362
SEA

351
Yards Passing
SF

206
SEA

189
Yards Rushing
SF

156
SEA

161
TEAM DEFENSE
TEAM
PER GAME AVERAGE
Yards Allowed
SF

294
SEA

306
Pass Yds Allowed
SF

200
SEA

203
Rush Yds Allowed
SF

94
SEA

103
Head to Head Matchups (Since 2001)
Seattle leads 12-10
Oct 18, 2012
SF 13, SEA 6
Dec 24, 2011
SF 19, @SEA 17
Sep 11, 2011
SF 33, SEA 17
Dec 12, 2010
SF 40, SEA 21
Sep 12, 2010
SF 6, @SEA 31
Dec 6, 2009
SF 17, @SEA 20
Sep 20, 2009
SF 23, SEA 10
Oct 26, 2008
SF 13, SEA 34
Sep 14, 2008
SF 33, @SEA 30
Nov 12, 2007
SF 0, @SEA 24
Sep 30, 2007
SF 3, SEA 23
Dec 14, 2006
SF 24, @SEA 14
Nov 19, 2006
SF 20, SEA 14
Dec 11, 2005
SF 3, @SEA 41
Nov 20, 2005
SF 25, SEA 27
Nov 7, 2004
SF 27, SEA 42
Sep 26, 2004
SF 0, @SEA 34
Dec 27, 2003
SF 17, SEA 24
Oct 12, 2003
SF 19, @SEA 20
Dec 1, 2002
SF 31, SEA 24
Oct 14, 2002
SF 28, @SEA 21
Research Notes
The 49ers have used pistol sets on 33 offensive plays their last two games after using such sets on 30 times the first 12 games of the season. With
Colin Kaepernick
at quarterback, the 49ers have run more than 80 percent of the time from pistol formations, and have averaged 6.4 yards per rush.
[+]
Russell Wilson
has completed at least 50 percent of his attempts against four or fewer pass rushers in every game but one this season, his Week 7 matchup against the 49ers. Wilson went 6-of-15 (40 percent) against such rushes in the game for 85 yards.
[+]
The 49ers defense has allowed one touchdown on throws more than 20 yards downfield this season, best in the NFL.
Russell Wilson
has touchdown passes of those distances this season, second best in the NFL, but was held to 0-of-5 with an interception in Week 7 against San Francisco.
[+]
Nearly 25 percent of the Seahawks rushes the past three games have been option plays. Over that time, the Seahawks' rush offense has averaged 5.2 yards per rush before first contact, twice the rate the team averaged in the first 11 games played.
[+]
ESPN Stats & Information