1:00 PM ET, December 16, 2012
Soldier Field, Chicago, IL
Top Performers
Passing: A. Rodgers (GB) - 291 YDS, 3 TD
Rushing: M. Forte (CHI) - 20 CAR, 69 YDS
Receiving: R. Cobb (GB) - 6 REC, 115 YDS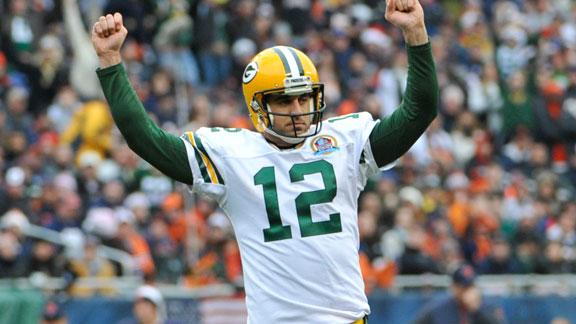 Sunday Blitz: Packers-Bears
Sunday Blitz: Packers-Bears
VIDEO PLAYLIST
A two-month run of success has the Green Bay Packers in position to claim their second straight NFC North title.
That scenario still seemed unlikely until recently, as the now-reeling Chicago Bears spent most of the season controlling the division.
The surging Packers look to clinch the North with a sixth consecutive victory over the archrival Bears on Sunday at Soldier Field.
Until last week, Chicago (8-5) held either sole possession or a share of the North lead. After Week 5, the Bears were 4-1 while Green Bay was 2-3.
The Packers, though, have won seven of eight while the Bears have dropped four of five since their outstanding first half. Green Bay took the outright division lead with a 27-20 win over Detroit and Chicago's 21-14 loss at Minnesota last weekend.
The Packers, winners of two straight at Soldier Field, have outscored the Bears 116-65 in the last five meetings. Green Bay last won consecutive division championships during a three-year run from 2002-04.
"The division is the first goal," Packers coach Mike McCarthy said. "We can wrap things up (Sunday). It's a tough opponent, a tough place to play, a lot on the line."
The Bears hope facing their biggest rival will provide them with enough of a spark to avoid a third straight loss and strengthen their postseason chances. Chicago holds the conference's final wild-card spot, but Washington, Dallas and Minnesota are one game back.
"If you need a game coming up to really motivate you to play your best football, it should be your rival with Green Bay coming in," coach Lovie Smith told the Bears' official website.
With a roster ravaged by injuries, Smith knows the challenge that awaits against a Packers team that has found ways to win despite trailing in five of its last seven victories.
Green Bay has been able to do so thanks in large part to outstanding fourth-quarter defense. The Packers, who fell behind 14-0 to the Lions on Sunday, have given up 21.0 points per game over the last eight but yielded three total field goals in the fourth quarter of the past six.
Aaron Rodgers has averaged a modest 228.5 yards while throwing four touchdowns and three interceptions in the last four games, but his 27-yard TD run gave the Packers their first lead Sunday.
"I don't get caught up in statistics," McCarthy said. "We've got nine wins. That's the only statistic I worry about."
Green Bay has succeeded while playing without defensive back Charles Woodson for the last six games and star linebacker Clay Matthews the last four. While Woodson has been ruled out along with wide receiver Jordy Nelson (hamstring) and defensive end C.J. Wilson (knee), Matthews is expected to return after recovering from a nagging hamstring problem.
"I thought he looked good all week," McCarthy said of Matthews. "I look for Clay to play and make an impact in the game."
Injuries at running back also have plagued Green Bay, but Alex Green has rushed for 127 yards on 25 carries in the last two games. Former practice squad member DuJuan Harris recorded 31 yards and a TD on seven rushes versus Detroit.
Chicago hasn't been nearly as effective in overcoming its health issues. With linebacker Brian Urlacher out for the regular season, the Bears lost kicker Robbie Gould this week to a season-ending calf injury. Veteran Olindo Mare will take his place.
Cornerback Tim Jennings, who leads the NFL with eight interceptions, has been ruled out for the second straight week along with receiver Earl Bennett. Chicago also has lost key special-teams contributors Craig Steltz and Sherrick McManis for the season.
Quarterback Jay Cutler is expected to play after suffering a neck injury last week.
Despite the mounting injuries and current slide, the Bears remain optimistic even though they might need to win their final three games to make the playoffs.
"The confidence is not wavering," defensive end Julius Peppers said. "We're fully confident that we can do that."
The offense will likely need to improve for Chicago to have a chance to win out. The Bears have totaled 72 points in five games since a 51-20 victory over Tennessee on Nov. 4.
Also, a once-opportunistic defense that scored seven touchdowns in the first eight games has none in the last five. Chicago allowed an average 71.0 rushing yards in the first six games and 141.0 in the last seven.
"The pressure we're feeling right now is on our performances," Smith said. "Improving, it's on us."
Cutler has thrown four TDs and five INTs in his last four games. He has seven touchdowns and 16 interceptions while posting a 53.1 passer rating in going 1-6 against the Packers as a Bear.
Cutler threw four picks in a 23-10 loss to Green Bay on Sept. 13.
Brandon Marshall leads the NFL with 101 receptions and is second with 1,342 yards, but was held to two for 24 in the loss at Lambeau Field.
Rodgers has thrown nine touchdowns and two interceptions in his last three games versus Chicago.
ESPN Local
Bears struggled against Packers during Urlacher era
The landscape has changed in front of Green Bay Packers quarterback Aaron Rodgers, but the...- 12:54 pm Assuming Bears linebacker Brian Urlacher follows through with his retirement announcement (we cant...- 11:56 am For the past nine years, the only home
Green Bay Packers: Offensive linemen shift into new positions
in the change. GREEN BAY, Wis. -- A month ago the news was big but the timing was right. The Green Bay Packers staff told the offensive line that everyone except center Evan Dietrich-Smith would begin the offseason playing a new position. After four week
Green Bay Packers: Sam Shields is a no-show
even though Shields did have four interceptions and 11 pass breakups in his final six games, the Packers may not be quick to budge. Green Bay cornerback Sam Shields (37) intercepts a pass in front of Kansas City wide receiver Jamar Newsome (84) during a
Bears' Urlacher announces his retirement
FILE - In this Nov. 4, 2012 file photo, Chicago Bears middle linebacker Brian Urlacher yells while watching from the bench in the fourth quarter of an NFL football game against the Tennessee Titans in Nashville, Tenn. Urlacher says he's retiring after sp
Chicago Bears' Brian Urlacher announces his retirement
CHICAGO Star linebacker Brian Urlacher is calling it a career after 13 seasons with the Chicago Bears. The eight-time Pro Bowl player announced his retirement on his Twitter account Wednesday. In a statement, he said, After spending a lot of time this s
Brian Urlacher retires from NFL after 13 seasons with Chicago Bears
Chicago Bears middle linebacker Brian Urlacher, shown before a game last September, on Wednesday anounced his retirement form the NFL. UPI/Brian Kersey License photo CHICAGO, May 22 (UPI) -- Linebacker Brian Urlacher , a five-time All-Pro selection, anno
Scouting Report
Packers-Bears: What to watch
After watching film of both teams, Scouts Inc. breaks down key elements of the Week 15 Packers-Bears matchup.
• Continue with balance offensively: The Packers have run the ball (108 yards per game) better in 2012. The Bears haven't been as stout defending the run, especially in recent weeks. Chicago linebacker Brian Urlacher is still out with a hamstring injury, which further weakens the team's ability to defend the run. Look for Packers coach Mike McCarthy to continue with a more balanced approach (good mixture of runs and high-percentage passes on early downs) in this matchup.
Matchup
GB

CHI

W-L
10-4
8-6
Avg Points
24.6
22.9
Avg Points Allowed
20.9
17.1
Home Record
6-1
5-3
Road Record
4-3
3-3
Division Record
5-0
2-3
Conference Record
8-3
5-5
Complete Standings
Team Averages & NFL Ranks
TEAM OFFENSE
TEAM
PER GAME AVERAGE
Total Yards
GB

359
CHI

311
Yards Passing
GB

253
CHI

187
Yards Rushing
GB

106
CHI

123
TEAM DEFENSE
TEAM
PER GAME AVERAGE
Yards Allowed
GB

337
CHI

316
Pass Yds Allowed
GB

218
CHI

214
Rush Yds Allowed
GB

119
CHI

102
Head to Head Matchups (Since 2001)
Green Bay leads 17-8
Sep 13, 2012
GB 23, CHI 10
Dec 25, 2011
GB 35, CHI 21
Sep 25, 2011
GB 27, @CHI 17
Jan 23, 2011
GB 21, @CHI 14
Jan 2, 2011
GB 10, CHI 3
Sep 27, 2010
GB 17, @CHI 20
Dec 13, 2009
GB 21, @CHI 14
Sep 13, 2009
GB 21, CHI 15
Dec 22, 2008
GB 17, @CHI 20
Nov 16, 2008
GB 37, CHI 3
Dec 23, 2007
GB 7, @CHI 35
Oct 7, 2007
GB 20, CHI 27
Dec 31, 2006
GB 26, @CHI 7
Sep 10, 2006
GB 0, CHI 26
Dec 25, 2005
GB 17, CHI 24
Dec 4, 2005
GB 7, @CHI 19
Jan 2, 2005
GB 31, @CHI 14
Sep 19, 2004
GB 10, CHI 21
Dec 7, 2003
GB 34, CHI 21
Sep 29, 2003
GB 38, @CHI 23
Dec 1, 2002
GB 30, CHI 20
Oct 7, 2002
GB 34, @CHI 21
Dec 9, 2001
GB 17, CHI 7
Nov 11, 2001
GB 20, @CHI 12
Research Notes
Since missing most of 2009 with a wrist injury,
Brian Urlacher
has seen his tackles per game decline each season.
[+]
Jay Cutler
was 2-of-11 with a touchdown and two interceptions on throws more than 10 yards downfield against the Packers in Week 2 this season. Since joining the Bears, Cutler has thrown four touchdowns and 11 interceptions on such throws against the Packers.
[+]
Aaron Rodgers
went 21-of-29 (72.4 percent) with a touchdown against the Bears' four or fewer man pass rush in Week 2 this season, his best against Chicago since the Bears acquired
Julius Peppers
. Rodgers hasn't thrown an interception against such pressure from the Bears since 2010.
[+]
Undrafted rookie
Don Barclay
has taken over as right tackle in the Packers' last two games, and the Packers have been running behind him. More than half of the Packers' rushes (excluding kneel downs) have been to the right in those games, compared to 33.6 percent of the team's rushes in the first 11 games of the season.
[+]
ESPN Stats & Information