1:00 PM ET, October 27, 2013
Wembley Stadium, London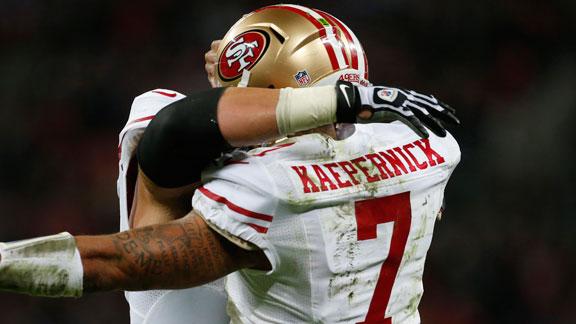 Sunday Blitz: 49ers-Jaguars Recap
Prim Siripipat and Tom Waddle break down the 49ers' Week 8 win over the Jaguars.
Sunday Blitz: 49ers-Jaguars Recap
VIDEO PLAYLIST
The high-powered San Francisco 49ers are heading to London looking to extend a growing win streak. Their opponent has a much more modest goal.
The Jacksonville Jaguars are hoping a change of continents will help them avoid dropping to 0-8, as they'll look to deny the 49ers a fifth straight victory Sunday at Wembley Stadium.
San Francisco (5-2) has topped 30 points in each of its four consecutive wins and wasn't seriously threatened after jumping out to a 24-0 third-quarter lead at Tennessee in a 31-17 victory last Sunday.
"We have strung together a few wins, and we feel pretty good about what we're doing right now," quarterback Colin Kaepernick said.
Kaepernick and Frank Gore combined for 138 yards and three touchdowns on the ground against the Titans. San Francisco, third in the league with 143.3 rushing yards per game, will now try to keep rolling against one of the league's worst defenses.
The Jaguars rank last in the NFL with 31.7 points and 153.3 rushing yards allowed per game. No other team is giving up more than 128.0 yards a game on the ground.
Jacksonville is also 28th in total yards allowed at 391.4, and let an opponent top 400 for the fourth time in five games in last Sunday's 24-6 loss to San Diego.
"This team has a lot of work to do and a lot to prove," Kaepernick said of the 49ers. "Going into this Sunday, I don't think it doesn't matter what team we're playing. We're going to be motivated.
"I think they're a good defense. They haven't quite put everything together."
This will be the first of the Jaguars' four "home" games at Wembley over the next four seasons. Jacksonville owner Shahid Khan also owns English Premier League soccer club Fulham, which is based in London.
The Jaguars have never played outside of the United States, while San Francisco is making its second trip to London in four seasons and experiencing its third regular-season game out of the country. The 49ers beat Denver 24-16 at Wembley on Oct. 31, 2010, and lost 31-14 to Arizona in Mexico City on Oct. 2, 2005.
"We have done it before," left tackle Joe Staley said. "Everybody here is used to the long trips, and I think it is beneficial. Everybody gets to spend a lot of time together as a team. We are just all excited to get over, and we basically just pack more clothes than usual."
The 49ers are riding their longest win streak since an eight-game run Sept. 25-Nov. 20, 2011.
In contrast, the Jaguars are off to the worst start in team history and coach Gus Bradley was critical of last week's effort.
"We acted like a young team," he said. "I just think that we didn't respond the right way to the challenge. The three most dangerous words in the NFL are 'I've got it,' and I think that we felt like 'We're making strides. We've got this. We've just got to go out there and do this,' and that's not how it works.
"If we had that mentality, then we got punched right in the mouth."
Bradley joined the team for practice in London on Wednesday after the death of his father, Roy, on Sunday.
"He's our leader; he's our Energizer Bunny," wide receiver Justin Blackmon said. "It'll be good to have him back."
Bradley said quarterback Chad Henne would start for a third straight game. Henne has topped 300 yards in his two games since taking over for the injured Blaine Gabbert and had a season-high 318 on Sunday.
"We feel good about what Chad has done the last few weeks," the Jaguars coach told the team's website. "We want to continue to build on that and see where it takes us."
The 49ers are facing Jacksonville for the first time since a 20-3 win Nov. 29, 2009, their only victory in three all-time matchups.
More from ESPN.com
Jags lose Posluszny (torn pec) for season
The Jaguars lose middle linebacker Paul Posluszny for the season to a torn pectoral muscle.
49ers C Kilgore out with injury to leg, ankle
49ers center Daniel Kilgore suffered a lower left leg and ankle injury in the third quarter of the team's 42-17 loss to the Denver Broncos on Sunday night, something coach Jim Harbaugh said "might be a break."
Manning, Broncos roll past 49ers
Peyton Manning's receivers played keep-away with his milestone memento and the NFL's new leader in career touchdown passes toyed with the San Francisco 49ers in the Denver Broncos' emphatic 42-17 victory Sunday night.
Manning ties Favre's all-time TD pass record
In what has been a remarkable re-start to his NFL career as the Denver Broncos' quarterback, Peyton Manning threw his 508th career touchdown Sunday, tying Brett Favre's league record.
Matchup
SF

JAX

W-L
6-2
0-8
Avg Points
27.3
10.8
Avg Points Allowed
18.1
33.0
Home Record
3-1
0-4
Road Record
3-1
0-4
Division Record
2-1
0-1
Conference Record
3-1
0-5
Complete Standings
Team Averages & NFL Ranks
TEAM OFFENSE
TEAM
PER GAME AVERAGE
Total Yards
SF

324
JAX

294
Yards Passing
SF

186
JAX

215
Yards Rushing
SF

138
JAX

79
TEAM DEFENSE
TEAM
PER GAME AVERAGE
Yards Allowed
SF

317
JAX

379
Pass Yds Allowed
SF

221
JAX

248
Rush Yds Allowed
SF

96
JAX

132
Head to Head Matchups (Since 2001)
San Francisco leads 2-1
Nov 29, 2009
SF 20, JAX 3
Dec 18, 2005
SF 9, @JAX 10