4:15 PM ET, September 9, 2001
SAN FRANCISCO (AP) -- Garrison Hearst was solid, and Michael Vick was exciting. Still, the San Francisco 49ers' receivers stole the show.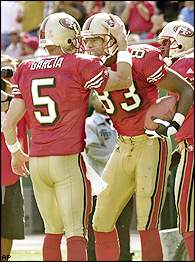 J.J. Stokes had 93 yards receiving, including this TD catch from Jeff Garcia, who passed for 335 yards.
Jose Cortez
kicked a 24-yard field goal with 10:56 left in overtime as the 49ers rallied to beat the
Atlanta Falcons
16-13 Sunday in a game featuring the limited debut of Vick and the return of Hearst.
Terrell Owens
,
J.J. Stokes
and
Tai Streets
all turned short receptions into long gains late in the game -- each leading to San Francisco scores -- as the 49ers won with the passing game in their first outing since
Jerry Rice
moved on to Oakland. "Some of those balls would have gone to Jerry, that's for sure," said Stokes, who had five catches. "We love Jerry, but now that he's gone, we're allowed to make plays. That's all we ever wanted." The 49ers scored 13 straight points in the final minutes to win after struggling through the first three quarters. Owens and Stokes each had 93 yards receiving, while Streets added 83 yards for the 49ers, who beat Atlanta at 3Com Park for the 10th straight time.
VINNY CERRATO'S ANALYSIS
Question on the 49ers : What will a win like this do for a young 49ers team?
Cerrato: It gives them a lot of confidence. It gives them not only a 1-0 start but also a win in the division -- which is big -- against an improving Atlanta team. It gives the defense some confidence because the Falcons couldn't do much offensively. This game is a good building block for the 49ers.

Question on the Falcons: How do you think Michael Vick looked in his debut?
Cerrato: Vick didn't throw the ball very well; he didn't complete a pass (in four attempts). While he wasn't effective throwing, he made some nice plays running the ball. When he starts completing some passes, he'll open up more running opportunities -- and he can do some damage with his feet.

Vinny Cerrato, ESPN.com's NFL analyst, has served as director of player personnel for the Redskins and 49ers.
"We had some close games last year, and they didn't end like this," 49ers coach Steve Mariucci said. "We fell short every time ... but we came on really strong with our passing game. It's all in keeping with being balanced and unpredictable. We want all our guys to make catches and contribute." After Cortez made a 20-yard field goal with 8 seconds left in regulation to tie it, San Francisco won the coin toss and opened overtime at its own 20.
Jeff Garcia
, who was 26-of-40 for 335 yards, quickly found Streets with a short pass that he turned into a 52-yard gain. Moments later, Cortez made his third easy field goal, then jumped into his teammates' arms. Exactly 32 months after Hearst broke his left leg on the first play of a playoff game against the Falcons, he returned to the 49ers' starting lineup. Though he didn't show the acceleration of departed tailback
Charlie Garner
-- or even the Hearst of 1998, when he rushed for a career-best 1,570 yards -- he was solid and durable, rushing for 48 yards and catching four passes. "I felt more and more confident as the game went on," Hearst said.
Jamal Anderson
rushed for 86 yards and a score as Atlanta had a dismal offensive day despite the debut of Vick, the heralded No. 1 draft pick who signed a $62 million contract. Atlanta managed just 241 total yards. "I thought we played really good defensively until the last three drives," Atlanta coach Dan Reeves said. "We gave it up, and it cost us the game." Vick played two series and didn't complete a pass in four attempts, but he rushed twice for 32 yards -- including a 25-yard keeper that gave a hint of things to come. "I would always like to play more, but I'm not the starter," Vick said. "I'm the backup. I just tried to throw (the 49ers) off a little bit." San Francisco's offense finally got going when Stokes, primarily expected to pick up Rice's statistical slack, caught a 47-yard pass early in the fourth quarter. Two plays later, Garcia found Stokes for a diving 16-yard TD catch with 11:29 left, cutting Atlanta's lead to 13-10. In the final minutes, Owens got the 49ers into scoring position on a short catch he turned into a 40-yard gain with 2:00 left. San Francisco got to the 4, but Garcia overthrew Owens and Streets on consecutive plays. Vick entered the game on the Falcons' second offensive series, overthrowing receivers with his first two NFL passes.
Chris Chandler
, who was 11-of-18 for 121 yards, led the Falcons to the game's first score on their third possession. Anderson scored on a 1-yard run. Vick didn't return until the second series of the second half. On his second career rush, Vick showed his breathtaking agility on the 25-yard scamper through the heart of the defense, setting up
Jay Feely
's second short field goal.
Game notes
Cortez played in the XFL last spring, then won the 49ers' job in training camp after
Wade Richey
left to sign with San Diego. ... Atlanta DL
Shane Dronett
intercepted a tipped pass with 5:56 left, but the Falcons went three-and-out, giving the ball back to San Francisco for its game-tying drive. ... During the game-winning drive, a message flashed on the scoreboard about Barry Bonds' three home runs in Colorado. The crowd began chanting "Barry! Barry!"
Copyright by STATS LLC and The Associated Press
Scoring Summary
FIRST QUARTER
ATL
SF
TD
1:42
Jamal Anderson, 1 yd run

Drive info: 5 plays, 61 yds, 2:36

6
0
1:42

Drive info: 5 plays, 61 yds, 2:36

7
0
FOURTH QUARTER
ATL
SF
TD
11:35
Touchdown
13
9
THIRD QUARTER
ATL
SF
FG
4:52
Jay Feely 10 yd Field Goal

Drive info: 9 plays, 55 yds, 3:40

13
3
FOURTH QUARTER
ATL
SF
11:35
13
10
OVERTIME
ATL
SF
FG
10:59
Jose Cortez 10 yd Field Goal

Drive info: 8 plays, -20 yds, 3:55

13
16
SECOND QUARTER
ATL
SF
FG
11:30
Jose Cortez 10 yd Field Goal
7
3
FG
5:41
Jay Feely 10 yd Field Goal

Drive info: 12 plays, 71 yds, 5:33

10
3
FOURTH QUARTER
ATL
SF
FG
0:11
Jose Cortez 10 yd Field Goal

Drive info: 11 plays, -14 yds, 3:53

13
13