6:18 PM ET, January 26, 2003
Qualcomm Stadium, San Diego, CA
SAN DIEGO (AP) -- The Super Bowl was a nightmare by halftime for the Oakland Raiders -- and then Coach Chucky's horror show got even worse.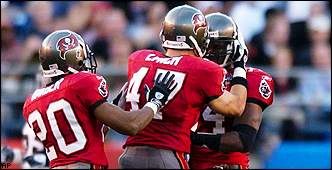 The Buccaneers came up big time after time, including five interceptions and three returned for touchdowns.
Defense did 'em in, baby! And the
Tampa Bay Buccaneers
didn't need much more. Coach Jon Gruden and his Bucs won their first NFL championship Sunday, routing the Oakland Raiders 48-21 in the first matchup of best offense vs. best defense. The Tampa Bay defense won by a mile, returning three of a record five interceptions for touchdowns and shutting down any hope the Raiders had of a late comeback. ''There was nothing they could do to us,'' Bucs defensive tackle
Warren Sapp
said. ''Nothing.'' It was especially sweet for the former NFL laughingstock, a team that lost its first 26 games after it started playing in 1976 in those garish orange uniforms. Oakland quarterback
Rich Gannon
hardly looked like the NFL's MVP. ''We were just absolutely terrible. It was a nightmarish performance,'' he said. Bucs owner Malcolm Glazer gave all the credit to the man he finally hired a year ago, a devilish, blond taskmaster known as ''Chucky'' after the horror show doll. ''I want to thank Coach Gruden for what he did,'' said Bucs owner Malcolm Glazer, who was the butt of jokes for his revolving coach search that finally brought Gruden from the Raiders. ''He came from heaven and he brought us to heaven. We were waiting for the right man and the right man came -- Jon Gruden.'' Gruden, who at 39 became the youngest coach ever to win a Super Bowl, is known as an offensive guru. This victory was with a defense run by Monte Kiffin and other holdovers from former coach Tony Dungy. ''I'm not saying it's the best defense I've ever seen,'' said
Tim Brown
, the Oakland receiver who was in his first Super Bowl in 15 NFL seasons. ''But it's really very good defense.'' Super Bowl MVP
Dexter Jackson
had two interceptions, as did
Dwight Smith
, who returned both of his picks for touchdowns, including a 50-yarder to finish off the scoring with two seconds left.
Derrick Brooks
also returned an interception for a touchdown.
Simeon Rice
had two of the Bucs' five sacks as Tampa Bay romped to a 20-3 halftime lead then scored two quick third-quarter touchdowns. That rendered futile a late comeback by the Raiders that included a touchdown on a blocked punt and 48-yard touchdown pass from Gannon to
Jerry Rice
. ''Right now, I wouldn't care if they put Mount Everest in front of me,'' said Simeon Rice, who was playing against a line of 300-pounders. ''I just wanted to be a world champion.'' The Tampa Bay offense did its part, too, led by
Michael Pittman
, who ran for 124 yards on 29 carries.
Mike Alstott
had a 2-yard touchdown run and
Brad Johnson
added two touchdown passes to
Keenan McCardell
, the second an 11-yarder after an 89-yard drive that ate up almost eight minutes of the third quarter. Just 43 seconds later, Smith grabbed the ball away from Jerry Rice and took it to the end zone to make it 34-3. Oakland owner Al Davis' slogan ''Just win, baby!'' wasn't going to work this time. How good was the Tampa Bay defense? The Bucs limited the Raiders to 19 yards rushing, 269 total yards and just 11 first downs. Oakland had just 62 total yards in the first half, second-lowest total in Super Bowl history. And the five interceptions of Gannon were the most he had in any game this season. He finished 24-for-44 for 272 yards and two touchdowns. Credit the victory also to Gruden, who left Oakland for Tampa Bay in what seemed at the time far too much in draft choices and cash -- $8 million to be exact. Although Gruden denied it, his knowledge of his old team worked out perfectly. ''Every play they've run, we've run in practice,'' Tampa Bay safety
John Lynch
said. Kiffin, the defensive coordinator, wasn't surprised the Bucs seemed to know just about everything the Raiders would do. ''Jon Gruden was Gannon. Nobody can be like Gannon like Gruden can,'' Kiffin said. ''He taught Gannon. He was in Gannon's head.'' But Gruden played down that apparent advantage. ''That was all overrated,'' he said. ''I stayed away from the defense. That's a credit to our players. We've got a great defensive club.'' To be fair, the Raiders might have entered this game a bit distracted. Their All-Pro center,
Barret Robbins
, was sent home before the game for missing team functions Saturday. The Bucs took advantage, with Sapp, Lynch and the interior defense constantly pushing up the middle against backup center
Adam Treu
to put pressure on Gannon and shut down the run. This was a victory for one of the NFL's longtime sad sacks. Between 1983 and 1996, the Bucs were the league's worst franchise, going without a winning season and losing 10 or more games in 13 of those 14 years. ''I've got to believe that coming where we were in this organization, the ridicule and the heartbreak, it's a great thing,'' said Lynch, one of five current Bucs who wore the orange uniforms that were a symbol of their futility. Even a year ago, the team was a mess after the Glazer family fired Dungy and went after big-name coaches like Bill Parcells and Steve Mariucci before landing Gruden. But if this was a glorious day for the Bucs, it was the opposite for the Raiders, who have three Super Bowl victories but hadn't played in pro football's showcase game in 19 years. Oakland's aging warriors did little. Jerry Rice and Tim Brown, the 40- and 36-year-old wide receivers, were all but invisible for most of the game. Rice, who has a reception in every game he's played since 1985, didn't have his first until 3:30 was left in the third quarter and the Raiders trailed by 31 points. That came just before Gannon's 39-yard touchdown pass to Jerry Porter gave the Raiders their first touchdown. They got their second just 44 seconds into the fourth quarter when
Tim Johnson
blocked a
Tom Tupa
punt and
Eric Johnson
caught it in the air and took it in. But even those touchdowns didn't produce what they could have because the Raiders twice missed two-point conversion attempts. Tampa Bay started badly, but it soon took control and led 20-3 at halftime on a 2-yard touchdown run by Alstott and a 5-yard touchdown catch by McCardell. The defense held the Raiders' top-ranked offense to just three first downs at intermission. But the Raiders struck the first blow. On the opening series, Johnson was hit by
Regan Upshaw
as he threw toward an open McCardell, and
Charles Woodson
intercepted to give the Raiders the ball at the Tampa Bay 28. But Oakland had to settle for
Sebastian Janikowski
's 40-yard field goal to take a 3-0 lead. The Bucs came right back to tie it on
Martin Gramatica
's 31-yarder. It was set up by two 23-yard plays, a pass from Johnson to
Joe Jurevicius
and a sweep by Pittman. Jackson's first interception for Tampa Bay set up the next score: Gramatica's 43-yard field goal early in the second quarter to give the Bucs a 6-3 lead. Jackson got another interception on the Raiders' next possession, returning it 23 yards to the Raiders' 45. Tampa Bay couldn't move and Tupa had to punt. But the Tampa Bay defense held the Raiders to three downs and out, and the Bucs finally broke through to take a 13-3 lead. First
Karl Williams
returned
Shane Lechler
's punt 25 yards to the Oakland 27, then Pittman had runs of 6 and 21 yards to give Tampa Bay a first down at the 2. On the second play, Alstott went in for the game's first touchdown with 6:24 left in the half. The Bucs made it 20-3 at halftime on a 77-yard, 10-play drive, which was aided by three Oakland penalties and capped by a quick out to McCardell on first down from the 5. The second half featured the comeback and the counter-comeback. But it was never really in doubt. ''That touchdown at the end of the half was a big one,'' McCardell said. ''It got us going into the second half and gave us the momentum to come out and play like we did.''
Copyright by STATS LLC and The Associated Press
Scoring Summary
THIRD QUARTER
OAK
TB
TD
4:57
Touchdown

Drive info: 1 plays, 40 yds, 0:00

3
33
FOURTH QUARTER
OAK
TB
TD
15:00
0 yd blocked punt returned for a touchdown

Drive info: 0 plays, 33 yds, 0:00

15
34
TD
2:00
Touchdown

Drive info: 1 plays, 29 yds, 0:00

21
40
TD
0:34
Touchdown

Drive info: 1 plays, 51 yds, 0:00

21
47
THIRD QUARTER
OAK
TB
4:57

Drive info: 1 plays, 40 yds, 0:00

3
34
FOURTH QUARTER
OAK
TB
2:00

Drive info: 1 plays, 29 yds, 0:00

21
41
0:34

Drive info: 1 plays, 51 yds, 0:00

21
48
SECOND QUARTER
OAK
TB
TD
6:33
Mike Alstott, 2 yd run

Drive info: 4 plays, 27 yds, 1:53

3
12
6:33

Drive info: 4 plays, 27 yds, 1:53

3
13
FIRST QUARTER
OAK
TB
FG
10:58
Sebastian Janikowski 10 yd Field Goal

Drive info: 7 plays, 14 yds, 3:58

3
0
FG
7:55
Martin Gramatica 10 yd Field Goal

Drive info: 9 plays, 56 yds, 1:57

3
3
THIRD QUARTER
OAK
TB
TD
2:19
Touchdown

Drive info: 8 plays, 82 yds, 2:27

9
34
FOURTH QUARTER
OAK
TB
TD
6:15
Touchdown

Drive info: 8 plays, 87 yds, 2:16

21
34
SECOND QUARTER
OAK
TB
FG
11:20
Martin Gramatica 10 yd Field Goal

Drive info: 9 plays, 25 yds, 12:33

3
6
TD
0:34
Touchdown

Drive info: 9 plays, 77 yds, 2:31

3
19
0:34

Drive info: 9 plays, 77 yds, 2:31

3
20
THIRD QUARTER
OAK
TB
TD
5:45
Touchdown

Drive info: 14 plays, 79 yds, 7:04

3
26
5:45

Drive info: 14 plays, 79 yds, 7:04

3
27