8:20 PM ET, October 4, 2012
Edward Jones Dome, Saint Louis, MO
ST. LOUIS -- Sam Bradford missed high, low, left, right.
After capping the
St. Louis Rams
' opening drive with a touchdown pass to
Lance Kendricks
, the former No. 1 overall pick endured an 0-for-12 slump that included
Patrick Peterson
's interception in the end zone on a pass tossed up for grabs under heavy pressure.
More Cardinals-Rams Coverage

The Cardinals went into Thursday's game as the league's hottest feel-good story. They left with all sorts of questions, Jeffri Chadiha writes. Story
• Stats: Rams D shuts down Cards
• Rapid Reax | NFC West blog
No worries. The Rams' rapidly improving defense saw to that."Those guys played outstanding," Bradford said after the Rams knocked off the previously unbeaten
Arizona Cardinals
17-3 on Thursday night. "They've played great all year and they have kept us in a lot of games."Bradford busted out of his funk with a 51-yard touchdown pass to rookie
Chris Givens
for a two-TD cushion, and
Robert Quinn
had three of the Rams' nine sacks on
Kevin Kolb
to keep the Cardinals in check.The Rams have three first-round picks on the defensive line and the fourth, tackle
Kendall Langford
, was a key free-agent pickup."We believe in ourselves," Quinn said. "We believe we can be one of the great defenses. When there was a play to be made, we made it."Arizona (4-1) scored at least 20 points in each of its first four games, but had no luck containing a pass rush that had totaled just six sacks on the year, and got stopped twice inside the 20 in the final minutes. The Rams also had a strong defensive game last week in a 19-13 victory against Seattle, also at home.Kolb got his helmet knocked off twice on hits, once after getting popped in the jaw. He described the Cardinals' first-half woes as "sickening."
Rams: Win and a Winning Record

The Rams moved to 3-2 with Thursday night's victory against the Cardinals, moving them above .500 for the first time since Nov. 4, 2006. That ended a stretch of 93 consecutive games played without a winning record, the third-longest streak in NFL history. Here's where the Rams rank:
Team
Games
Seasons
Raiders
101
2004-10
Saints
97
1971-77
Rams
93
2006-12*
Eagles
93
1967-74
* Ended Thursday night
-- ESPN Stats & Information
"I'm all right," Kolb said. "I'm glad we've got the weekend to heal up, mentally and physically."The Rams also limited the Cardinals to 45 yards rushing on 17 carries."Bottom line, they decided they wanted to throw the ball a lot and that made it kind of a track meet," Rams defensive end
Chris Long
said. "We've been waiting a long time to feel like we've done our job on defense."Kendricks caught a 7-yard TD pass in the first quarter and
Greg Zuerlein
kicked a 53-yard field goal in the second quarter for the Rams (3-2), who are 3-0 at home and ended Arizona's seven-game winning streak in St. Louis -- the Cardinals' home before leaving for the desert in 1988."I didn't like anything," coach Ken Whisenhunt said. "The thing I respected is our guys didn't quit, and even as bad as it went, we had a chance at the end of the game."The Rams totaled two victories last year but so far have executed a quick turnaround under new coach Jeff Fisher. They're 3-0 at home for the first time since 2003, when they were unbeaten in the Edward Jones Dome, and they're above .500 for the first time since they were 4-3 on Nov. 4, 2006."I've never been there before," Long said. "I'm unfamiliar with the sound of it, but I'm liking it."Bradford finished 7 for 21 for 141 yards, the second-lowest total of his career. He threw for 126 yards against Tampa Bay his rookie year in 2010.Before the second TD pass, he had been 3 for 16 overall for just 25 yards, often missing on his receivers by a lot. Undoubtedly, he missed
Danny Amendola
, sidelined in the second quarter with a right shoulder injury on a diving attempt that was initially ruled a 22-yard catch for a first down but overturned after the Cardinals challenged.Amendola perhaps hinted at the extent of the injury when he flung his helmet, with his left hand, while walking in a tunnel to get X-rays. He had the arm in a sling after the game, but the Rams did not make him available to reporters.Rams general manager Les Snead told ESPN.com's Jeffri Chadiha that the team won't know Amendola's diagnosis until Friday. Snead said Amendola's clavicle doesn't appear to be broken, and he expects him to be able to play again this season.The Rams, ranked 27th in offense, came out throwing, with Bradford completing passes of 14 yards to
Brandon Gibson
and 44 yards to Amendola on the first two plays, setting up the score to Kendricks on third down. It was the first offensive touchdown in three games for St. Louis.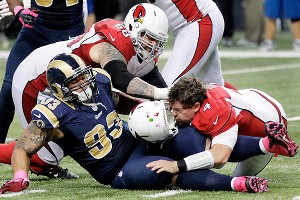 AP Photo/Seth Perlman
Cardinals QB Kevin Kolb absorbs one of his nine sacks Thursday night, this one by Rams defensive tackle Jermelle Cudjo.
Arizona responded with a drive that lasted 9:24, ending with
Jay Feely
's 35-yard field goal. The Cardinals kept the drive alive with three third-down conversions.
Larry Fitzgerald
's 5-yard catch on the first play of the drive marked the 122nd straight game with a catch, a franchise record.Zuerlein, a sixth-round draft pick out of Missouri Western, made it 10-3 early in the second quarter. He is 13 for 13 this season, including four kicks of 50-plus yards.Feely missed a 40-yard field goal late in the second quarter.Bradford was 3 for 4 for 65 yards on the opening drive before cooling off. St. Louis was well within Zuerlein's range at the Arizona 16 late in the third quarter when a pass was intercepted by Peterson in the back of the end zone.Arizona's loss leaves Atlanta and Houston as the only remaining unbeaten teams. The Cardinals were still the St. Louis Cardinals the last time they were 4-0, in 1974. Known as the "Big Red," those Cardinals won their first seven that season en route to a 10-4 record, before losing in the first round of the playoffs to Minnesota.The loss was only the Cardinals' third in 14 games since starting the 2011 season 1-6.
Game notes
Fitzgerald broke the mark set by
Mel Gray
from 1973-82 and finished with eight catches for 92 yards, leaving him 48 yards shy of 10,000 for his career. ...
Kurt Warner
, who took the Rams to two Super Bowls and the Cardinals to one, got a huge sustained ovation when he was introduced in the first quarter. Warner and another former Rams great,
Marshall Faulk
, are on the NFL Network broadcast team.
Information from ESPN.com's Jeffri Chadiha and The Associated Press was used in this report.
Copyright by STATS LLC and The Associated Press
Photo Wire
ST. LOUIS, MO - OCTOBER 4: Brandon Gibson #11 of the St. Louis Rams makes a catch against the Arizona Cardinals...
(Photo by Dilip Vishwanat/Getty Images)
Team Stat Comparison
| | ARI | STL |
| --- | --- | --- |
| 1st Downs | 20 | 12 |
| Passing 1st downs | 13 | 6 |
| Rushing 1st downs | 4 | 6 |
| 1st downs from penalties | 3 | 0 |
| 3rd down efficiency | 7-19 | 4-14 |
| 4th down efficiency | 0-2 | 0-0 |
| Total Plays | 76 | 54 |
| Total Yards | 282 | 242 |
| Yards per play | 3.7 | 4.5 |
| Total Drives | 12 | 13 |
| Passing | 237 | 131 |
| Comp-Att | 28-50 | 7-21 |
| Yards per pass | 4.0 | 6.0 |
| Interceptions thrown | 0 | 1 |
| Sacks-Yards Lost | 9-52 | 1-10 |
| Rushing | 45 | 111 |
| Rushing Attempts | 17 | 32 |
| Yards per rush | 2.6 | 3.5 |
| Red Zone (Made-Att) | 0-0 | 0-0 |
| Penalties | 5-35 | 7-60 |
| Turnovers | 1 | 1 |
| Fumbles lost | 1 | 0 |
| Interceptions thrown | 0 | 1 |
| Defensive / Special Teams TDs | 0 | 0 |
| Possession | 34:22 | 25:38 |
Scoring Summary
FIRST QUARTER
ARI
STL
TD
12:45
Lance Kendricks 7 Yard Pass From Sam Bradford (Greg Zuerlein Kick is Good)

Drive info: 5 plays, 69 yds, 2:21

0
7
FG
3:19
Jay Feely 35 Yard Field Goal is Good

Drive info: 17 plays, 63 yds, 9:24

3
7
SECOND QUARTER
ARI
STL
FG
10:50
Greg Zuerlein 53 Yard Field Goal is Good

Drive info: 5 plays, 14 yds, 1:38

3
10
FOURTH QUARTER
ARI
STL
TD
11:58
Chris Givens 51 Yard Pass From Sam Bradford (Greg Zuerlein Kick is Good)

Drive info: 10 plays, 89 yds, 5:30

3
17
Research Notes
NEXT LEVEL: The Rams sent five or more pass rushers on 33.9 percent of
Kevin Kolb
's dropbacks (20 of 59) Thursday. Coming into the game, the Rams sent five or more pass rushers on 25.4 percent of opponents' dropbacks, the 10th-lowest rate in the league. The Rams sacked Kolb five times when sending such pressure, their most in a game in the last five seasons.
NEXT LEVEL: The Rams sacked
Kevin Kolb
nine times and forced him to throw while under duress another 12 times. He was sacked or threw under duress more than 35 percent of the time, three times more than the average quarterback this season.
[+]
NEXT LEVEL:
Larry Fitzgerald
had his first drop of the season Thursday, ending a streak of 159 consecutive targets without a drop. Fitzgerald's last drop came in Week 5 of last season against the Vikings, his only drop of 2011. Entering Thursday, Fitzgerald was tied with
Percy Harvin
of the Vikings for the most targets this season without a drop (37).
NEXT LEVEL:
Sam Bradford
passed for 132 of his 141 yards and both of his touchdowns on throws outside the painted numbers Thursday. In the first four weeks of the season, Bradford completed 50.9 percent of his passes outside the numbers and 73.8 percent inside the numbers. He reversed that trend Thursday, completing 1 of his 8 passes inside the numbers for nine yards, the fewest in his career. NEXT LEVEL: Sam Bradford's completion percentage of 12.5 on throws inside the painted numbers was the lowest in any regular season game (minimum eight pass attempts) among qualified quarterbacks since the start of the 2008 season.
[+]
Larry Fitzgerald
caught a pass in his 122nd consecutive game, setting the franchise record, breaking the tie he held with
Mel Gray
. Fitzgerald has caught a pass in 128 of his 129 career games.
[+]
Chris Givens
scored on a 51-yard TD pass from
Sam Bradford
in the 4th quarter. Givens had 61 total receiving yards in his career prior to that catch. Givens now has 4 receptions in his career, and 2 of them are for 50+ yards. He also had a 52-yard catch in last week's win over the Seahawks.
From Elias:
Greg Zuerlein
's 53-yard FG gives him 4 FG of 50+ yards, tying the NFL record for most 50-yard FG by a rookie.
[+]
From Elias: Rams rookie
Greg Zuerlein
is the sixth kicker in NFL history to make his first four field-goal attempts from 50-plus yards. No one has made their first five.
[+]
Bradford is 0-5 on passes inside the painted numbers and 5-8 for 81 yards and a TD outside the numbers.
ESPN Stats & Information