12:30 PM ET, November 22, 2012
Ford Field, Detroit, MI
DETROIT -- Jim Schwartz threw a challenge flag when he didn't need to and the Houston Texans made him regret it.
Shayne Graham
's 32-yard field goal with 2:21 left in overtime lifted Houston to a 34-31 win over the
Detroit Lions
on Thursday after their coach broke an NFL rule by attempting to challenge a scoring play.
"Obviously, that's a big break in the game for us," Houston coach Gary Kubiak said. "But I think you make your breaks when you work your tail off."Detroit kicker
Jason Hanson
had a chance to get Schwartz off the hook, but his 47-yard field goal attempt on the fifth possession of the extra period hit the right upright.Lions defensive end
Kyle Vanden Bosch
did, too, on the previous possession when he couldn't intercept a pass
Matt Schaub
threw directly at him deep in Houston territory.Detroit might've won in regulation if its coach didn't make a costly mistake.Schwartz threw a challenge flag when Houston's
Justin Forsett
scored on an 81-yard touchdown run in the third quarter after two Lions tackled him."Give him credit for continuing to play football," Kubiak said. "We talk about that all the time. You don't stop, you play."Replays showed Forsett's left knee and elbow hit the turf near midfield, and the automatic review that accompanies all scoring plays probably would have taken the TD off the board. But NFL rules say that throwing the challenge flag on a scoring play negates the review -- and is an unsportsmanlike conduct penalty to boot."It's on me," Schwartz could be seen saying to assistants and players on the sideline as he tapped his chest. "It's on me."Yes, it was.Forsett even acknowledged he shouldn't have allowed to score.
Andre a Giant
On the heels of his 273-yard game Sunday against the Jags, Texans receiver Andre Johnson went for 188 on Thursday against the Lions. Those two efforts gave him the most receiving yards in back-to-back games in NFL history. Here's a look:
Year
Player, Team
Yards
2012
Andre Johnson, HOU
461
2006
Chad Johnson, CIN
450
1989
John Taylor, SF
448
1995
Jerry Rice, SF
442
-- Elias Sports Bureau
"I know now that I was down, but I didn't think I was during the play," he said. "I didn't think my knee hit, and there was no whistle, so I kept going."I wasn't giving the touchdown back."That score pulled Houston within three points."I knew the rule -- you can't challenge on a turnover or a scoring play -- but I was so mad that I overreacted," said Schwartz, whose temper got the best of him during a postgame handshake last year with San Francisco coach
Jim Harbaugh
. "I had the flag in my hand before he even scored because he was obviously down."Kubiak had no sympathy."A rule's a rule," Kubiak said. "I know one thing: You've got to keep your flag tucked in your pocket."
Arian Foster
ran for 102 yards and two scores, including a 1-yard run with 1:55 left in the fourth quarter to cap a 15-play, 97-yard drive that tied the game at 31.AFC South-leading Houston (10-1) took its first lead when Graham made up for missing a field goal earlier in OT after teammate
Danieal Manning
ripped the football away from Lions tight end
Brandon Pettigrew
at its 32 on the first drive of the extra period.The Texans have won five straight -- two in a row in OT -- and if a handful of teams lose this weekend, they could be in the playoffs by the time they get back on the practice field after a long weekend."Ten quarters in five days, it's draining physically and mentally," Texans defensive end
J.J. Watt
said. "But our team persevered."And, the Lions wilted and blew a fourth-quarter lead during a second straight setback.Detroit (4-7) has lost three straight to make it extremely difficult to reach its goal of earning a spot in consecutive postseasons for the first time since the mid-1990s.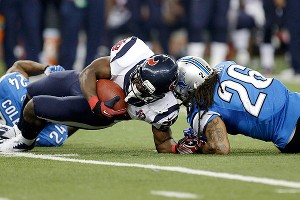 AP Photo/Paul Sancya
Texans running back Justin Forsett appeared down on this run, but his 81-yard TD couldn't be challenged, helping Houston to an eventual overtime victory.
And as if the Lions don't have enough problems, defensive tackle
Ndamukong Suh
could be in trouble with the league again after his left cleat connected with Schaub's groin area in the first quarter."I really don't have anything to say about that play or that person," Schaub said.Suh was on his chest, taken down by an offensive lineman, when he extended his left foot below Schaub's belt.It wasn't clear on replays whether the kick was intentional, but Suh might struggle to get the benefit of doubt and perhaps that's why he didn't stick around long enough to talk to reporters after the game.Last year on Thanksgiving, Suh was ejected for stomping on the right arm of Green Bay offensive lineman
Evan Dietrich-Smith
and was suspended for two games. He has been fined in previous seasons for roughing up quarterbacks: Cincinnati's
Andy Dalton
, Chicago's
Jay Cutler
and Cleveland's
Jake Delhomme
.Schaub shook off the blow, stayed in the game, and was 29 of 48 for 315 yards with a 9-yard TD to
Owen Daniels
to tie the game at 14 late in the first half and an interception.Houston's
Andre Johnson
had nine receptions for 188 yards. Watt had three sacks, one on Detroit's first snap and the other two that helped the Texans stay within a TD late in the game.Detroit scored four go-ahead TDs, including on
Joique Bell
's 23-yard run early in the fourth quarter, and had a 10-point lead midway through the third quarter.The Lions drove deep enough into Houston territory in the fourth to put Hanson in a position to give them another 10-point lead, but Watt forced them to punt each time with sacks on third downs."We got what we deserved,"
Matthew Stafford
said. "We didn't capitalize on our chances."Stafford was 31 of 61 for 441 yards with two TDs -- tiebreaking scores to
Calvin Johnson
and
Mike Thomas
in the second quarter -- for 441 yards.
Mikel Leshoure
ran for 32 yards on 12 carries and gave the Lions their first TD on an opening possession that marked the first rushing score on the ground against Houston.Those accomplishments along with providing entertainment for the nationally televised audience for a change on Thanksgiving was of little consolation for the franchise.The Lions lost their previous eight games on the holiday by an averaging of three-plus touchdowns.Detroit extended the longest losing streak in its annual showcase to nine in a closely contested matchup that will linger in the minds of many people, especially Vanden Bosch, one of many Lions who could've changed the outcome by picking off a pass that hit his hands in a wild OT."It's going to be really tough to forget that one," Vanden Bosch said.
Game notes
Lions OT
Jeff Backus
(right hamstring) was inactive, ending his 186-game starting streak. ... Houston LB
Brooks Reed
(left groin) and OT
Derek Newton
(knee) were injured during the game.
Copyright by STATS LLC and The Associated Press
Team Stat Comparison
| | HOU | DET |
| --- | --- | --- |
| 1st Downs | 26 | 29 |
| Passing 1st downs | 15 | 21 |
| Rushing 1st downs | 10 | 8 |
| 1st downs from penalties | 1 | 0 |
| 3rd down efficiency | 6-15 | 9-18 |
| 4th down efficiency | 1-1 | 0-0 |
| Total Plays | 78 | 87 |
| Total Yards | 501 | 525 |
| Yards per play | 6.4 | 6.0 |
| Total Drives | 16 | 15 |
| Passing | 296 | 419 |
| Comp-Att | 29-48 | 31-61 |
| Yards per pass | 5.9 | 6.5 |
| Interceptions thrown | 1 | 0 |
| Sacks-Yards Lost | 2-19 | 3-22 |
| Rushing | 205 | 106 |
| Rushing Attempts | 28 | 23 |
| Yards per rush | 7.3 | 4.6 |
| Red Zone (Made-Att) | 0-0 | 0-0 |
| Penalties | 8-66 | 7-70 |
| Turnovers | 1 | 1 |
| Fumbles lost | 0 | 1 |
| Interceptions thrown | 1 | 0 |
| Defensive / Special Teams TDs | 0 | 0 |
| Possession | 35:38 | 37:01 |
Scoring Summary
FIRST QUARTER
HOU
DET
TD
10:01
Mikel Leshoure 2 Yard Run (Jason Hanson Kick is Good)

Drive info: 12 plays, 80 yds, 5:02

0
7
SECOND QUARTER
HOU
DET
TD
11:02
Arian Foster 6 Yard Run (Shayne Graham Kick is Good)

Drive info: 7 plays, 74 yds, 3:42

7
7
TD
6:04
Mike Thomas 5 Yard Pass From Matthew Stafford (Jason Hanson Kick is Good)

Drive info: 10 plays, 83 yds, 4:57

7
14
TD
2:15
Owen Daniels 9 Yard Pass From Matt Schaub (Shayne Graham Kick is Good)

Drive info: 8 plays, 75 yds, 3:49

14
14
TD
1:56
Calvin Johnson 22 Yard Pass From Matthew Stafford (Jason Hanson Kick is Good)

Drive info: 2 plays, 59 yds, 0:22

14
21
THIRD QUARTER
HOU
DET
FG
7:08
Jason Hanson 46 Yard Field Goal is Good

Drive info: 12 plays, 50 yds, 6:28

14
24
TD
6:50
Justin Forsett 81 Yard Run (Shayne Graham Kick is Good)

Drive info: 2 plays, 81 yds, 0:28

21
24
FG
2:40
Shayne Graham 45 Yard Field Goal is Good

Drive info: 7 plays, 40 yds, 3:00

24
24
FOURTH QUARTER
HOU
DET
TD
13:36
Joique Bell 23 Yard Run (Jason Hanson Kick is Good)

Drive info: 8 plays, 80 yds, 4:05

24
31
TD
1:58
Arian Foster 1 Yard Run (Shayne Graham Kick is Good)

Drive info: 15 plays, 97 yds, 5:43

31
31
OVERTIME
HOU
DET
FG
2:25
Shayne Graham 32 Yard Field Goal is Good

Drive info: 6 plays, 49 yds, 2:11

34
31
Research Notes
The Lions are allowing a half-yard more per play (.52) with
Ndamukong Suh
on the field this season than off the field.
Andre Johnson
finished the day with nine catches for 188 yards, 66 of which came after the catch. In the last two weeks, Johnson has 23 receptions for 461 yards, including 158 yards after catch. Johnson had 209 yards after catch over the first nine games of the season. According to Elias, Johnson's 461 receiving yards in back-to-back games is the most in NFL history.
Texans quarterback
Matt Schaub
was 9-of-12 for 112 yards and a touchdown on third down Thursday against the Lions, who only sent five or more pass rushers on one of Schaub's 12 third-down dropbacks during the game. Schaub had faced added pressure on 31 of 86 third-down dropbacks entering the game.
With top cornerback
Johnathan Joseph
out with a hamstring injury,
Calvin Johnson
had five catches for 103 yards and a touchdown in the first half. Johnson tied a season high with three catches on throws at least 20 yards downfield, largely against backup cornerback
Alan Ball
. Johnson faced different coverages in the second half, including matchups with
Kareem Jackson
, and finished with three catches for 37 yards after halftime.
[+]
J.J. Watt
had a career-high three sacks on Thursday as well as two passes batted down at the line of scrimmage. Watt disrupted five of
Matthew Stafford
's 65 dropbacks (7.7 percent), further cementing his reputation as the league's most disruptive defensive player.
[+]
According to ESPN Stats and Information's expected points model, Lions coach Jim Schwartz cost his team 6.5 expected points by trying to challenge
Justin Forsett
's third-quarter touchdown run. Video replays showed Forsett may have been down, but Schwartz's attempt to challenge a scoring play (which would have been automatically reviewed) nullified the video replay and made Forsett's 81-yard run stand in addition to earning Detroit a 15-yard unsportsmanlike conduct penalty.
The Texans came into the game ranking in the top 4 in the NFL in several key defensive category, but struggled with the Lions offense today, and needed overtime to improve to 10-1.
[+]
Andre Johnson
finished with 188 receiving yards, the 2nd-highest total all-time on Thanksgiving, trailing only Jim Benton's 303 in 1945. Johnson now has 461 yards in his last 2 games, in a 5-day span.
[+]
There are only two previous instances in NFL history of teams playing two overtime games in a five-day span... and they're from the same game! The Vikings defeated the Bears 33-27 in OT on Thursday, December 1, 1994. BOTH teams had played overtime in their previous games the Sunday before (November 27). The Vikings lost to Tampa Bay, while the Bears beat Arizona.
This is the 5th Thanksgiving Day game to go into overtime, and the first since 2005, when the Broncos beat the Cowboys on a
Jason Elam
24-yard FG. The Lions have been involved in 3 of the 5 Thanksgiving OT games, including the controversial 1998
Jerome Bettis
coin flip game.
[+]
Think the Texans miss
Johnathan Joseph
? In the first half,
Calvin Johnson
had already tied his season high with three catches on throws at least 20 yards downfield. Johnson finished the half with five catches for 103 yards and a touchdown.
Mikel Leshoure
's 2-yard TD run against the Texans was the first rushing TD the Texans have allowed this season. Over the last 80 seasons, only the 2011 49ers went more games into the season before allowing a rushing TD.
[+]
ESPN Stats & Information