1:00 PM ET, December 30, 2012
Lucas Oil Stadium, Indianapolis, IN
Top Performers
Passing: M. Schaub (HOU) - 275 YDS, 2 INT
Rushing: A. Foster (HOU) - 16 CAR, 96 YDS, 1 TD
Receiving: A. Johnson (HOU) - 12 REC, 141 YDS
Chuck Pagano Conversation
Colts coach Chuck Pagano talks to Rachel Nichols about his battle with leukemia and return to the sideline.
Chuck Pagano Conversation
VIDEO PLAYLIST
INDIANAPOLIS -- Chuck Pagano put on his dancing shoes and savored every moment of Sunday's postgame celebration.
He took his customary linebacker stance on the sideline, hands on bended knees. He signaled touchdowns when the Colts scored, patted
Deji Karim
on the helmet after a 101-yard kickoff return for a game-changing touchdown, and gestured for penalty flags to be thrown.
More Texans-Colts Coverage

After coach Chuck Pagano received a hero's welcome in his return to the sideline, the Colts grinded out another impressive win, writes Paul Kuharsky. Blog
• Reax | AFC South blog | Playoff sked
• Stats & Info: Texans' flaws exposed

And after Indianapolis beat AFC South champion Houston 28-16, Pagano even tossed aside the stodgy image of an NFL coach and began jumping around with players, assistant coaches and even team owner Jim Irsay like he was a kid again.Why not?"There was a lot of high-fiving, a lot of dancing, a lot of hugging going on and a lot of celebrating," an emotional Pagano said. "There's a lot to celebrate right now."It started with Pagano's return.He took an indefinite leave Sept. 26 to begin the first of three rounds of chemotherapy for leukemia, and didn't make it back to the sideline until Sunday when the cancer was in complete remission.But the party began much earlier.When Pagano first walked onto the field, he waved to the fans and hugged his wife, Tina.When fans gave him a standing ovation after a 1-minute video played on the stadium's two Jumbotrons just before kickoff, a choked-up Pagano held his tears in check.When he left the field, he hugged everybody in sight -- assistant coaches, Colts players, even Texans players and coaches -- before moving the postgame party to the locker room, where Irsay presented him with a game ball and they did a do-si-do together.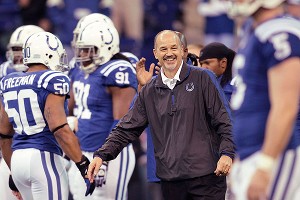 AP Photo/AJ Mast
Coach Chuck Pagano was happy to be back on the Colts' sideline for the first time since he began treatment for leukemia Sept. 26.
"What a day, what a day," he said. "We could go into what transpired out there over the last three hours and five, 10 minutes whatever, from a stats standpoint and big plays, penalties and run offense and run 'D', all of that stuff. But just down the road, I have watched all of this take place for the last 12 ball games."Players had a different kind of welcome-back celebration planned."Guys really did not want to lose in his first game back and heading into the playoffs," rookie quarterback
Andrew Luck
said. "To get a win, I think means the world to him."Luck, as usual, had a big hand in the victory. He was 14 of 28 for 191 yards with two more touchdowns and no interceptions.He wasn't alone, though.Karim swung the game with the kickoff return just seconds after the Texans took their only lead, and when Luck converted on third-and-23 with the 70-yard TD pass early in the fourth quarter, the crowd was in a frenzy.The Colts (11-5) will play at Baltimore in the wild-card round next weekend. The slumping Texans (12-4) have lost three of their last four and fell to the No. 3 seed in the AFC thanks to wins Sunday by the Broncos and Patriots. Houston will host Cincinnati next weekend. "We had a great opportunity the last two weeks, but we won't feel sorry for ourselves," Texans coach Gary Kubiak said after giving Pagano a hug and whispering in his ear after the game. "We'll focus on keeping our confidence up, even if we have to play next week."Indy did everything it needed to Sunday.The Colts prevented
J.J. Watt
from getting too close to Luck -- or any closer to
Michael Strahan
's NFL sacks record (22 1/2). Watt finished with 20 1/2."We didn't win, so I could care less about the record. It's about winning," Watt said.
Colts Kickin' It Old School
Deji Karim's 101-yard kickoff return for a TD put the Colts ahead for good Sunday against the Texans. It was the first Colts kickoff return of at least 100 yards since 1973, and was the fourth-longest in franchise history. Here's a look:
Year
Player
Yards
Opp.
1953
B. Young
104
at Eagles
1958
Lenny Lyles
103
Bears
1968
P. Pearson
102
at Lions
2012
Deji Karim
101
Texans
1973
C. Speyrer
101
Bills
1958
Lenny Lyles
101
Redskins
-- ESPN Stats & Information
Luck broke
Peyton Manning
's franchise record for completions by a rookie but fell 15 short of
Sam Bradford
's NFL mark. Luck also moved into third all time among rookies with 23 TD passes.And Indy completed the second greatest turnaround in league history -- winning nine more games than it did in 2011."Man, this has been a great year, a storybook ending," Pro Bowl receiver
Reggie Wayne
said. "Let's keep it going. Hopefully we can continue to write this movie."It didn't take long for the Colts to assert themselves in this emotional environment -- or to turn the game when the Texans took their only lead.
Shayne Graham
made a 37-yard field goal with 5:22 left in the third quarter, a lead that lasted all of 12 seconds.Karim fielded the ensuing kickoff a yard deep in the end zone, found a seam in the middle of the field and never slowed until he reached the opposite end zone to make it 21-16. Pagano patted him on the helmet after the longest kickoff return since the Colts moved to Indy in 1984.Then, facing third-and-23 from the 30, Luck threw a perfect strike through a narrow opening, hitting Hilton in stride for a 70-yard TD to make it 28-16.On a day the Texans mostly settled for field goals, that's all the Colts needed.Luck masterfully led the Colts to a 14-6 halftime lead.Houston made it 14-13 when
Arian Foster
broke through a hole for a 13-yard TD run and saluted Pagano by tapping the #Chuckstrong sign hanging on the wall behind the end zone instead of doing his trademark bow. Foster ran 16 times for 96 yards.Graham's 37-yard field goal gave Houston the lead with 5:22 to go in the third quarter, but Karim's long TD return set off a celebration that didn't end until after Pagano had done his dance."It's like a dream come true again," Pagano said. "It's the greatest feeling in the world to be down there."Schaub finished 24 of 36 for 275 yards with two interceptions and no touchdowns.
Game notes
Andre Johnson
caught 12 passes for 141 yards and became the second player in league history with three seasons of 100 or more catches and 1,500 or more yards. The other: Former Colt
Marvin Harrison
. ... Manning had 326 completions, Luck finished the season with 339. ... Watt had a shared sack taken away in the first half when the officials erased a sack-fumble of Luck because of the Tuck Rule. ... The Colts lost starting guard
Joe Reitz
in the first half with a head injury. ... Houston linebacker
Darryl Sharpton
left the game with a hip injury. Linebacker
Tim Dobbins
left in the second half with what Kubiak thought was a shoulder injury.
Information from The Associated Press was used in this report.
Copyright by STATS LLC and The Associated Press
Team Stat Comparison
| | HOU | IND |
| --- | --- | --- |
| 1st Downs | 19 | 19 |
| Passing 1st downs | 14 | 9 |
| Rushing 1st downs | 3 | 8 |
| 1st downs from penalties | 2 | 2 |
| 3rd down efficiency | 5-11 | 9-15 |
| 4th down efficiency | 0-0 | 0-0 |
| Total Plays | 60 | 62 |
| Total Yards | 352 | 265 |
| Yards per play | 5.9 | 4.3 |
| Total Drives | 10 | 10 |
| Passing | 250 | 184 |
| Comp-Att | 24-36 | 14-28 |
| Yards per pass | 6.3 | 6.3 |
| Interceptions thrown | 2 | 0 |
| Sacks-Yards Lost | 4-25 | 1-7 |
| Rushing | 102 | 81 |
| Rushing Attempts | 20 | 33 |
| Yards per rush | 5.1 | 2.5 |
| Red Zone (Made-Att) | 0-0 | 0-0 |
| Penalties | 9-64 | 3-24 |
| Turnovers | 2 | 0 |
| Fumbles lost | 0 | 0 |
| Interceptions thrown | 2 | 0 |
| Defensive / Special Teams TDs | 0 | 1 |
| Possession | 28:51 | 31:09 |
Scoring Summary
FIRST QUARTER
HOU
IND
TD
7:55
Coby Fleener 1 Yard Pass From Andrew Luck (Adam Vinatieri Kick is Good)

Drive info: 13 plays, 75 yds, 7:09

0
7
FG
0:12
Shayne Graham 51 Yard Field Goal is Good

Drive info: 14 plays, 48 yds, 7:45

3
7
SECOND QUARTER
HOU
IND
FG
10:27
Shayne Graham 37 Yard Field Goal is Good

Drive info: 5 plays, 44 yds, 2:28

6
7
TD
2:06
Vick Ballard 1 Yard Run (Adam Vinatieri Kick is Good)

Drive info: 6 plays, 39 yds, 2:05

6
14
THIRD QUARTER
HOU
IND
TD
9:31
Arian Foster 13 Yard Run (Shayne Graham Kick is Good)

Drive info: 12 plays, 84 yds, 5:35

13
14
FG
5:27
Shayne Graham 37 Yard Field Goal is Good

Drive info: 7 plays, 55 yds, 2:28

16
14
TD
5:22
Deji Karim 101 Yard Kickoff Return (Adam Vinatieri Kick is Good)

Drive info: 1 plays, 101 yds, 0:00

16
21
FOURTH QUARTER
HOU
IND
TD
11:31
T.Y. Hilton 70 Yard Pass From Andrew Luck (Adam Vinatieri Kick is Good)

Drive info: 3 plays, 57 yds, 1:51

16
28
Research Notes
From Elias: The Texans lost 3 of their last 4 to end the regular season. The only team to lose 3 of its last 4 to end the regular season and then win the Super Bowl is the 2009 Saints.
NEXT LEVEL:
J.J. Watt
had four tackles for a loss against the Colts Sunday, his most in a game this season, adding to his league-high total of 23.5 tackles for loss this season (not including sacks). Watt also batted down a pass, increasing his league-high total of batted or tipped passes to 16.
NEXT LEVEL:
Matt Schaub
threw two interceptions and failed to complete a pass on four attempts more than 20 yards downfield Sunday. Schaub has as many interceptions (3) as completions (3) on such throws over the Texans' last four games (1-3 over the span).
[+]
NEXT LEVEL:
Andrew Luck
's touchdown pass to
T.Y. Hilton
was thrown 37 yards downfield, the eighth touchdown pass thrown more than 30 yards downfield against the Texans defense this season. The Texans have allowed opponents to complete 60 percent of such throws, including six touchdowns over their last seven games, the most in the league since Week 11.
[+]
NEXT LEVEL:
Andrew Luck
's average pass was thrown 6.5 yards downfield Sunday (his shortest in a game this season), but one of his few deep passes was a 70-yard touchdown connection with
T.Y. Hilton
on 3rd and 23 in the fourth quarter. Luck, who entered the game with the longest average pass length in the league (10.2 yards), has thrown five of his eight touchdowns on throws more than 20 yards downfield to T.Y. Hilton this season.
[+]
Andre Johnson
now has his 3rd season with at least 1,500 yards receiving. He is the 3rd player in NFL history with at least 3 1,500-yards seasons. The others are
Marvin Harrison
(3) and
Jerry Rice
(4)
ESPN Stats & Information