1:00 PM ET, September 22, 2013
FedEx Field, Landover, MD
Top Performers
Passing: M. Stafford (DET) - 385 YDS, 2 TD, 1 INT
Rushing: A. Morris (WSH) - 15 CAR, 73 YDS, 1 TD
Receiving: N. Burleson (DET) - 6 REC, 116 YDS
Lions capitalize on miscues as Robert Griffin III, Redskins fall to 0-3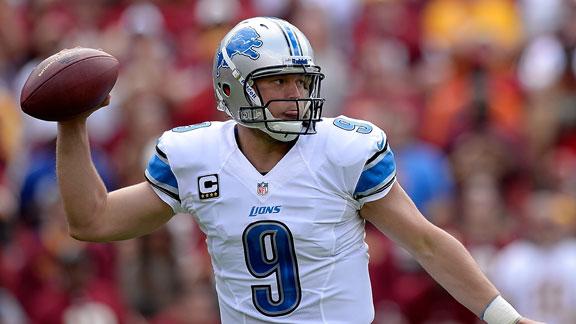 NFL Sunday Blitz: Lions-Redskins Recap
Michele Steele and Tom Waddle break down the Lions week 3 win over the Redskins.
NFL Sunday Blitz: Lions-Redskins Recap
VIDEO PLAYLIST
LANDOVER, Md. -- Robert Griffin III went head-first instead of sliding, so when the ball popped out it was a fumble.
Aldrick Robinson had a touchdown catch in his hands, but he couldn't quite maintain possession as he hit the ground in the end zone.
Thanks to the turf, the Detroit Lions have ended 74 years of road failure against the Washington Redskins.
More from ESPN.com

The Lions tried to ignore it, but they knew they hadn't won a game in Landover -- until Sunday, Michael Rothstein writes. Blog
---

For all the talk about Robert Griffin III, he is only part of the reason Washington has started the season 0-3, John Keim writes. Blog
• Radio: Mike & Mike weigh in

Detroit beat Washington 27-20 Sunday with big days from Matthew Stafford, Calvin Johnson and Nate Burleson and those two fourth-quarter Redskins bobbles, the kinds of breaks that had eluded Detroit (2-1) in the nation's capital since Franklin Delano Roosevelt lived on Pennsylvania Avenue.
"You never know how the cookie's going to crumble, and it feels good that it crumbled our way this time," Detroit cornerback Rashean Mathis said.
"I wasn't a part of the past, but I am part of the future, so it feels good to give the fans something to feel good about, and we can demolish a record, our streak, that was going on for years and years and years."
The Lions last beat the Redskins away from home in 1939, a 21-game streak that comes to a halt as the second-longest in NFL history.
Detroit's last road victory in the series came in 1935 against the Boston Redskins, two years before the move to Washington (0-3).
Completely Defenseless
The Redskins are 0-3 and the team's defense has been historically bad, allowing the most yards through the first three games of a season since 1966.
| | Yards allowed |
| --- | --- |
| Redskins, 2013 | 1,464 |
| Colts, 1978 | 1,452 |
| Texans, 2006 | 1,451 |
| Saints, 2012 | 1,432 |
| 49ers, 2005 | 1,431 |
-- Elias Sports Bureau
History was at play in other ways. The "Calvin Johnson rule" -- in which a receiver must maintain possession of the ball all the way to the ground when falling during a catch -- worked in favor of the Lions for a change.
The rule was named after Johnson after he had a catch in the end zone overturned three years ago against the Chicago Bears.
This time it was Robinson who wasn't quite able to keep the ball from coming loose after hauling in a pass from Griffin for an apparent 57-yard touchdown. The score would have given the Redskins the lead with 9:05 to play, but it was overturned by replay.
"I'm not known for my calm or anything like that," Detroit coach Jim Schwartz said. "But if that hadn't got overruled, I would have had a difficult time. I might have had a conniption or whatever that is."
Then there was Griffin, who finally resembled the RG III of last year when he scrambled to make something out of nothing with a 21-yard run deep into the opponent's territory with the score tied in the fourth quarter.
But the ball jarred loose as Griffin stumbled forward to give himself up at the 30-yard line. The play would have been ruled dead if he had slid, something he said he would do more often this year.
Because he was going head-first, it became a fumble recovered by the Lions.
"It's the rule. It can be a (bad) rule, but it's still one of the NFL rules, and they said it's a fumble," Griffin said. "So, it's unfortunate, and I've just got to make sure if I dive forward, hold onto the ball. ... It was really unfortunate that we lost the game on two calls, two judgment calls."
On the next play after Griffin's fumble, Johnson started a drive with a tiptoe catch along the sideline, and David Akers ended it with a 28-yard field goal with 11:08 to play to give the Lions the lead for good.
After Robinson's non-catch, Detroit got an insurance touchdown with 3:56 remaining on Stafford's 11-yard pass to Johnson, who had four Redskins around him as he fought his way across the goal line.
Johnson had 115 yards receiving, tying Herman Moore for the franchise record with 34 career 100-yard receiving games.
Burleson had 116 yards receiving, and Stafford completed 25 of 42 passes for 385 yards against a defense ranked by far at the bottom of the NFL after two weeks.
Griffin completed 32 of 50 passes for 326 yards and had his fourth interception of the season, one shy of his total from all of 2012. He's the first player in Redskins history to throw for 300 yards in three straight games, a byproduct of spending most of his time this season playing catch-up.
Griffin said leading up to the game that he would run the ball more to give his team a spark, but he rushed only six times for 37 yards, including his first carry out of the zone read this season.
The Redskins fall to 0-3 for the first time since 2001.
"The food isn't going to taste that good tonight," Washington cornerback DeAngelo Hall said. "Still trying to wrap my head around what we can do to get better."
Game notes
Lions DT
Jason Jones
ruptured his left patella tendon in the second quarter and is out for the year, and RB
Reggie Bush
missed the game with a left knee injury. ... Redskins injuries: LB
Brandon Jenkins
(right ankle), TE
Jordan Reed
(bruised right knee). ... Washington K
John Potter
made two field goals subbing for
Kai Forbath
(groin), TE
Fred Davis
missed the game with a sprained ankle. ... A moment of silence was held before the game for the victims of last week's Navy Yard shooting. The Navy Yard Ceremonial Honor Guard presented the colors for the national anthem.
Copyright by STATS LLC and The Associated Press
Photo Wire
LANDOVER, MD - SEPTEMBER 22: Quarterback Robert Griffin III #10 of the Washington Redskins warms up before...
(Photo by Patrick McDermott/Getty Images)
Team Stat Comparison
| | DET | WSH |
| --- | --- | --- |
| 1st Downs | 24 | 27 |
| Passing 1st downs | 18 | 21 |
| Rushing 1st downs | 4 | 2 |
| 1st downs from penalties | 2 | 4 |
| 3rd down efficiency | 4-13 | 6-13 |
| 4th down efficiency | 1-1 | 0-0 |
| Total Plays | 66 | 74 |
| Total Yards | 441 | 420 |
| Yards per play | 6.7 | 5.7 |
| Total Drives | 12 | 12 |
| Passing | 378 | 300 |
| Comp-Att | 25-42 | 32-50 |
| Yards per pass | 8.8 | 5.8 |
| Interceptions thrown | 1 | 1 |
| Sacks-Yards Lost | 1-7 | 2-26 |
| Rushing | 63 | 120 |
| Rushing Attempts | 23 | 22 |
| Yards per rush | 2.7 | 5.5 |
| Red Zone (Made-Att) | 2-5 | 0-2 |
| Penalties | 8-71 | 6-45 |
| Turnovers | 1 | 2 |
| Fumbles lost | 0 | 1 |
| Interceptions thrown | 1 | 1 |
| Defensive / Special Teams TDs | 0 | 1 |
| Possession | 28:48 | 31:12 |
Passing Leaders
DET
C/ATT
YDS
AVG
TD
INT
SACKS
Stafford
25/42
385
9.2
2
1
1-7
Scoring Summary
No Scoring Summary available
Research Notes
The Lions finally break through in Washington. Detroit had lost each of its last 18 road games against the Redskins, every single meeting since the Burgundy and Gold moved to Washington in 1937. The Lions 18-game road losing streak against the Skins was the second-longest in NFL history by any team against a single opponent.
[+]
For a moment, it appeared as though
Aldrick Robinson
had put the Redskins ahead with a 57-yard touchdown catch from
Robert Griffin
III. However, replay showed that Robinson had dropped the ball. After the play, the Redskins' win probability was 42.8%. Had it been caught/ruled a TD, Washington's win probability would have been 69.5%.
Matthew Stafford
attempted more passes 15-plus yards downfield Sunday than he had in the first two games combined. Stafford went 4-of-5 to
Calvin Johnson
on those throws Sunday after going 0-of-4 in the Lions' first two games.
[+]
Robert Griffin
III was sacked or under duress on 28% of his dropbacks Sunday, the highest pressure rate against him this season. Griffin was 3-of-10 for 34 yards and an interception when under duress Sunday.
ESPN Stats & Information