1:00 PM ET, September 22, 2013
M&T Bank Stadium, Baltimore, MD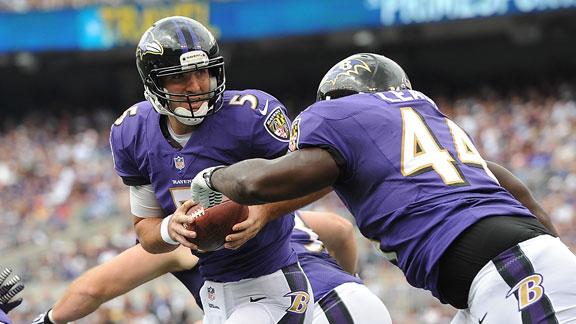 NFL Sunday Blitz: Texans-Ravens Recap
NFL Sunday Blitz: Texans-Ravens Recap
VIDEO PLAYLIST
BALTIMORE -- The Baltimore Ravens had scored three points in 27 minutes and trailed the unbeaten Houston Texans. Ray Rice was unavailable, the offense was struggling and the usually boisterous crowd was eerily quiet.
The defending Super Bowl champs were in dire need of a game-changing play, and Daryl Smith was there to provide it.
Smith stepped in front of tight end Owen Daniels, intercepted Matt Schaub's pass and took it 37 yards for a touchdown to propel the Ravens to a 30-9 victory Sunday.
More from ESPN.com

On day when Ray Lewis was inducted into the Ring of Honor, the Ravens' defense displayed its traditional toughness, Jamison Hensley writes. Blog
---

For the third straight game the Texans dug themselves a hole, but this time they couldn't fight their way out, Tania Ganguli writes. Blog
Less than two minutes after Smith's pivotal TD, Tandon Doss scored on an 82-yard punt return. And just like that, the Ravens (2-1) were on their way to a lopsided victory against one of the AFC's top teams.
"Two huge plays by the defense and the special teams," coach John Harbaugh said.
The Ravens (2-1) won despite playing without Rice for the first time since 2008. Watching from the sideline with a strained left hip flexor, the three-time Pro Bowl running back was replaced by Bernard Pierce, who ran for 65 yards and a touchdown.
Baltimore got only four first downs and 65 yards of offense in the first half, yet went to the locker room with a 17-9 lead.
"A guy like Daryl makes a huge play and turns the game entirely around," Ravens wide receiver Torrey Smith said.
Houston (2-1) led 6-3 before the interception return with 2:39 left in the first half. After a three-and-out by the Texans, Doss eluded several tacklers during his first career punt return for a touchdown.
"Over a four-play sequence, we give them 14 points," Texans coach Gary Kubiak said. "That's where the game turned, and we were playing catch-up all game long."
Houston compiled only 107 yards of offense in getting shut out in the second half. After scoring seven touchdowns in their first two games, the Texans were limited to three field goals by Randy Bullock.
Give much of the credit to the Ravens defense, which has not allowed a touchdown in eight quarters since a season-opening 49-27 defeat in Denver. With at least a half-dozen new faces, the unit remains a work in progress.
But this was a significant step.
"We do feel we're as far along as we could possibly be with this group," Harbaugh said. "We haven't given up the big plays."
Schaub went 25 for 35 for 194 yards and an interception. He played much of the second half without wide receiver Andre Johnson, who bruised his shin.
"I did not think he could run the way he needs to play, so we took him out," Kubiak said.
Schaub's most lamentable throw was the one that Smith took the other way.
"Poor decision on my part," Schaub said. "You got to be better in that situation, especially late in the half."
Joe Flacco was 16 of 24 for 171 yards to help the Ravens avenge last year's 43-13 blowout loss in Houston.
The Texans fell to 0-4 in Baltimore, including a defeat in the 2011 postseason. Houston came in as a slight favorite, but the Ravens again proved formidable at home, where they're 35-7 since the start of the 2008 season.
The game featured the return of Ed Reed and Ray Lewis, who starred for years with Baltimore. Lewis was inducted into the Ravens Ring of Honor at halftime, and Reed made his debut with Houston at free safety after signing with the Texans as a free agent in March.
Reed long has been part of great defensive performances by the Ravens. This time, he was on the opposite end.
"Baltimore has a great defense," Reed said. "I told the guys coming into this game, defensively they're going to know every move that you're making, everything that you're doing."
Smith, Lewis' replacement at middle linebacker, knew all about Schaub's tendency to look for his tight end in those situations.
"It was something we saw on film during the week," he said. "We got pressure on the play and I jumped the route."
It was his first interception return for a score.
"It's like a dream; it's hazy," he said. "I remember catching it and running as fast as I can."
Game notes
Ravens DT
Terrence Cody
sprained his knee in the first quarter and did not return. ... Ravens backup RB
Shaun Draughn
sprained his ankle. ... Houston was denied in its bid to go 3-0 for a second straight season. ... Smith became the 19th player in Ravens history to score on an INT return.
Copyright by STATS LLC and The Associated Press
Photo Wire
BALTIMORE, MD - SEPTEMBER 22: Free safety Ed Reed #20 of the Houston Texans takes the field before the game...
(Photo by Larry French/Getty Images)
Team Stat Comparison
| | HOU | BAL |
| --- | --- | --- |
| 1st Downs | 18 | 16 |
| Passing 1st downs | 11 | 7 |
| Rushing 1st downs | 5 | 5 |
| 1st downs from Penalties | 2 | 4 |
| 3rd down efficiency | 3-12 | 8-16 |
| 4th down efficiency | 0-1 | 0-0 |
| Total Plays | 61 | 57 |
| Total Yards | 264 | 236 |
| Yards per play | 4.3 | 4.1 |
| Total Drives | 12 | 9 |
| Passing | 170 | 161 |
| Comp - Att | 25-35 | 16-24 |
| Yards per pass | 4.9 | 6.7 |
| Interceptions thrown | 1 | 0 |
| Sacks - Yards Lost | 3-24 | 2-10 |
| Rushing | 94 | 75 |
| Rushing Attempts | 23 | 31 |
| Yards per rush | 4.1 | 2.4 |
| Red Zone (Made-Att) | 0-2 | 1-2 |
| Penalties | 14-113 | 10-87 |
| Turnovers | 1 | 0 |
| Fumbles lost | 0 | 0 |
| Interceptions thrown | 1 | 0 |
| Defensive / Special Teams TDs | 0 | 2 |
| Possession | 30:36 | 29:24 |
Scoring Summary
FIRST QUARTER
HOU
BAL
FG
07:06
Randy Bullock 27 Yd
3
0
SECOND QUARTER
HOU
BAL
FG
14:56
Randy Bullock 29 Yd
6
0
FG
04:11
Justin Tucker 28 Yd
6
3
TD
02:39
Daryl Smith 37 Yd Interception Return (Justin Tucker Kick)
6
10
TD
00:45
Tandon Doss 82 Yd Punt Return (Justin Tucker Kick)
6
17
FG
00:00
Randy Bullock 47 Yd
9
17
THIRD QUARTER
HOU
BAL
TD
11:05
Bernard Pierce 1 Yd Run (Justin Tucker Kick)
9
24
FOURTH QUARTER
HOU
BAL
FG
09:09
Justin Tucker 45 Yd
9
27
FG
01:08
Justin Tucker 43 Yd
9
30
Research Notes
The Texans' defense allowed 236 total yards in Sunday's loss, the first time Houston allowed an opposing team less than 250 yards and lost the game since Week 8 of 2007. The team was 15-0 in those games from 2008-13 before Sunday's loss.
ESPN Stats & Information