8:25 PM ET, September 26, 2013
Edward Jones Dome, Saint Louis, MO
Top Performers
Passing: S. Bradford (STL) - 202 YDS, 1 TD, 1 INT
Rushing: F. Gore (SF) - 20 CAR, 153 YDS, 1 TD
Receiving: A. Boldin (SF) - 5 REC, 90 YDS, 1 TD
ST. LOUIS -- Missing some of their biggest stars, the San Francisco 49ers put their foot down. They put the St. Louis Rams back in their place, too.
Colin Kaepernick threw two touchdown passes, Frank Gore had his first 100-yard game of the season and the defense stepped up in a 35-11 victory Thursday night.
More 49ers-Rams Coverage

The San Francisco 49ers wanted to send the rest of the NFC a message that they are still a team to be reckoned with, Bill Williamson writes. Blog
---

This season was supposed to provide more signs of progress for the Rams, but somewhere, progression turned into regression, Nick Wagoner writes. Blog
• Radio: Ron Jaworski weighs in
"We know the talent we have on this team," Kaepernick said. "We know what we're capable of."
Anquan Boldin had five catches for 90 yards and a touchdown, and Gore had 153 yards on 20 carries and a 34-yard score for San Francisco (2-2), which was outscored 56-10 the previous two games. NaVorro Bowman had two of the 49ers' five sacks with a strip leading to Anthony Dixon's fourth-quarter scoring run.
"If we keep playing, our offense will come around sooner or later," Bowman said.
The Rams (1-3) had an overtime win and a tie against San Francisco last year, and took the early lead Thursday before falling flat. Greg Zuerlein banged in a 40-yard field goal off the right upright to end a nine-game scoring drought in the first quarter, but the 49ers answered with 28 straight points.
"Tomorrow's going to be a pretty tough day in the film room," Rams quarterback Sam Bradford said. "The good news is we have 10 days, 11 days until we play again and there's going to be ample time to get that corrected."
St. Louis was held to 188 total yards and was completely stuffed on the run, with 18 yards on 19 carries.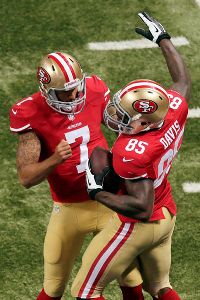 AP Photo/Charlie Riedel
Vernon Davis, after a week off to rest a hamstring injury, hauled in a 12-yard TD pass from Colin Kaepernick in the third quarter, then celebrated with the 49ers quarterback afterward.
"That's what we do," said safety Donte Whitner, who had an interception in the end zone. "We stop the run first, then we stop the pass and then we get away with wins."
The 49ers came close to a Super Bowl title in February and regained their footing against the team that gave them the most trouble last season. Minus cornerback Nnamdi Asomugha and linebackers Patrick Willis and Aldon Smith, they quieted a raucous, hopeful crowd, sending all but a few thousand home early.
"We're going to have to get tough in here," Rams defensive end Chris Long said. "We're going to have to hold each other accountable and make plays and dig our way out of this hole because nobody's going to do that for us."
Kaepernick had no touchdown passes and four interceptions the previous two weeks and completed fewer than 50 percent of his passes. He was 15 for 23 for 167 yards.
Boldin had a monster debut with the 49ers after helping the Ravens beat San Francisco in the Super Bowl, but had been quiet along with the rest of the offense the previous two weeks. He had two highlight catches in the second quarter, a 42-yarder despite Cortland Finnegan getting flagged for holding, and a 20-yard score capped by a dive into the end zone after barely avoiding the sideline.
Gore more than doubled his output from the first three weeks and got a lot more work, too, after totaling just 11 carries last week. Four days earlier, DeMarco Murray burned them for 175 yards in Dallas' 31-7 win.
Niners Strike Gold
After a rough two weeks that saw it outscored 56-10 in a pair of losses, San Francisco got back on track Thursday night against the Rams. Here's a look:
Wks 2-3
Wk 4
PPG
5.0
35
Yds. per play
4.4
5.7
Rush YPG
107.5
219
3rd-down conv.
6-24
6-15
* Outscored 56-10
-- ESPN Stats & Information
"It's disgusting," Long said. "It really is just disgusting."
The Rams have trailed by double digits in every game, making up an 11-point deficit against Arizona in the opener but not gaps of 21 and 24 points against Atlanta and Dallas, and were down by 25 in the fourth quarter against San Francisco.
They got hit by injuries, too, the worst of them when rookie safety T.J. McDonald was carted off with a leg injury in the second half.
Bradford was 19 for 41 for 202 yards and an interception and has been sacked 11 times the last two games after the Rams allowed none the previous four games.
After mustering just 25 yards in the first quarter, the 49ers took a noisy crowd out of it in the second, averaging more than 11 yards per snap while piling up 176 yards and two touchdowns. Kaepernick was 8 for 12 for 104 yards in the half, all but 11 of those yards in the second quarter.
SportsNation: Are the 49ers back?

Four days after looking awful, the 49ers blasted the Rams. Is S.F. that good, or is St. Louis that bad? Vote!
The Rams went for it on third-and-1 from the 49ers 34 and Whitner's diving interception on a tipped ball in the end zone set up an eight-play, 80-yard drive capped by Gore's 34-yard run on third-and-1 in the final minute that made it 14-3.
The San Francisco defense took Gore off the hook for getting stripped by rookie Alec Ogletree and a turnover, forcing St. Louis into a three-and-out. Davis, who had been questionable with a because of a hamstring injury, broke open for an easy catch in the left side of the end zone to push the lead to 21-3.
Copyright by STATS LLC and The Associated Press
Photo Wire
ST. LOUIS, MO - SEPTEMBER 26: Colin Kaepernick #7 of the San Francisco 49ers passes against the St. Louis Rams at...
(Photo by Michael Thomas/Getty Images)
Team Stat Comparison
| | SF | STL |
| --- | --- | --- |
| 1st Downs | 19 | 14 |
| Passing 1st downs | 8 | 12 |
| Rushing 1st downs | 8 | 0 |
| 1st downs from penalties | 3 | 2 |
| 3rd down efficiency | 6-15 | 3-17 |
| 4th down efficiency | 1-1 | 0-0 |
| Total Plays | 65 | 65 |
| Total Yards | 370 | 188 |
| Yards per play | 5.7 | 2.9 |
| Total Drives | 16 | 16 |
| Passing | 151 | 170 |
| Comp-Att | 15-23 | 19-41 |
| Yards per pass | 6.0 | 3.7 |
| Interceptions thrown | 0 | 1 |
| Sacks-Yards Lost | 2-16 | 5-32 |
| Rushing | 219 | 18 |
| Rushing Attempts | 40 | 19 |
| Yards per rush | 5.5 | 0.9 |
| Red Zone (Made-Att) | 3-3 | 1-1 |
| Penalties | 10-85 | 8-82 |
| Turnovers | 2 | 2 |
| Fumbles lost | 2 | 1 |
| Interceptions thrown | 0 | 1 |
| Defensive / Special Teams TDs | 0 | 0 |
| Possession | 31:45 | 28:15 |
Passing Leaders
SF
C/ATT
YDS
AVG
TD
INT
SACKS
Kaepernick
15/23
167
7.3
2
0
2-16

STL
C/ATT
YDS
AVG
TD
INT
SACKS
Bradford
19/41
202
4.9
1
1
5-32
Scoring Summary
FIRST QUARTER
SF
STL
FG
7:13
Greg Zuerlein 40 Yard Field Goal is Good

Drive info: 5 plays, 35 yds, 1:57

0
3
SECOND QUARTER
SF
STL
TD
6:30
Anquan Boldin 20 Yard Pass From Colin Kaepernick (Phil Dawson Kick is Good)

Drive info: 7 plays, 80 yds, 2:55

7
3
TD
0:44
Frank Gore 34 Yard Run (Phil Dawson Kick is Good)

Drive info: 3 plays, -2 yds, 0:33

14
3
THIRD QUARTER
SF
STL
TD
8:53
Vernon Davis 12 Yard Pass From Colin Kaepernick (Phil Dawson Kick is Good)

Drive info: 11 plays, 88 yds, 5:03

21
3
FOURTH QUARTER
SF
STL
TD
10:25
Anthony Dixon 1 Yard Run (Phil Dawson Kick is Good)

Drive info: 2 plays, 3 yds, 0:48

28
3
TD
5:47
Lance Kendricks 6 Yard Pass From Sam Bradford (Benjamin Cunningh (Benjamin Cunningham Run For Two-Point Conversion is Good)

Drive info: 4 plays, 24 yds, 0:57

28
11
TD
4:32
Kendall Hunter 29 Yard Run (Phil Dawson Kick is Good)

Drive info: 4 plays, 42 yds, 1:19

35
11
Research Notes
The Rams were held to 18 rushing yards, the fewest in a game by a team this season. The Rams hadn't been held to 18 rushing yards or fewer as a team since 2008 Week 12.
Colin Kaepernick
continues to struggle on throws at least 15 yards downfield this season. Kaepernick was 2-of-5 on such throws Thursday. This season, Kaepernick is completing 34% of throws at least 15 yards downfield after completing 54% of such throws last season.
Frank Gore
ran for 115 yards between the tackles Thursday night. In Gore's first three games this season, he totaled 88 rushing yards between the tackles. Gore averaged 9.6 yards per carry between the tackles Thursday, the most by a running back in a game this season (min. 10 such rushes).
[+]
ESPN Stats & Information