1:00 PM ET, September 29, 2013
Wembley Stadium, London, ENG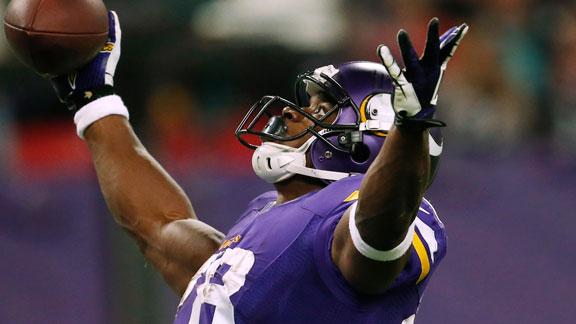 Sunday Blitz: Steelers-Vikings Recap
Sunday Blitz: Steelers-Vikings Recap
VIDEO PLAYLIST
LONDON -- Greg Jennings showed that the Vikings have someone other than Adrian Peterson who can make big plays.
Jennings and Peterson provided the kind of 1-2 punch Minnesota had been hoping for when it signed the wide receiver in the offseason, and each scored two touchdowns in a 34-27 win over the Pittsburgh Steelers at London's Wembley Stadium for the Vikings' first victory of the season.
"It would have been a long flight back to take after a loss," Jennings said. "It was a special day. To do this at Wembley Stadium is a once-in-a-lifetime experience."
More Steelers-Vikings Coverage

The Vikings made themselves at home Sunday, both in London and with new starting quarterback Matt Cassel, writes Ben Goessling. Blog
---

This Steelers' defeat was all on the defense as it dug too deep a hole for Big Ben to shovel out of while in the shadow of Big Ben, writes Scott Brown. Blog
Not so for the Steelers, who fell to 0-4 for the first time since 1968. That's a hole only one team has dug itself out of to make the playoffs, the San Diego Chargers in 1992.
So much for the city of Big Ben giving a lift to Ben Roethlisberger.
"We are in unchartered territories and the water is dangerous right now, so we have to stick together and get out of it," Roethlisberger said. "Right now, you could say we're the worst team in the league. That hurts."
In one of the most entertaining NFL games yet in the annual International Series in London, Jennings provided the biggest highlight -- breaking several tackles on a 70-yard catch-and-run that opened up a 10-0 lead for the Vikings (1-3) in the first quarter.
"You throw a 5-yard hitch, and he goes 70 yards," said quarterback Matt Cassel, who started in place of the injured Christian Ponder. "It makes your job a lot easier. Those guys made plays all night."
Not to be outdone, Peterson ran for a 60-yard touchdown in the second quarter.
They still needed a big stop from the defense in the closing moments, when Everson Griffen stripped Roethlisberger of the ball on the 6-yard line with 19 seconds left and Kevin Williams recovered the fumble to seal the victory.
"It feels great to get our first home win of the season," Vikings head coach Leslie Frazier said. "And we had to come all the way to London to get it. I think I'll always have a special place in my heart for Wembley Stadium."
He suddenly has a bit of a quarterback controversy as well.
Cassel finished 16 of 25 for 248 yards and two touchdowns with no turnovers. But with Ponder hoping to have recovered from a rib injury after the coming bye week, Frazier said he doesn't expect a permanent switch.
"If you're asking, our quarterback is Christian Ponder," Frazier said. "Now we'll discuss a lot of things when we come out of the bye, but ... we're going to enjoy this victory for a little while at least."
Regardless of the quarterback, Peterson and Jennings will pose a threat to any team going forward.
Peterson ran for 140 yards on 23 carries while Jennings finished with 92 yards on three receptions.
That offset two touchdown runs by Pittsburgh's rookie running back Le'Veon Bell, who made his long-awaited debut for the Steelers after a foot injury. He gave the team its first rushing touchdowns of the season by breaking off to the right for an 8-yard score to make it 10-7, somersaulting into the end zone, and again pulled Pittsburgh within 3 by plowing in from the 1-yard line in the third quarter.
But Peterson and Jennings added their second touchdowns to help Minnesota pull away, although Pittsburgh made sure it was a tense finish after Jerricho Cotchery caught a 15-yard touchdown pass in the fourth quarter and Shaun Suisham kicked a 28-yard field goal to make it a one-possession game with 3:40 left.
The Steelers got the ball back on their own 22-yard line with 1:43 left and no timeouts, and Roethlisberger completed six passes to get a first-and-goal at the 6. But after spiking the ball, he overthrew Cotchery in the end zone and was stripped on the next play.
Roethlisberger finished 36 for 51 for 383 yards, with one touchdown and one interception.
The Steelers are still looking for their first turnover of the season, as they failed to recover Cassel's fumble on the Vikings 38 in the second quarter, with the ball bouncing forward before being recovered by Jerome Simpson for a 10-yard gain.
"We came up short, but we played better than we have in recent weeks," Steelers head coach Mike Tomlin said. "We gave up explosive plays, you can't do that. ... We're going to focus on getting better, and that's what's going to change the outcome of football games."
Game notes
British heavyweight Boxer David Haye blew the Vikings' giant horn when the team ran onto the field before the game, while Kiss member Gene Simmons sang the American national anthem. ... This is the seventh year of the International Series in Britain, but the first year Wembley will host two NFL games, with the Jacksonville Jaguars playing the San Francisco 49ers on Oct. 27. ... Jennings has seven career 70-yard TD catches. Jerry Rice holds the record with nine.
Copyright by STATS LLC and The Associated Press
Photo Wire
LONDON, ENGLAND - SEPTEMBER 29: Wide receiver Jerome Simpson #81 of the Minnesota Vikings holds off running back...
(Photo by Jamie McDonald/Getty Images)
Team Stat Comparison
| | PIT | MIN |
| --- | --- | --- |
| 1st Downs | 29 | 16 |
| Passing 1st downs | 21 | 7 |
| Rushing 1st downs | 5 | 7 |
| 1st downs from Penalties | 3 | 2 |
| 3rd down efficiency | 8-15 | 4-11 |
| 4th down efficiency | 0-0 | 0-0 |
| Total Plays | 77 | 51 |
| Total Yards | 434 | 393 |
| Yards per play | 5.6 | 7.7 |
| Total Drives | 12 | 12 |
| Passing | 357 | 248 |
| Comp - Att | 36-51 | 16-25 |
| Yards per pass | 7.0 | 9.9 |
| Interceptions thrown | 1 | 0 |
| Sacks - Yards Lost | 5-26 | 1-0 |
| Rushing | 77 | 145 |
| Rushing Attempts | 21 | 25 |
| Yards per rush | 3.7 | 5.8 |
| Red Zone (Made-Att) | 3-6 | 2-3 |
| Penalties | 4-50 | 5-89 |
| Turnovers | 2 | 0 |
| Fumbles lost | 1 | 0 |
| Interceptions thrown | 1 | 0 |
| Defensive / Special Teams TDs | 0 | 0 |
| Possession | 36:27 | 23:33 |
Passing Leaders
PIT
C/ATT
YDS
AVG
TD
INT
SACKS
Roethli...
36/51
383
7.5
1
1
5-26

MIN
C/ATT
YDS
AVG
TD
INT
SACKS
Cassel
16/25
248
9.9
2
0
1-0
Scoring Summary
FIRST QUARTER
PIT
MIN
FG
12:08
Blair Walsh 54 Yd
0
3
TD
08:06
Greg Jennings 70 Yd Pass From Matt Cassel (Blair Walsh Kick)
0
10
TD
04:02
Le'Veon Bell 8 Yd Run (Shaun Suisham Kick)
7
10
SECOND QUARTER
PIT
MIN
TD
12:42
Adrian Peterson 60 Yd Run (Blair Walsh Kick)
7
17
FG
03:39
Shaun Suisham 26 Yd
10
17
FG
00:39
Blair Walsh 37 Yd
10
20
THIRD QUARTER
PIT
MIN
TD
11:28
Le'Veon Bell 1 Yd Run (Shaun Suisham Kick)
17
20
TD
07:52
Adrian Peterson 7 Yd Run (Blair Walsh Kick)
17
27
TD
05:11
Greg Jennings 16 Yd Pass From Matt Cassel (Blair Walsh Kick)
17
34
FOURTH QUARTER
PIT
MIN
TD
12:42
Jerricho Cotchery 15 Yd Pass From Ben Roethlisberger (Shaun Suisham Kick)
24
34
FG
03:37
Shaun Suisham 28 Yd
27
34
Research Notes
Adrian Peterson
gained a season-high 93 rush yards after first contact Sunday. Peterson gained 112 yards after contact in his first three games combined.
Greg Jennings
had a 70-yard TD reception in the 1st quarter. Since 2006, only two players have seven 70-yard TD catches... VIctor Cruz and now Jennings.
ESPN Stats & Information