8:25 PM ET, October 3, 2013
FirstEnergy Stadium, Cleveland, OH
Top Performers
Passing: B. Weeden (CLE) - 197 YDS, 1 TD
Rushing: W. McGahee (CLE) - 26 CAR, 72 YDS, 1 TD
Receiving: J. Gordon (CLE) - 4 REC, 86 YDS, 1 TD
CLEVELAND -- Brandon Weeden never once hung his head after getting hurt and losing his job to a hometown hero.
He figured the Browns would need him again, and he had to be ready.
On Thursday night, his number was called and Weeden delivered.
More From ESPN.com

Brandon Weeden inspired some confidence Thursday after a shaky start in his second chance as the starting QB, writes Pat McManamon. Analysis
• Vote: Are the Browns for real?
• Rodak: Injuries catching up with Bills
• Chudzinski on Browns to date

Weeden came off the bench after Brian Hoyer injured his knee and rallied the Browns to a 37-24 victory over the Buffalo Bills, who also lost starting rookie quarterback EJ Manuel with a knee injury.
After spraining his right thumb in Week 2, Weeden watched as Hoyer, a lifelong Browns fan who began the season as Cleveland's No. 3 quarterback, led the team to two straight wins. Weeden got healthy enough to play but found himself demoted to a backup role, not what the first-round draft pick imagined after being named the starter in training camp.
He could have sulked or complained. Instead, he fought back.
"Whether I was the starter, eyes are still on you to see how you respond, to see how you react," he said. "I was upbeat the entire time and never let it bother me. Inside, it just kind of lit a fire."
Weeden threw a 37-yard touchdown pass to Josh Gordon in the third quarter as the Browns (3-2) won their third straight and temporarily moved into sole possession of first place in the AFC North. It's the Browns best record after five games since they were 3-2 in 2001.
""We don't care about history," Gordon said. "This is a new year and this is a new team."
Safety T.J. Ward intercepted rookie Jeff Tuel's pass and returned it 44 yards for a TD with 1:44 left to end any comeback hopes for the Bills (2-3). Travis Benjamin had an electrifying 79-yard TD punt return in the first half for Cleveland.
Hoyer sustained a potentially serious right knee injury on a scramble in the first quarter, and Manuel was forced out after taking a helmet to his right knee on a run in the third. Neither returned and their injuries could impact both teams' seasons.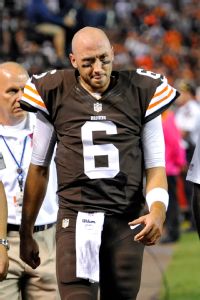 AP Photo/David Richard
Brian Hoyer suffered a sprained right knee less than five minutes into Thursday's game.
Following the game, Hoyer left the stadium on crutches with his knee immobilized. Browns coach Rob Chudzinski said Hoyer has a sprained knee and will undergo an MRI on Friday. But the tone of Hoyer's teammates seemed to indicate that the 27-year-old, who was finally getting a chance to start in his fifth NFL season, might be sidelined for an extended period.
"He was playing great, man," said Weeden, who added that Hoyer was in the locker room following the game to celebrate with his teammates. "You hate to see it because he's a teammate and a friend. I tried to be as positive with him as I could."
With the Browns trailing 7-0, Hoyer took off on an 11-yard run and was sliding after picking up the first down when he was hit from the side by rookie linebacker Kiko Alonso.
Both of Hoyer's knees were bent awkwardly on the hit in front of Cleveland's bench, and several players and coaches yelled for a penalty to be called on Alonso. Hoyer stayed on the ground for several moments before he was assisted to a trainer's table. He limped to the locker room for tests and treatment.
Hoyer was attempting to become the first quarterback in team history to win his first three starts -- now he may not get back on the field this season.
"We definitely don't want to see a teammate go down like that, especially a guy like Hoyer," Gordon said. "He's a great guy and I hope he comes back healthy."
C.J. Spiller had a 54-yard TD run and Fred Jackson had a pair of 1-yard TD runs for the Bills, who could do nothing on offense once Manuel left.
Manuel got hurt at the end of a 14-yard run when he was hammered near the sideline by Browns safety Tashaun Gipson. Manuel walked off the field attempted to get his knee loose on the sideline by jogging and riding a stationary bike. But after having his knee examined, he jogged to the locker room with two trainers.
Bills coach Doug Marrone said the doctors told him Manuel has a sprained knee and assume he will have an MRI.
SportsNation: Are the Browns legit?

Left for dead just three weeks ago, the Browns are 3-2. Are they for real? Do they need Brian Hoyer back? Vote!
"I was hoping we could get him back, but they said it was a sprain and they shut him down," Marrone said. "He's a tough kid. He took a shot. He was trying to score a touchdown."
Billy Cundiff kicked field goals of 24 and 44 yards in the fourth quarter for the Browns, who overcame a 10-0 deficit and were down 24-17 less than two minutes into the second quarter.
Cundiff's second kick with 2:91 left put the Browns ahead 30-24, and Cleveland turned it over to their third-ranked overall defense.
Beyond the quarterbacks, both teams had one other key player go down with an injury.
Bills leading receiver Stevie Johnson injured his back in the first half and didn't return. Johnson caught two catches for 19 yards before he went out.
Browns defensive end Desmond Bryant was taken to the Cleveland Clinic in the third quarter after experiencing shortness of breath. Last year with Oakland, Bryant had to be hospitalized during a game with an irregular heartbeat, but returned to play the next week
With Buffalo leading 24-17, Weeden found Gordon down the left sideline and the wide receiver made a juggling catch. Weeden started slowly but finished 13 of 24 for 197 yards.
"He did a great job," tight end Jordan Cameron said. "At first he was a little rusty. I think he shook that off and really got us going."
Game notes
Benjamin set a team record with 179 return yards, breaking the mark held by
Eric Metcalf
, who had 166 on Oct. 24, 1993, against Pittsburgh. ... Bills DE
Mario Williams
had two sacks, moving him into a tie for the league lead with 7 1/2. ... Bills WR
T.J. Graham
sustained a neck injury in the fourth but returned. ... Browns RB
Chris Ogbonnaya
left in the first half with a concussion and did not return. ... With three catches, Cameron has 33 this season, the most by a Browns TE in the first five games.
Copyright by STATS LLC and The Associated Press
Photo Wire
CLEVELAND, OH - SEPTEMBER 29: Head coaches Doug Marrone of the Buffalo Bills (L) and Rob Chudzinski of the...
(Photo by Jason Miller/Getty Images)
Team Stat Comparison
| | BUF | CLE |
| --- | --- | --- |
| 1st Downs | 20 | 19 |
| Passing 1st downs | 10 | 11 |
| Rushing 1st downs | 8 | 6 |
| 1st downs from penalties | 2 | 2 |
| 3rd down efficiency | 5-16 | 7-17 |
| 4th down efficiency | 1-2 | 0-0 |
| Total Plays | 75 | 65 |
| Total Yards | 343 | 290 |
| Yards per play | 4.6 | 4.5 |
| Total Drives | 14 | 14 |
| Passing | 188 | 199 |
| Comp-Att | 19-40 | 15-28 |
| Yards per pass | 4.3 | 6.0 |
| Interceptions thrown | 1 | 0 |
| Sacks-Yards Lost | 4-21 | 5-23 |
| Rushing | 155 | 91 |
| Rushing Attempts | 31 | 32 |
| Yards per rush | 5.0 | 2.8 |
| Red Zone (Made-Att) | 2-2 | 1-3 |
| Penalties | 7-56 | 6-66 |
| Turnovers | 1 | 0 |
| Fumbles lost | 0 | 0 |
| Interceptions thrown | 1 | 0 |
| Defensive / Special Teams TDs | 0 | 2 |
| Possession | 27:37 | 32:23 |
Scoring Summary
FIRST QUARTER
BUF
CLE
TD
13:21
Fred Jackson 1 Yard Run (Dan Carpenter Kick is Good)

Drive info: 2 plays, 32 yds, 0:44

7
0
FG
5:55
Dan Carpenter 52 Yard Field Goal is Good

Drive info: 12 plays, 56 yds, 4:14

10
0
SECOND QUARTER
BUF
CLE
FG
14:28
Billy Cundiff 30 Yard Field Goal is Good

Drive info: 7 plays, 19 yds, 2:12

10
3
TD
3:52
Willis Mcgahee 1 Yard Run (Billy Cundiff Kick is Good)

Drive info: 14 plays, 74 yds, 7:10

10
10
TD
2:41
Travis Benjamin 79 Yard Punt Return (Billy Cundiff Kick is Good)

Drive info: 1 plays, 79 yds, 0:00

10
17
THIRD QUARTER
BUF
CLE
TD
14:01
C.J. Spiller 54 Yard Run (Dan Carpenter Kick is Good)

Drive info: 3 plays, 80 yds, 1:09

17
17
TD
6:41
Fred Jackson 1 Yard Run (Dan Carpenter Kick is Good)

Drive info: 11 plays, 54 yds, 5:15

24
17
TD
5:39
Josh Gordon 37 Yard Pass From Brandon Weeden (Billy Cundiff Kick is Good)

Drive info: 2 plays, 74 yds, 0:57

24
24
FOURTH QUARTER
BUF
CLE
FG
12:34
Billy Cundiff 24 Yard Field Goal is Good

Drive info: 10 plays, 26 yds, 4:32

24
27
FG
2:26
Billy Cundiff 44 Yard Field Goal is Good

Drive info: 8 plays, 31 yds, 4:41

24
30
TD
1:54
T.J. Ward 44 Yard Interception Return (Billy Cundiff Kick is Good)

Drive info: 4 plays, 20 yds, 0:35

24
37
Research Notes
The Bills quarterbacks were under duress on 18-of-45 team dropbacks (40%). E.J. Manuel and
Jeff Tuel
were a combined 3-of-13 passing when under duress, with four sacks. In his first four games, Manuel was under duress on 23% of his dropbacks.
Brandon Weeden
completed 6-of-9 passes thrown more than 10 yards downfield, including a 37-yard touchdown to
Josh Gordon
. Entering Thursday night, the Bills allowed 62 completions more than 10 yards downfield, most in the league this season.
[+]
Browns: improve to 3-2; best 5-game start since 2001 (also started 3-2)
ESPN Stats & Information