1:00 PM ET, October 6, 2013
Soldier Field, Chicago, IL
Top Performers
Passing: J. Cutler (CHI) - 358 YDS, 2 TD
Rushing: M. Forte (CHI) - 12 CAR, 55 YDS
Receiving: A. Jeffery (CHI) - 10 REC, 218 YDS, 1 TD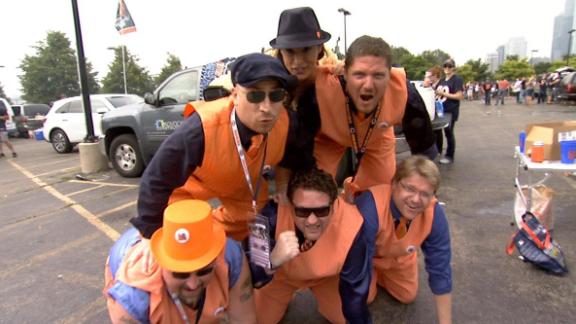 No Spain, No Game: Chicago Bears
Sarah Spain takes you to Chicago to check out how Bears fans do it big -- tailgating style.
No Spain, No Game: Chicago Bears
VIDEO PLAYLIST
CHICAGO -- Drew Brees passed to Jimmy Graham along the sideline. He found the tight end over the middle. They hooked up for long plays and short ones, all over the field.
That New Orleans connection was just too much for the Chicago Bears.
Brees threw two touchdown passes, Graham tied an NFL record with another 100-yard game and the Saints beat the Bears 26-18 on Sunday to remain unbeaten.
More Saints-Bears coverage

The Saints, who keep finding different ways to win, are the NFC's only unbeaten team. They might be the most dangerous, too, Mike Triplett writes. Blog
---

The new Bears offense has flashed potential, but it's also causing frustration, most notably from Brandon Marshall, Jon Greenberg writes. Story

• Radio: Mike & Mike weigh in
• Clayton's Last Call: Unbeatens shine
"We knew the formula coming into this game was to remain patient, to run the football effectively, to be very efficient in the passing game and to take care of the football, priority No. 1," Brees said, "and we were able to do all those things."
Brees was 29-of-35 passing for 288 yards in his first victory in four career games at Soldier Field. Garrett Hartley matched a career high with four field goals as New Orleans (5-0) picked up its first win in Chicago since a 31-10 victory on Oct. 8, 2000.
Graham continued his torrid start for the Saints, catching 10 balls for 135 yards in his fourth consecutive 100-yard game -- matching an NFL record for a tight end. Tony Gonzalez was the first to accomplish the streak in 2000, and Graham matched the surge in 2011.
Graham and Brees said they spent more time together during the offseason, and it looks as if all that work is paying off.
"I'm just blessed to be with such a great quarterback and a guy who has so much trust in me," Graham said.
Graham helped the Saints hold onto the ball for 36 minutes, and Brees' team had no turnovers. The ball control was crucial with Alshon Jeffery putting together a career day for the Bears (3-2).
Jeffery had 10 receptions for a franchise-record 218 yards, breaking Harlon Hill's mark of 214 at San Francisco on Oct. 31, 1954. He also had a 3-yard touchdown grab in the second quarter.
"What I did out there, I'm more concerned about the 'W,' not about what I did," he said. "It's a team thing. It took 11 guys to get 200-plus yards or whatever I had."
Drew Brees On Target
Drew Brees completed 29 of 35 passes on Sunday vs. the Bears, a completion percentage of 82.9 percent. That is his third-best completion rate among the 106 regular-season games in which he's thrown at least 35 passes.
Drew Brees' Highest Single-Game Completion Percentage*
Game
Comp. Pct.
Comp-Att
2011 vs. IND
88.6%
31-35
2009 vs. TB
86.5%
32-37
2013 at CHI
82.9%
29-35
* = at least 35 attempts
-- ESPN Stats & Information
Jeffery's 58-yard catch set up Jay Cutler's 2-yard touchdown pass to Brandon Marshall, and Matt Forte ran in the 2-point conversion to trim New Orleans' lead to 26-18 with 2:11 remaining.
The Bears got the ball back with 21 seconds left and no timeouts. Cutler then passed to Jeffery in the middle of the field for 21 yards, but time expired before they could run another play.
"It's just a few plays here and there," said Cutler, who was 24 of 33 for 358 yards and two touchdowns in Chicago's second straight loss. "Against a team like that, the way they played offensively and ate up the clock it's hard to rebound if you miss three or four plays in the game."
It took a while for Brees to get started, but New Orleans' defense made sure he had plenty of time to get warmed up.
The Saints sacked Cutler twice while limiting the Bears to one first down in the first quarter. Chicago had just 51 yards when it got the ball back with 5:57 left in the first half.
After two field goals by Hartley -- including a 19-yard chip shot after Cutler fumbled on a sack by Malcolm Jenkins deep in Chicago territory -- Brees started to find his rhythm. He connected with Graham on pass plays of 29 and 38 yards to get New Orleans to the 7 with 7:23 left in the half.
This time, the Saints got into the end zone.
Brees rolled out on second down and flipped the ball to Pierre Thomas, who fought through D.J. Williams' tackle attempt and extended his right arm over the goal line for the 2-yard touchdown that made it 13-0 with 5:57 remaining.
SportsNation: K.C., N.O. stay unbeaten

Seattle and N.E. lost, but the Chiefs and Saints kept rolling. Which is more surprising? Which loses first? Vote!
"When my name is called to do the job, I go out there and do my best," said Thomas, a Chicago native. "That's all I can really ask for. When my name is called, just go out there and perform."
The Bears responded with a seven-play, 80-yard drive that ended with Jeffery's TD. But they gave the ball back to Brees with 2:41 left in the half, plenty of time for the star QB to direct another scoring drive.
Thomas had a big 2-yard run on fourth-and-1 from the Chicago 27, and then went 25 yards for the score on a screen play with 23 seconds to go.
Thomas' second TD reception made it 20-7 and was the result of a perfect call by Payton, who still has a deft touch when it comes to play-calling after missing last season as a result of the bounty scandal.
"It was a screen play away from the pressure," Brees said. "So you had everybody going one direction and here we are throwing a screen and getting linemen out. The key is your ability to get linemen out and down the field.
"That was a big play. Big momentum gainer going into halftime."
Game notes
The Saints also won a road game against the Bears in 2002, but that victory came in Champaign because Soldier Field was being renovated. ... Bears DT
Nate Collins
hurt his left knee in the third quarter and did not return. ... Bears DT
Stephen Paea
was inactive due to a toe injury.
Landon Cohen
got the start just 10 days after he was signed off waivers.
Copyright by STATS LLC and The Associated Press
Photo Wire
CHICAGO, IL - OCTOBER 06: Head coach Marc Trestman of the Chicago Bears watches warm-ups before a game against the...
(Photo by Jonathan Daniel/Getty Images)
Team Stat Comparison
| | NO | CHI |
| --- | --- | --- |
| 1st Downs | 17 | 20 |
| Passing 1st downs | 11 | 16 |
| Rushing 1st downs | 5 | 4 |
| 1st downs from penalties | 1 | 0 |
| 3rd down efficiency | 6-16 | 4-10 |
| 4th down efficiency | 1-1 | 0-1 |
| Total Plays | 65 | 54 |
| Total Yards | 347 | 434 |
| Yards per play | 5.3 | 8.0 |
| Total Drives | 10 | 11 |
| Passing | 283 | 340 |
| Comp-Att | 29-35 | 24-33 |
| Yards per pass | 7.9 | 9.4 |
| Interceptions thrown | 0 | 0 |
| Sacks-Yards Lost | 1-5 | 3-18 |
| Rushing | 64 | 94 |
| Rushing Attempts | 29 | 18 |
| Yards per rush | 2.2 | 5.2 |
| Red Zone (Made-Att) | 1-3 | 2-3 |
| Penalties | 2-10 | 6-43 |
| Turnovers | 0 | 1 |
| Fumbles lost | 0 | 1 |
| Interceptions thrown | 0 | 0 |
| Defensive / Special Teams TDs | 0 | 0 |
| Possession | 36:00 | 24:00 |
Scoring Summary
FIRST QUARTER
NO
CHI
FG
7:42
Garrett Hartley 47 Yard Field Goal is Good

Drive info: 10 plays, 39 yds, 5:23

23
10
FG
6:03
Garrett Hartley 19 Yard Field Goal is Good

Drive info: 4 plays, 5 yds, 1:27

6
0
SECOND QUARTER
NO
CHI
TD
6:02
Pierre Thomas 2 Yard Pass From Drew Brees (Garrett Hartley Kick is Good)

Drive info: 6 plays, 72 yds, 3:22

13
0
TD
2:47
Alshon Jeffery 3 Yard Pass From Jay Cutler (Robbie Gould Kick is Good)

Drive info: 7 plays, 80 yds, 3:16

13
7
TD
0:32
Pierre Thomas 25 Yard Pass From Drew Brees (Garrett Hartley Kick is Good)

Drive info: 7 plays, 71 yds, 2:18

20
7
THIRD QUARTER
NO
CHI
FG
8:08
Garrett Hartley 36 Yard Field Goal is Good

Drive info: 13 plays, 60 yds, 6:57

23
7
FG
5:00
Robbie Gould 27 Yard Field Goal is Good

Drive info: 9 plays, 71 yds, 3:07

23
10
FOURTH QUARTER
NO
CHI
FG
3:06
Garrett Hartley 48 Yard Field Goal is Good

Drive info: 12 plays, 44 yds, 5:39

26
10
TD
2:15
Brandon Marshall 2 Yard Pass From Jay Cutler (Matt Forte Run For Two-Point Conversion is Good)

Drive info: 4 plays, 82 yds, 0:50

26
18
Research Notes
Jay Cutler
(128.1) had a higher passer rating than
Drew Brees
(120.0) in Sunday's loss. Brees had a Total QBR of 89.1 compared with Cutler's 62.3, despite similar passing numbers. One difference was Cutler lost a fumble in the 1st quarter that dropped the Bears' win probability by 15.4 percent (Brees did not turn the ball over).
Brandon Marshall
's five targets Sunday accounted for only 15% of the Bears' passes, the lowest percentage since Marshall joined the team. The Bears are now 0-4 when Marshall accounts for fewer than 20% of the team's targets.
Drew Brees
finished Sunday 29-of-35 passing (82.9%). How was Brees so efficient? - Brees kept it short, going 25-of-27 on passes within 10 yards of the line of scrimmage. Both of Brees' touchdown passes were thrown behind the line of scrimmage. - Brees was 10-of-10 targeting
Jimmy Graham
. The duo had never gone more than six attempts without an incompletion in a game entering the week. - Brees was 9-of-9 targeting
Pierre Thomas
. Although Brees has completed 86.9% of his passes to Thomas in his career -- his best completion percentage to any Saints player -- he hadn't targeted him nine times in a game since Week 15 of 2008.
ESPN Stats & Information