1:00 PM ET, October 13, 2013
MetLife Stadium, East Rutherford, NJ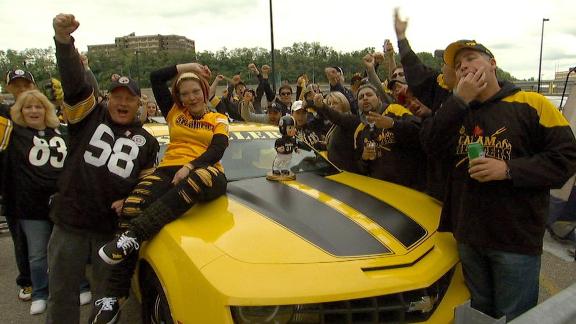 No Spain, No Game: Pittsburgh Steelers
Sarah Spain heads to Pittsburgh in search of a true "Yinzer" and to check out how Steelers fans tailgate.
No Spain, No Game: Pittsburgh Steelers
VIDEO PLAYLIST
EAST RUTHERFORD, N.J. -- The Pittsburgh Steelers were tired of seeing that dreadful zero in the win column.
Now, they've got one victory. They think this could be only the beginning.
Ben Roethlisberger threw a 55-yard touchdown pass to Emmanuel Sanders, Shaun Suisham kicked four field goals, and the Steelers won their first game by beating the New York Jets 19-6 on Sunday.
More Steelers-Jets coverage

The Steelers' first win of the season restored a sense of normalcy for a franchise unfamiliar with failure, Scott Brown writes. Blog
---

After his breakthrough performance on "Monday Night Football," Geno Smith faced the wrong team at the wrong time, Rich Cimini writes. Blog
---

The Steelers snatched the Jets back to reality, reminding everyone that this is the same old Gang Green, Ian O'Connor writes. Story
• Radio: Mike & Mike weigh in

"We're not going to quit," defensive end Brett Keisel said. "Obviously, it wasn't the start we wanted, but the men in this locker room believe there's a chance that something great could come out of this if we all work toward it."
The Steelers (1-4) were off to their worst start since 1968, when they lost their first six games during a season in which they finished 2-11-1.
"Oh, it's big," Roethlisberger said.
The victory was also the 600th in franchise history, including the postseason, as Pittsburgh became only the fourth team to reach the milestone and the first from the AFC.
"It's tough because when you have that zero, your mind automatically goes to, 'Let's get this first win,' " safety Ryan Clark said. "Now, you're just trying to win each game and there's not as much pressure on each and every play."
Pittsburgh was coming off a bye after last playing two weeks ago in London, a 34-27 loss to Minnesota at Wembley Stadium. The Steelers appeared quite a bit sharper than New York, which had a short week to prepare after a 30-28 win at Atlanta last Monday night.
"I think getting away (helped), having a bye and everyone looking in the mirror, to see what you can do to help this team win," said Keisel, who left with a rib injury but doesn't expect to be sidelined.
Geno Smith was intercepted twice by a Steelers defense that entered as the only team without a takeaway. The last came with the Jets (3-3) at the Steelers 12 with just over 3 minutes left when Smith was hit by Jarvis Jones as he threw. The wobbly pass was picked off by Lawrence Timmons -- sealing the win for Pittsburgh.
Steelers Defense Back To Normal?
The Steelers held Geno Smith to 8-of-15 passing for 64 yards and two interceptions when using a standard pass rush Sunday. Pittsburgh's defense allowed almost half as many yards (64) with a four-man rush Sunday as it averaged in the first four games of the season (127).
Steelers' Pass Defense, Four Pass Rushers or Fewer
First 4 Games
Sunday
Comp pct.
61.0%
53.3%
Yds per att.
6.7
4.3
TD-Int
3-0
0-2
-- ESPN Stats & Information
"I'm just frustrated to lose the game," Smith said. "I understand there's going to be growing pains and things to learn, but we don't go out there with that mindset."
It could be a costly loss for the Jets. Running back Bilal Powell (shoulder), wide receiver Clyde Gates (shoulder), cornerback Kyle Wilson (head) and running back Mike Goodson (knee) all left and didn't return. There was no immediate word on the severity of the injuries.
"They outplayed us," Jets coach Rex Ryan said. "We have to play with more consistency, obviously. We're striving for consistency and we're not quite there.
"We have to get there in a hurry."
Roethlisberger finished 23 of 30 for 264 yards. Antonio Brown had nine catches for 86 yards and also completed a 15-yard pass, and Heath Miller caught six passes for 84 yards.
Smith, who was turnover-free at Atlanta while throwing for three touchdowns, was 19 of 34 for 201 yards.
Sanders gave Pittsburgh a 16-6 lead just 2:30 into the second half with his 55-yard grab. On a third-and-1 play, he got in front of Antonio Cromartie -- who was questionable with a hyperextended knee -- and was wide open as Roethlisberger's throw arrived. Sanders sprinted the remaining 20 yards untouched before doing a leaping somersault into the end zone.
"I looked up and saw Emmanuel running by himself and kind of had to hesitate for a second because I couldn't believe he was so wide open," Roethlisberger said. "The only thought in my head was, `Don't overthrow him."
Pittsburgh got its first takeaway of the season -- a span of 18-plus quarters -- on the Jets' next possession when Clark picked off Smith's throw to Konrad Reuland into triple coverage in the red zone. The rookie later said he was trying to throw the ball away.
"We have the mindset that we can climb out of this hole together," Keisel said. "This was a step in the right direction."
Game notes
Steelers defensive coordinator Dick LeBeau improved to 16-2 in his career against rookie QBs. ... Since 2010, the Steelers are 14-1 when Roethlisberger's passer rating is above 100. It was 113.8 vs. the Jets. ... Steelers OT
Levi Brown
, acquired last week from Arizona, was a late scratch after injuring his right triceps during pregame warmups. TE
David Johnson
left early in the first quarter with an injured left wrist and didn't return. ... The Jets inducted DT Marty Lyons, who played for the team from 1979-89, into their Ring of Honor at halftime.
Copyright by STATS LLC and The Associated Press
Photo Wire
EAST RUTHERFORD, NJ - NOVEMBER 13: Guard Willie Colon #66 of the New York Jets streaches before the start of their...
(Photo by Rich Schultz /Getty Images)
Team Stat Comparison
| | PIT | NYJ |
| --- | --- | --- |
| 1st Downs | 16 | 18 |
| Passing 1st downs | 11 | 14 |
| Rushing 1st downs | 3 | 4 |
| 1st downs from penalties | 2 | 0 |
| 3rd down efficiency | 6-16 | 3-11 |
| 4th down efficiency | 0-0 | 0-0 |
| Total Plays | 61 | 57 |
| Total Yards | 328 | 267 |
| Yards per play | 5.4 | 4.7 |
| Total Drives | 11 | 13 |
| Passing | 255 | 184 |
| Comp-Att | 24-31 | 19-34 |
| Yards per pass | 7.3 | 5.0 |
| Interceptions thrown | 0 | 2 |
| Sacks-Yards Lost | 4-24 | 3-17 |
| Rushing | 73 | 83 |
| Rushing Attempts | 26 | 20 |
| Yards per rush | 2.8 | 4.2 |
| Red Zone (Made-Att) | 0-2 | 0-2 |
| Penalties | 7-49 | 5-60 |
| Turnovers | 0 | 2 |
| Fumbles lost | 0 | 0 |
| Interceptions thrown | 0 | 2 |
| Defensive / Special Teams TDs | 0 | 0 |
| Possession | 35:49 | 24:11 |
Passing Leaders
PIT
C/ATT
YDS
AVG
TD
INT
SACKS
Roethlisberger
23/30
264
8.8
1
0
3-17
Brown
1/1
15
15.0
0
0
1-7

NYJ
C/ATT
YDS
AVG
TD
INT
SACKS
Smith
19/34
201
5.9
0
2
3-17
Scoring Summary
FIRST QUARTER
PIT
NYJ
FG
3:29
Nick Folk 25 Yard Field Goal is Good

Drive info: 9 plays, 38 yds, 5:39

0
3
SECOND QUARTER
PIT
NYJ
FG
12:12
Shaun Suisham 46 Yard Field Goal is Good

Drive info: 10 plays, 52 yds, 6:18

3
3
FG
5:28
Shaun Suisham 33 Yard Field Goal is Good

Drive info: 9 plays, 67 yds, 4:43

6
3
FG
0:49
Shaun Suisham 48 Yard Field Goal is Good

Drive info: 8 plays, 35 yds, 3:18

9
3
FG
0:05
Nick Folk 39 Yard Field Goal is Good

Drive info: 7 plays, 51 yds, 0:43

9
6
THIRD QUARTER
PIT
NYJ
TD
12:39
Emmanuel Sanders 55 Yard Pass From Ben Roethlisberger (Shaun Suisham Kick is Good)

Drive info: 3 plays, 64 yds, 1:31

16
6
FOURTH QUARTER
PIT
NYJ
FG
12:12
Shaun Suisham 32 Yard Field Goal is Good

Drive info: 12 plays, 65 yds, 7:02

19
6
Research Notes
Geno Smith
had a season-low Total QBR of 6.5 in Sunday's loss, continuing a trend of inconsistent play this season. He completed 2-of-10 passes with a pick on passes at least 15 yards downfield against the Steelers. He has completed 40.6 percent of his passes at least 15 yards downfield with no touchdowns and 5 interceptions in losses, and 65 percent of such passes with 3 touchdowns and 1 interception in wins.
[+]
The Steelers held
Geno Smith
to 14-of-24 passing for 130 yards and two interceptions when using four or fewer pass rushers Sunday.
Ryan Clark
's third-quarter interception of Geno Smith came with standard pressure, the Steelers' defense's first takeaway of the season. The Steelers' defense had allowed three touchdowns and no interceptions entering Sunday with a standard rush.
ESPN Stats & Information