8:25 PM ET, October 17, 2013
U of Phoenix Stadium, Glendale, AZ
GLENDALE, Ariz. -- The Seattle Seahawks are dominating the NFC West.
Thursday night in Arizona provided the latest evidence.
Russell Wilson threw for three touchdowns, Marshawn Lynch rushed for 91 yards and Seattle beat the Cardinals 34-22.
"This was a really cool night for our football team," Seahawks coach Pete Carroll said. "We wanted to get on the road and get this thing done and continue to feel good about our ability to win on the road."
More Seahawks-Cardinals Coverage

What makes Russell Wilson special doesn't show up in the stats, but you could see it on the field as he led the Seahawks past the Cardinals, Terry Blount writes. Blog
---

After seeing the 49ers and Seahawks in a five-day stretch, the Cards realize they have a lot of work to do to get to the top of the NFC West, Josh Weinfuss writes. Blog
The Seahawks (6-1) intercepted two of Carson Palmer's passes, converting both into touchdowns, and sacked him seven times, twice by Chris Clemons, who had been questionable for the game with a hyperextended elbow.
Arizona (3-4) got a touchdown and one of its three field goals after Wilson twice fumbled while being sacked deep in Seattle territory.
Palmer has thrown 11 interceptions in the past five games and 13 this season, second only to Eli Manning's 15.
Seattle sent the Cardinals to their eighth straight loss against an NFC West foe.
"We knew we needed to be great," Palmer said, "and we were not great today."
Wilson completed 18 of 29 passes for 235 yards, with TD passes of 31 yards to Sidney Rice, 15 yards to Zach Miller and a yard to Kellen Davis. For the second game in a row, Wilson did not throw an interception.
"The receivers did a good job staying alive," Wilson said. "Patrick Peterson is one of the best cornerbacks in the game, and the guys made some plays on him."
Palmer, 30-of-45 for 258 yards and a touchdown, was under duress most of the night, especially from the left side, where young tackle Bradley Sowell struggled mightily.
The Cardinals managed just 30 yards rushing on 18 attempts, adding to the pass protection woes.
"When you get into that type of game and you get behind, it's going to be a struggle," Arizona coach Bruce Arians said. "But we have to figure out ways to start faster on both sides of the ball. I thought we came out sluggish."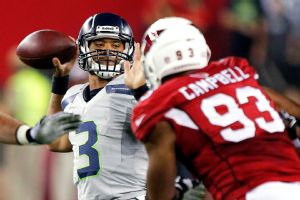 AP Photo/Rick Scuteri
Russell Wilson tossed three touchdowns to lead the Seahawks to a 34-22 win against the Cardinals on Thursday night.
Seattle dominated the first half yet led only 17-10 at the break.
Arizona, coming off a 32-20 loss at San Francisco on Sunday, took the opening kickoff and made it to its 40 before Tony McDaniel burst through virtually untouched to sack Palmer for a 14-yard loss.
Seattle took the ensuing punt and needed just five plays to go 83 yards. Wilson, throwing off his back foot while retreating to his right, connected with Rice for 31 yards for the score.
The next time Arizona had the ball, Palmer threw long to Larry Fitzgerald, but Brandon Browner stripped the ball from the receiver and Seattle's Earl Thomas gathered it in as he tumbled out of bounds. Initially it was ruled an incomplete pass, but the Seahawks challenged and the call was reversed to an interception at the Seattle 28.
Again, the Seahawks moved downfield, going 72 yards in 11 plays, Wilson throwing 15 yards to Miller for the touchdown, and Seattle led 14-0.
A strong defensive stand helped turn things around temporarily for the Cardinals.
Seattle had a second-and-1 at its 43 but failed to get the first down on three straight runs. On fourth-and-inches, Wilson tried a sneak but was tackled by Calais Campbell well short of the marker.
The Cardinals struggled 26 yards to set up Jay Feely's 49-yard field goal that cut it to 14-3.
After the kickoff, the Seahawks were at their 13 when, on second down, Matt Shaughnessy hit Wilson and the quarterback fumbled. Campbell recovered at the Seattle 3, and Rashard Mendenhall scored from there to cut it to 14-10.
Steven Hauschka's 51-yard field goal with 5 seconds to go made it a seven-point game at the half.
In the third quarter, Feely's 52-yard field goal cut it to 17-13, then Seattle went 80 yards in 10 plays.
On third-and-3 from the Cardinals' 48, Daryl Washington was taking Wilson to the ground for an apparent sack when the quarterback got rid of the ball for a 6-yard completion to Miller.
"I knew I wasn't down," Wilson said. "I just made a little shortstop flip to him. He made a great play."
Arians called it "a huge play."
"Most quarterbacks, the referee would have blown that down," Arians said. "He's such a great athlete that Terry (McAulay) let him continue playing, and you just live with the call."
Lynch bulled over the middle 17 yards to the 5, and on third-and-goal from inside the 1, Wilson threw to Davis in the back of the end zone for a touchdown to put the Seahawks up 24-13.
After the kickoff, Browner stepped in front of Michael Floyd and intercepted, returning it 49 yards before stumbling down at the 1. Two plays later, Lynch scored on a 2-yard run, and it was 31-13.
John Abraham's second sack of the third quarter jarred the ball loose from Wilson, and Shaughnessy recovered at the 15. But the Cardinals had to settle for Feely's 22-yard field goal to cut the lead to 31-16 with 14:41 remaining.
Houschka's 42-yard field goal made it 34-16 with 10:21 to go.
Arizona got a late TD on Palmer's 8-yard pass to Jaron Brown.
Game notes
Seattle lost two players to hamstring injuries in the first half, strong safety
Jeron Johnson
and fullback
Derrick Coleman
. ... Abraham's first two sacks as a Cardinal gave him 124 for his career, most among active players. ... Campbell played after being carted off the field in San Francisco on Sunday strapped down to a stretcher with what Arians said was a bruised spine.
Copyright by STATS LLC and The Associated Press
Photo Wire
GLENDALE, AZ - OCTOBER 17: Head coach Bruce Arians of the Arizona Cardinals looks on before a game against the...
(Photo by Christian Petersen/Getty Images)
Team Stat Comparison
| | SEA | ARI |
| --- | --- | --- |
| 1st Downs | 21 | 22 |
| Passing 1st downs | 14 | 16 |
| Rushing 1st downs | 6 | 2 |
| 1st downs from penalties | 1 | 4 |
| 3rd down efficiency | 7-12 | 5-15 |
| 4th down efficiency | 0-1 | 1-2 |
| Total Plays | 64 | 70 |
| Total Yards | 344 | 234 |
| Yards per play | 5.4 | 3.3 |
| Total Drives | 14 | 12 |
| Passing | 209 | 204 |
| Comp-Att | 18-29 | 30-45 |
| Yards per pass | 6.5 | 3.9 |
| Interceptions thrown | 0 | 2 |
| Sacks-Yards Lost | 3-26 | 7-54 |
| Rushing | 135 | 30 |
| Rushing Attempts | 32 | 18 |
| Yards per rush | 4.2 | 1.7 |
| Red Zone (Made-Att) | 3-4 | 2-3 |
| Penalties | 10-70 | 3-22 |
| Turnovers | 2 | 2 |
| Fumbles lost | 2 | 0 |
| Interceptions thrown | 0 | 2 |
| Defensive / Special Teams TDs | 0 | 0 |
| Possession | 27:40 | 32:20 |
Scoring Summary
FIRST QUARTER
SEA
ARI
TD
7:21
Sidney Rice 31 Yard Pass From Russell Wilson (Steven Hauschka Kick is Good)

Drive info: 5 plays, 83 yds, 2:31

7
0
SECOND QUARTER
SEA
ARI
TD
13:31
Zach Miller 15 Yard Pass From Russell Wilson (Steven Hauschka Kick is Good)

Drive info: 11 plays, 72 yds, 5:26

14
0
FG
4:08
Jay Feely 49 Yard Field Goal is Good

Drive info: 11 plays, 26 yds, 6:10

14
3
TD
3:43
Rashard Mendenhall 3 Yard Run (Jay Feely Kick is Good)

Drive info: 1 plays, 3 yds, 0:03

14
10
FG
0:10
Steven Hauschka 51 Yard Field Goal is Good

Drive info: 12 plays, 47 yds, 3:35

17
10
THIRD QUARTER
SEA
ARI
FG
11:53
Jay Feely 52 Yard Field Goal is Good

Drive info: 5 plays, 17 yds, 1:09

17
13
TD
7:56
Kellen Davis 1 Yard Pass From Russell Wilson (Steven Hauschka Kick is Good)

Drive info: 10 plays, 80 yds, 4:00

24
13
TD
3:57
Marshawn Lynch 2 Yard Run (Steven Hauschka Kick is Good)

Drive info: 2 plays, 1 yds, 0:51

31
13
FOURTH QUARTER
SEA
ARI
FG
14:45
Jay Feely 22 Yard Field Goal is Good

Drive info: 6 plays, 11 yds, 0:39

31
16
FG
10:26
Steven Hauschka 42 Yard Field Goal is Good

Drive info: 8 plays, 56 yds, 4:20

34
16
TD
4:40
Jaron Brown 8 Yard Pass From Carson Palmer (Carson Palmer Pass to Michael Floyd For Two-Point Conversion is )

Drive info: 8 plays, 71 yds, 3:28

34
22
Research Notes
The Seahawks recorded seven sacks on Thursday, six of which were with four or fewer pass rushers, their second-most in the last seven seasons. Their most came in last season's Week 3 "Fail Mary" game against the Packers.
Russell Wilson
completed 71% of his passes at least 15 yards downfield Thursday night, including two touchdowns. In his previous three games, Wilson had completed 31% of such throws with a touchdown and interception.
Carson Palmer
has thrown eight interceptions on such throws, most in the league this season.
[+]
Carson Palmer
was either put under duress or sacked on 27 of his dropbacks on Thursday, tied for the most in a game this season. Palmer was put under duress or sacked on 50% of his dropbacks, more than double his season average prior to Thursday (24%). When under duress this season, Palmer is 25-for-55 with no touchdowns and four interceptions.
From Elias:
Carson Palmer
has 5 straight games with multiple interceptions. The last player to throw multiple interceptions in 5 straight games was
Vinny Testaverde
in 2000.
Russell Wilson
's 31-yd Pass TD to
Sidney Rice
marked the 6th 30+ yd Pass TD of his career. To put that into perspective,
Andrew Luck
has nine 30+ yd Pass TD, while RGIII has 7. Both of Wilson's Pass TD tonight vs Cardinals traveled 15 or more yards downfield, giving him five for the season. He is now tied with
Cam Newton
for 3rd most such Pass TD this season.
The Cardinals threw their 6th interception with
Larry Fitzgerald
as the target, tied with Giants
Rueben Randle
for the most interceptions by target this season.
ESPN Stats & Information