8:30 PM ET, November 4, 2013
Lambeau Field, Green Bay, WI
Top Performers
Passing: J. McCown (CHI) - 272 YDS, 2 TD
Rushing: E. Lacy (GB) - 22 CAR, 150 YDS, 1 TD
Receiving: B. Marshall (CHI) - 7 REC, 107 YDS, 1 TD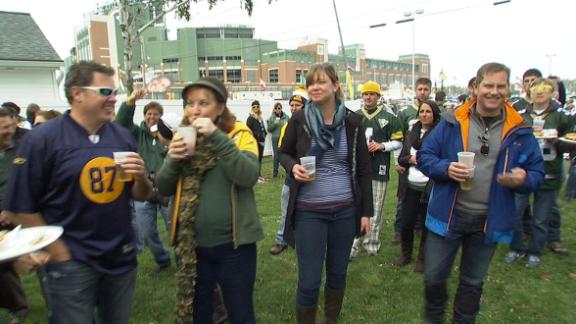 No Spain, No Game: Green Bay Packers
Sarah Spain heads to Lambeau Field to check out how Packers fans turn their backyards into tailgating frenzies.
No Spain, No Game: Green Bay Packers
VIDEO PLAYLIST
GREEN BAY, Wis. -- The Chicago Bears have a better insurance policy than Aaron Rodgers and the Green Bay Packers do.
More Bears-Packers Coverage

Josh McCown's heroics and Aaron Rodgers' injury helped the Bears shake up the NFC North with an upset of the Packers, Melissa Isaacson writes. Story
---

The Packers face a difficult road to the playoffs if QB Aaron Rodgers' injury sidelines him for any significant time, Kevin Seifert writes. Blog
---

Aided by terrific protection from the offensive line, Josh McCown pulled off a rare feat for a Chicago Bears quarterback, Jeff Dickerson writes. Blog
---

The performance on the road against the Packers served as a start, but the Bears' defense still needs to play better, Michael C. Wright writes. Blog
---

Seneca Wallace will need a Matt Flynn-like improvement if star Aaron Rodgers has to miss time with his injured shoulder, Rob Demovsky writes. Blog
• Stats & Info: Key to Bears' win
• Bears Blog | Packers Blog
Josh McCown, playing in place of the injured Jay Cutler, threw for two touchdowns Monday night as the Bears won 27-20 and ended a six-game skid to their NFC North rivals. The loss snapped Green Bay's four-game winning streak, but the far larger concern is the health of Rodgers, who hurt his left (non-throwing) shoulder when he was sacked on the first series by Shea McClellin.
Rodgers took a few warm-up throws with backup Seneca Wallace but, after being examined by medical staff, ran into the Green Bay locker room. He wasn't seen again until midway through the third quarter, when he came back onto the field in sweats. Although he waved to fans with his right hand and didn't appear to be wearing a brace, he kept his left hand jammed in his pocket.
"He has a shoulder injury," Packers coach Mike McCarthy said. "They want to run more tests. They don't have an exact diagnosis. We'll have more information, probably tomorrow."
Pressed for more information, McCarthy insisted there wasn't any.
"No timeline, no exact diagnosis," he said. "That's where we're at."
Alshon Jeffery had five catches for 60 yards, including a 6-yard grab for the go-ahead touchdown at the end of the third quarter. Brandon Marshall, largely shut down in two games against Green Bay last season, had seven catches for 107 yards and a score. Matt Forte ran for 125 yards and a TD, and had 54 yards receiving for the Bears, who pulled into a three-way tie for first in the NFC North with Green Bay and Detroit. All are 5-3.
The loss spoiled another big night by Green Bay rookie Eddie Lacy, who ran for 150 yards and a touchdown.
"It'd be hard to find one better than this," said McCown, who was coaching high school when the Bears signed him two years ago. "They're all special, but this is really neat because it means so much to our team."
Green Bay has been hit hard by injuries, with James Jones (knee) returning Monday night after a two-game absence, and sackmaster Clay Matthews (thumb) and tight end Jermichael Finley still out. Wide receiver Randall Cobb (leg) is on the injured list-designated to return, and offensive lineman T.J. Lang (concussion) and linebacker Andy Mulumba (ankle) left the game.
But there are injuries and then there are INJURIES, and a hurt Aaron Rodgers is Green Bay's ultimate nightmare.
Where's Wallace?
With Aaron Rodgers potentially out, the Packers would likely turn to Seneca Wallace to start Week 10. Here are Wallace's career numbers as a starter.
| | Statistic |
| --- | --- |
| W-L | 6-15 |
| TD-Int | 27-13 |
| Comp pct | 59.0 |
| Total QBR | 50.3 |
» Last start: Week 7, 2011 season
-- ESPN Stats & Information
With the 2011 NFL MVP almost as durable as predecessor Brett Favre -- he hasn't missed a game due to injury since Dec. 19, 2010 -- the backup quarterback has been little more than an afterthought in Green Bay.
"Aaron's a huge part of our offense," McCarthy said. "This is a thing that's been built over time with Aaron as the centerpiece. I don't think it's realistic to put anyone in there and expect him to perform (like Rodgers)."
But as the Bears know all too well, insurance policies are worth every penny when you need them.
After a series of forgettable backups under Lovie Smith -- Caleb Hanie or Jonathan Quinn, anyone? -- the Bears signed McCown when Cutler was hurt two years ago. He played well enough then to stick around, and his familiarity with his receivers and coach Marc Trestman's system was evident. McCown might not have been dazzling, going 22-for-41 for 272 yards. But he mixed his passes effectively to Marshall, Jeffery and Forte, and Forte ran roughshod on the Green Bay defense.
"You understand the nature of the game and the impact that (Rodgers) has on the game," McCown said. "So when that player's not on the field, your odds of winning probably increase."
Better yet, McCown didn't do anything to hurt the Bears, which is more than Wallace can say.
SportsNation: Rodgers goes down

Aaron Rodgers broke his collarbone Monday night. If he misses three weeks, do the Packers have a chance? Vote »
Wallace hadn't played a game since the 2011 season finale, and the rust was evident. He was intercepted on his first series by Julius Peppers and was sacked twice, once by Peppers and once by McClellin. The Packers had a second-and-goal from the Bears' 5 late in the third quarter, and were forced to settle for Mason Crosby's 23-yard field goal after Wallace overthrew Jones and Andrew Quarless. Green Bay would get no farther than the Bears' 39 the rest of the game.
Wallace finished 11-of-19 for 114 yards.
"Seneca, he needs to perform better and he'll definitely do that with a week of practice," McCarthy said.
Copyright by STATS LLC and The Associated Press
Photo Wire
GREEN BAY, WI - NOVEMBER 04: Josh McCowen #12 of the Chicago Bears throw before the game against the Green Bay...
(Photo by Mike McGinnis/Getty Images)
Team Stat Comparison
| | CHI | GB |
| --- | --- | --- |
| 1st Downs | 25 | 17 |
| Passing 1st downs | 15 | 6 |
| Rushing 1st downs | 10 | 9 |
| 1st downs from penalties | 0 | 2 |
| 3rd down efficiency | 6-14 | 1-9 |
| 4th down efficiency | 1-1 | 0-0 |
| Total Plays | 75 | 55 |
| Total Yards | 442 | 312 |
| Yards per play | 5.9 | 5.7 |
| Total Drives | 12 | 12 |
| Passing | 271 | 113 |
| Comp-Att | 22-41 | 12-21 |
| Yards per pass | 6.5 | 4.3 |
| Interceptions thrown | 0 | 1 |
| Sacks-Yards Lost | 1-1 | 5-28 |
| Rushing | 171 | 199 |
| Rushing Attempts | 33 | 29 |
| Yards per rush | 5.2 | 6.9 |
| Red Zone (Made-Att) | 2-4 | 1-3 |
| Penalties | 4-45 | 0-0 |
| Turnovers | 0 | 1 |
| Fumbles lost | 0 | 0 |
| Interceptions thrown | 0 | 1 |
| Defensive / Special Teams TDs | 0 | 0 |
| Possession | 33:09 | 26:51 |
Scoring Summary
FIRST QUARTER
CHI
GB
FG
12:28
Mason Crosby 30 Yard Field Goal is Good

Drive info: 8 plays, 68 yds, 2:36

0
3
TD
9:55
Brandon Marshall 23 Yard Pass From Josh Mccown (Robbie Gould Kick is Good)

Drive info: 8 plays, 71 yds, 2:36

7
3
TD
3:45
James Starks 32 Yard Run (Mason Crosby Kick is Good)

Drive info: 1 plays, 32 yds, 0:07

7
10
SECOND QUARTER
CHI
GB
TD
9:28
Matt Forte 1 Yard Run (Robbie Gould Kick is Good)

Drive info: 6 plays, 60 yds, 3:36

14
10
FG
0:02
Robbie Gould 24 Yard Field Goal is Good

Drive info: 12 plays, 93 yds, 4:16

17
10
THIRD QUARTER
CHI
GB
TD
13:08
Eddie Lacy 1 Yard Run (Mason Crosby Kick is Good)

Drive info: 2 plays, 57 yds, 0:53

17
17
FG
8:48
Mason Crosby 23 Yard Field Goal is Good

Drive info: 10 plays, 46 yds, 4:19

17
20
TD
2:46
Alshon Jeffery 6 Yard Pass From Josh Mccown (Robbie Gould Kick is Good)

Drive info: 7 plays, 47 yds, 2:38

24
20
FOURTH QUARTER
CHI
GB
FG
0:53
Robbie Gould 27 Yard Field Goal is Good

Drive info: 18 plays, 80 yds, 8:58

27
20
Research Notes
Since
Eddie Lacy
returned from a concussion in Week 5, he has the most rushing yards in the NFL.
[+]
Green Bay's running game has come alive. Of its top-5 rushing performances over the last 5 seasons, 4 of them have come in its last 6 games. Green Bay has had an 80-yard rusher in each of the last 7 games. That is the longest streak in a single season in franchise history.
[+]
Josh McCown
completed eight passes traveling more than 10 yards downfield Monday.
Brandon Marshall
caught seven of those passes, his most in a game this season and the second-most in his career. Last season, Marshall had two such catches in two games against the Packers. --McCown's 13 passes when targeting Marshall traveled an average of 15.9 yards downfield. His 28 other passes traveled an average of 5.2 yards.
[+]
The Packers are 57-29 (.663) with
Aaron Rodgers
as their starting quarterback since his first career start in 2008 (Week 1). That is the 6th-best win percentage among qualified NFL quarterbacks during that span. Rodgers ranks 2nd in the NFL in touchdown passes and Total QBR during that span. He also has the best touchdown-to-interception differential in that span.
[+]
Matt Forte
ran for 80 yards before contact Monday, his most since Week 4 of 2011 against the Panthers (147). The Bears' 113 rushing yards before contact are the most the Packers have allowed in a game this season, and the most the Bears have gained against them in their last 12 meetings (136 - Week 16 of 2007). --Forte ran for nine first downs, including five on the Bears' 18-play, 80-yard final drive. His six fourth-quarter rushing first downs are the most by a player in a game in the last three seasons.
Eddie Lacy
set career highs in rushing yards, yards after contact and yards between the tackles Monday. ¿ Lacy's 150 rushing yards are the most by a Packers running back since Week 14 of 2007 (
Ryan Grant
- 156). ¿ His 97 yards after contact are the most by any running back in a game this season, and the most by a Packers running back since Week 7 of 2009 (Ryan Grant - 102). ¿ His 110 yards between the tackles are the most by a Packers running back since Week 5 of 2010 (
Brandon Jackson
- 115). The Packers' 156 rushing yards between the tackles are the most the Bears have allowed since Week 11 of 2008 (157, also against the Packers).
Forced to compete without
Aaron Rodgers
for the majority of the game Monday, the Packers ran designed rushes on 28 of 55 (50.9%) offensive plays. Coming into the game, the Packers had a 33-2 record since 2008 when calling designed rushes at least 40% of the time.
From Elias: The Bears' 442 total yards were their most ever in a win at Lambeau Field.
Aaron Rodgers
has completed 12 of 13 attempts to
Jordy Nelson
the last two weeks even without
Randall Cobb
,
James Jones
or
Jermichael Finley
. Rodgers and Nelson have completed 76.5% of their attempts this season, second best in the NFL among any QB-WR duo with 40 attempts.
Jarrett Boykin
has been the Packers most targeted receiver the last two weeks (15 targets). Rodgers has completed 13 of his 15 attempts to Boykin in those games.
Aaron Rodgers
runs a very efficient offense in Green Bay. Consider this ... Rodgers' team AVERAGES 28.2 points per game in his starts. According to the Elias Sports Bureau, that figure is the highest in the NFL since 1950 for any QB who's made at least 50 starts.
[+]
The Packers blocked punt their 2nd punt in as many seasons (Week 8 vs Jags last season), after having 0 blocked punts in their previous 8 seasons.
The Packers have found success running the ball this season after struggling on the ground last season. Green Bay was 20th in the NFL in rushing yards per game last season (106.4) and 22nd in yards per rush (3.9). This season, the Packers are 7th in the league in rushing yards per game (141.4) and 5th in yards per rush (4.8). Meanwhile, they already have 6 rushing touchdowns after having 9 all of last season.
[+]
Julius Peppers
' interception of
Seneca Wallace
was the 9th of his career and 1st since Week 15, 2010 vs the Vikings. He batted the pass up into the air and intercepted it, his 1st batted pass this season also.
In 9 career games against the Packers,
Matt Forte
only has 1 touchdown (rushing or receiving). The lone score came in 2008, his rookie season, in a 20-17 win in Week 16.
Aaron Rodgers
has started eight games on Monday Night Football in his career and has been much better at home than on the road. Rodgers is 3-0 at home on Monday night and his Total QBR of 86.4 in those games is 3rd in the NFL since 2008.
[+]
The Bears have allowed the second highest completion percentage (56.7%) on passes thrown 20-plus yards downfield this season.
Aaron Rodgers
has completed 50.0% of those passes this season, second best in the NFL.
[+]
Aaron Rodgers
has thrown 12 touchdowns against the Bears in his last four games against them, all against four or fewer pass rushers. Rodgers had only one touchdown pass against such pressure in his five games against them from 2009 to 2010.
[+]
ESPN Stats & Information