8:30 PM ET, November 18, 2013
Bank of America Stadium, Charlotte, NC
Panthers win 6th straight, top Pats as game ends with flag picked up
CHARLOTTE, N.C. -- As the Carolina Panthers celebrated their sixth straight win, Tom Brady and the New England Patriots were left wondering why a penalty that could have saved them on the final play was wiped out.
Cam Newton threw a 25-yard touchdown pass to Ted Ginn Jr. with 59 seconds left, and Carolina held off New England 24-20 on Monday night when officials picked up a flag in the end zone.
After Newton drove the Panthers 83 yards on 13 plays for the go-ahead touchdown, the Patriots had a chance at an improbable comeback when Brady moved New England to the Carolina 18 with 3 seconds left and fired into the end zone as time expired.
More Panthers-Patriots Coverage

After Cam Newton and the Panthers beat New England in the kind of game they supposedly couldn't win, it's time to acknowledge that Carolina is a contender, David Newton writes. Story
---

The hard-fought thriller between the Panthers and Patriots and their star quarterbacks was overshadowed by the confusing way it ended, Mike Reiss writes. Story
Rookie safety Robert Lester intercepted the pass, but an official at the back of the end zone threw a flag for pass interference on linebacker Luke Kuechly, who had both arms wrapped around tight end Rob Gronkowski.
The officials quickly gathered, however, and waved off the penalty, ruling Gronkowski could not have caught the ball, which was underthrown.
Referee Clete Blakeman opened his microphone and announced there was no foul on the play, and the game was over.
Following the game, Blakeman defended his crew's decision, saying the original call was pass interference but that Gronkowski's distance from the ball rendered the penalty moot.
"So it was determined at that point in time that when the primary contact occurred on the tight end that the ball, in essence, was coming in underthrown and in essence it was [immediately] at that point intercepted at the front end of the end zone," Blakeman said. "So there was a determination that, in essence, uncatchability, that the ball was intercepted at or about the same time the primary contact against the receiver occurred."
"There was no explanation given to me. Officials ran off the field. I didn't see anything," Patriots coach Bill Belichick said. "It was the last play of the game. There was a flag thrown, and then the game was over."
A pass-interference call would have put the ball at the 1-yard line and given the Patriots (7-3) one more shot at a game-winning touchdown with no time on the clock.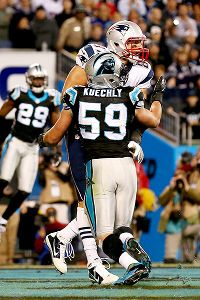 Streeter Lecka/Getty Images
Patriots tight end Rob Gronkowski was wrapped up in the end zone, but officials elected not to call pass interference on the final play.
Instead, the game ended in bizarre fashion.
An angry Brady ran down two officials to argue the call as they walked off the field but later said he didn't get a good look at the play.
"I don't make the calls or the rules," Brady said. "I wish it wouldn't have come down to that. I think there were plenty of plays we could've made. But it did, and they're going to make the call or they're not going to make the call. But we can play better than that."
Brady conceded he was cautious on the throw.
"[Gronkowski] was kind of weaving in and out of there. I didn't really want to throw it over his head and out of bounds, so I was a little indecisive," he said. "It wasn't a great throw. No excuses. Should have been a better throw."
Kuechly, who had a critical pass-interference call in a Week 2 loss to Buffalo, was a little nervous when he saw the flag on the ground.
"I was like, 'Oh, jeez. I don't know what this is going to be,'" Kuechly said. "My back was to Brady. I was just playing [Gronkowski's] eyes, playing his hands, waiting for his eyes to get big and his hands to go up, and I was going to try to break it down. You know, I didn't really see where the ball went. I think Robert had a hand on it or something. You know, there were guys around that ball, and that's what helps you out."
Given a reprieve, the Panthers (7-3) celebrated.
"We had good pressure, and our safety Robert Lester was in good position to make the play," coach Ron Rivera said.
The Rule In Question

Monday night's officials determined there was no chance for tight end Rob Gronkowski to catch the last pass thrown by Tom Brady. Here is the rule in question:
Rule 8, Section 5, Article 3 Permissible Acts
Article 3 Permissible Acts by both teams while the ball is in the air. Acts that are permissible by a player include, but are not limited to:
(c) Contact that would normally be considered pass interference, but the pass is clearly uncatchable by the involved players, except as specified in 8-3-2 and 8-5-4 pertaining to blocking downfield by the offense.
Brady was 29 of 40 for 296 yards and one touchdown.
Newton completed 19 of 28 passes for 209 yards and three touchdowns. He also ran seven times for 62 yards in what is so far one of his best games as a pro.
After the game, Rivera called it a "gutsy effort."
"It wasn't our best defensive effort, but it was one of our better offensive efforts," Rivera said. "It was good for our guys to win a game like this."
Carolina moved within a game of first-place New Orleans in the NFC South. The win came eight days after a 10-9 victory over reigning NFC champion San Francisco.
The Panthers entered the fourth quarter with a 17-10 lead, but Stevan Ridley made up for an earlier fumble with a 1-yard touchdown run and the Patriots took a 20-17 lead with 6:32 left when Stephen Gostkowski slipped a 26-yard field goal just inside the left upright.
Carolina went right back down the field, and Newton hit the speedy Ginn on a hitch route. Ginn escaped Kyle Arrington along the left sideline and outraced Logan Ryan to the left pylon for his third touchdown of the season.
Newton gave Carolina a 17-10 lead in the third quarter on an 81-yard touchdown drive that took more than eight minutes off the clock and featured a scramble in which the third-year quarterback avoided four tacklers and turned a potential 20-yard sack into a 14-yard gain and a first down.
Big Newton
As Cam Newton goes, so go the Carolina Panthers, and the third-year quarterback has been key to the team's six-game winning streak.
| | 1st 4 Games | Past 6 Games |
| --- | --- | --- |
| W-L | 1-3 | 6-0 |
| Comp pct | 57.5 | 67.4 |
| TD-Int | 6-5 | 10-3 |
| Total QBR | 33.9 | 76.2 |
-- ESPN Stats & Information
Newton completed all seven passes on the drive for 77 yards, finding Greg Olsen at the right pylon with 2:10 left to put the Panthers back in front.
"Cam did the things he needed to do to put us in position to win the football game," Rivera said. "It has a lot to do with his maturity that we have talked about."
Carolina entered the night as the NFL's No. 1 defense and didn't disappoint early, sacking Brady twice and holding Gronkowski to one catch for 14 yards in the opening half. The Panthers hadn't given up a touchdown in eight straight quarters before Gronkowski's short TD catch tied the score at 10 on the first drive of the second half.
Newton got Carolina the early lead by zipping a third-down throw to Brandon LaFell near the goal line with 2:44 left in the first quarter, capping a 90-yard drive that took more than five minutes off the clock.
The drive included a 42-yard catch by Steve Smith against cornerback Aqib Talib, who drew a personal foul penalty when he refused to let go of Smith's right foot after the receiver's second catch, setting off a brief scuffle.
Panthers defensive end Charles Johnson left early in the third quarter with a right knee injury but returned on New England's final drive. Johnson said after the game that he will have an MRI on Tuesday.
Information from ESPN.com's Mike Reiss and David Newton, and The Associated Press was used in this report.
Copyright by STATS LLC and The Associated Press
Photo Wire
CHARLOTTE, NC - NOVEMBER 18: The sun sets over Bank of America Stadium before a game between the New England...
(Photo by Grant Halverson/Getty Images)
Team Stat Comparison
| | NE | CAR |
| --- | --- | --- |
| 1st Downs | 28 | 20 |
| Passing 1st downs | 17 | 11 |
| Rushing 1st downs | 6 | 6 |
| 1st downs from penalties | 5 | 3 |
| 3rd down efficiency | 5-10 | 8-11 |
| 4th down efficiency | 1-1 | 0-0 |
| Total Plays | 67 | 54 |
| Total Yards | 390 | 300 |
| Yards per play | 5.8 | 5.6 |
| Total Drives | 7 | 7 |
| Passing | 283 | 197 |
| Comp-Att | 29-40 | 19-28 |
| Yards per pass | 6.7 | 6.4 |
| Interceptions thrown | 1 | 0 |
| Sacks-Yards Lost | 2-13 | 3-12 |
| Rushing | 107 | 103 |
| Rushing Attempts | 25 | 23 |
| Yards per rush | 4.3 | 4.5 |
| Red Zone (Made-Att) | 2-5 | 2-2 |
| Penalties | 5-50 | 7-47 |
| Turnovers | 2 | 0 |
| Fumbles lost | 1 | 0 |
| Interceptions thrown | 1 | 0 |
| Defensive / Special Teams TDs | 0 | 0 |
| Possession | 30:46 | 29:14 |
Scoring Summary
FIRST QUARTER
NE
CAR
TD
2:50
Brandon Lafell 9 Yard Pass From Cam Newton (Graham Gano Kick is Good)

Drive info: 9 plays, 90 yds, 5:03

0
7
SECOND QUARTER
NE
CAR
FG
5:06
Graham Gano 43 Yard Field Goal is Good

Drive info: 12 plays, 62 yds, 6:01

0
10
FG
1:13
Stephen Gostkowski 42 Yard Field Goal is Good

Drive info: 9 plays, 56 yds, 3:53

3
10
THIRD QUARTER
NE
CAR
TD
10:37
Rob Gronkowski 9 Yard Pass From Tom Brady (Stephen Gostkowski Kick is Good)

Drive info: 8 plays, 80 yds, 4:29

10
10
TD
2:19
Greg Olsen 15 Yard Pass From Cam Newton (Graham Gano Kick is Good)

Drive info: 13 plays, 81 yds, 8:21

10
17
FOURTH QUARTER
NE
CAR
TD
12:37
Stevan Ridley 1 Yard Run (Stephen Gostkowski Kick is Good)

Drive info: 9 plays, 80 yds, 4:37

17
17
FG
6:36
Stephen Gostkowski 26 Yard Field Goal is Good

Drive info: 9 plays, 31 yds, 4:29

20
17
TD
1:09
Ted Ginn Jr. 25 Yard Pass From Cam Newton (Graham Gano Kick is Good)

Drive info: 13 plays, 83 yds, 5:33

20
24
Research Notes
Cam Newton
was 8-of-11 for 98 yards and a touchdown against five or more pass rushers Monday, and he did not take a sack against added pressure. Entering Week 11, Newton had been sacked 18 times when facing five or more pass rushers, second-most in the league.
[+]
The 14 combined drives in Monday's Patriots-Panthers game are the fewest in any NFL game since 2008 (Week 9, Patriots at Colts also had 14).
Tom Brady
completed his first 19 passes 5 yards or less downfield Monday, finishing 19-of-20 for 139 yards and a touchdown on short throws. Brady's 19 completions on such throws are tied for his most in one game in the last three seasons. --Brady's average pass traveled 6.1 yards downfield Monday, his second-shortest average target depth in a game this season. Coming into the game, Tom Brady's average pass this season had traveled 9.3 yards, sixth-longest among qualified quarterbacks and Brady's longest in his last eight seasons.
[+]
The Panthers are one of just 4 teams that have outscored their opponents by at least 100 points this season.
[+]
¿ The Panthers defense has a takeaway in 14 consecutive games, the longest active streak in the NFL. The Patriots' streak of 36 games with a takeaway was snapped Monday. ¿ The Patriots and the Panthers each had seven offensive possessions Monday, tied for their fewest in a game since 2001.
The Panthers went 8-for-11 on 3rd down in this game, including going 2-for-2 on their final drive. That's the 2nd-best conversion rate in a game by any team this season.
[+]
The Panthers forced
Tom Brady
to throw under duress four times on the Patriots' final 11-play drive (36.4%). Brady was 1-of-4 for 11 yards on those passes, including the game-ending interception in the end zone. Before the final drive, Brady had been pressured on four of his 31 dropbacks (12.9%).
Cam Newton
ran four times (three scrambles) on third down for 56 yards Monday, converting each time for a first down. Newton has scrambled for a first down 31 times on third down in his career, most in the NFL since he entered the league in 2011. -- Two of Newton's three passing touchdowns came on third down. Newton has an 80.9 Total QBR on third down this season, third-best among qualified quarterbacks.
Tom Brady
has completed 82.4% of his passes to
Rob Gronkowski
in their last two games after completing 45.5% in Gronkowski's first two games of the season.
[+]
Brady and company should be wary of the Panthers defense, especially later in the game. The Panthers have forced 14 turnovers after halftime this season, behind only Seattle, Arizona and Kansas City. Something has to give, as the Patriots have turned it over only 6 times after the half this year, which is top 10 in the league.
[+]
Cam Newton
entered the game with 28 1st-down scrambles on third down in his career (most in NFL since 2011).
From Elias: The Patriots have the 3rd-longest active win streak on MNF:
[+]
Steve Smith
moved past
Michael Irvin
for the 22nd-most receiving yards in NFL history...this is through his first 2 catches for 47 yards tonight. He also has 101 straight games with a reception, tied with
Calvin Johnson
for the 8th-longest active streak in the NFL.
Stevan Ridley
has lost 3 fumbles this season, most in the NFL among RBs. He has lost 5 fumbles over the last 2 season, tied for the most in the NFL among RBs.
Carolina has allowed more than 15 points for the first time since Week 5 against the Cardinals (22). They HAD allowed no more than 15 points in 5 straight games, the longest streak by any team since the 2011 Texans
ESPN Stats & Information