1:00 PM ET, December 1, 2013
Bank of America Stadium, Charlotte, NC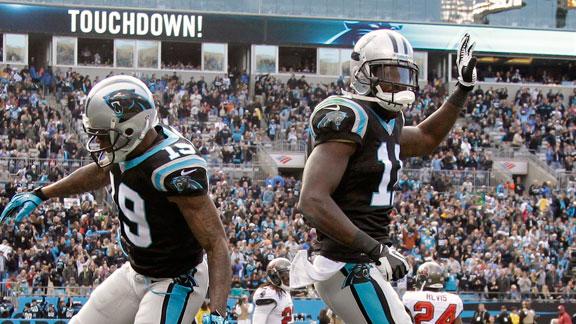 Sunday Blitz: Buccaneers-Panthers Recap
Sunday Blitz: Buccaneers-Panthers Recap
VIDEO PLAYLIST
CHARLOTTE, N.C. -- Cam Newton walked into the press conference Sunday afternoon, flashed that familiar smile and gave a tip of the hat to his former college team.
"War Eagle. War Eagle. War. Damn. Eagle," Newton said.
Less than 24 hours after the Auburn Tigers pulled off an incredible victory over No. 1 Alabama, Newton had another reason to smile.
More Buccaneers-Panthers coverage

The Panthers beat the Bucs and the Saints await. But Carolina has more on its mind than just a division title, David Newton writes. Blog
---

To the people who like to blame Greg Schiano for everything that goes wrong with the Bucs, get in line. Schiano's going first this time, Pat Yasinskas writes. Blog
Carolina's third-year quarterback capped a memorable weekend by throwing for 263 yards and two touchdowns and "Superman" leaped over the pile for another score as the Panthers (9-3) defeated Tampa Bay 27-6 Sunday for a franchise-record eighth straight regular season victory.
"It wasn't prototypical, or the way we wanted to win, but we found a way to win and that's the most encouraging part about it," said Newton, who rebounded from two interceptions.
The victory set up a huge game next Sunday night in New Orleans against the Saints with first place in the NFC South on the line.
"We're ready," said fullback Mike Tolbert, who had 48 yards rushing and 41 yards receiving in the win. "Around here we pride ourselves on being able to follow up one game with another."
The Panthers outgained the Buccaneers (3-9) 426-206.
Newton ran for 68 yards, 53 on a first quarter run to set up Carolina's first touchdown. Newton, who led Auburn to a national championship and won a Heisman Trophy with the Tigers, is enjoying the best stretch of this professional career with 13 touchdown passes and five TDs rushing during the win streak.
Carolina's defense came in allowing an NFL-low 13.7 points per game and forced two turnovers and sacked rookie Mike Glennon five times to snap Tampa Bay's three-game winning streak.
Glennon had thrown a touchdown pass in an NFL record eight straight games to start his career, but the Panthers kept the Bucs out of the end zone. The Panthers have not lost since a 22-6 defeat on the road to Arizona on Oct. 6 and confidence is at an all-time high in the locker room.
"There is no roof, no sky," defensive end Greg Hardy said. "We're going up. Every person on this team, every coach on this team has the same mentality right now. I feel like it's contagious. Fans are getting it. They feel like they can't be beat."
The turning point came in the second quarter with the Panthers holding a 7-6 lead.
Glennon rolled left on third-and-goal at the Carolina 4 and had the ball inexplicably slip out of his throwing hand without being touched and Panthers defensive tackle Dwan Edwards pounced on the loose ball at the 17.
"It just slipped out of my hand, and it really hurt us because we would have gotten at least three points," Glennon said.
The Panthers cashed in with a 23-yard field goal by Graham Gano.
Newton made it 17-6 with 25 seconds left in the half when coach Ron Rivera went for it on fourth-and-goal at the 1. With fans holding signs that read "Riverboat Ron" in the stands, Newton dove headfirst over the pile, extending the ball over the goal line.
The Panthers are now 8 of 9 when going for it on fourth-and-1 since his team's Week 2 loss to Buffalo, a big reason for Carolina's turnaround.
It was all Panthers in the second half.
Safety Mike Mitchell intercepted Glennon on the opening drive and Newton quickly took advantage. He moved the Panthers 78 yards in four plays, connecting on a 36-yard touchdown pass to Ted Ginn Jr., who beat Darrelle Revis on a double move.
Glennon was 14 of 21 for 80 yards with an interception.
"I don't know if it was a step back, but maybe he looked a little more like a rookie than he's looked in the past," Bucs coach Greg Schiano said.
"The ball slips out of his hand going to his left. That's an awkward deal, and unfortunate, but it happened. The throw to Vincent (Jackson) that gets intercepted and the flag gets picked up, it just didn't look like it came off his hand cleanly. I'm not sure if there's any reason."
It's hard to imagine the Panthers now have a shot at a first-round bye in the NFC playoffs after starting the season 1-3, when talk was rampant about Rivera's future with the team.
"It's unbelievable," said defensive end Wes Horton, who had two of Carolina's sacks. "When we were 1/3 it was tense, we were trying to find ourselves as a team. And now we're rolling and everyone is one the same page."
Game notes
Revis left the game in the third quarter with a shoulder and chest injury and did not return. He will be reevaluated on Monday. ...
Greg Olsen
had 85 yards receiving on five catches. ... Panthers wide receiver
Steve Smith
moved into 20th in NFL yards receiving, passing
Derrick Mason
and
Hines Ward
. ... RB
Jonathan Stewart
started for Carolina in place of
DeAngelo Williams
, who sat with a quadriceps bruise.
Copyright by STATS LLC and The Associated Press
Photo Wire
CHARLOTTE, NC - DECEMBER 01: Cam Newton #1 of the Carolina Panthers warms up before a game against the Tampa Bay...
(Photo by Grant Halverson/Getty Images)
Team Stat Comparison
| | TB | CAR |
| --- | --- | --- |
| 1st Downs | 10 | 20 |
| Passing 1st downs | 5 | 14 |
| Rushing 1st downs | 4 | 6 |
| 1st downs from Penalties | 1 | 0 |
| 3rd down efficiency | 1-10 | 5-13 |
| 4th down efficiency | 0-1 | 2-2 |
| Total Plays | 46 | 63 |
| Total Yards | 206 | 426 |
| Yards per play | 4.5 | 6.8 |
| Total Drives | 11 | 11 |
| Passing | 140 | 263 |
| Comp - Att | 14-21 | 18-29 |
| Yards per pass | 6.7 | 9.1 |
| Interceptions thrown | 1 | 2 |
| Sacks - Yards Lost | 5-40 | 0-0 |
| Rushing | 66 | 163 |
| Rushing Attempts | 20 | 34 |
| Yards per rush | 3.3 | 4.8 |
| Red Zone (Made-Att) | 0-2 | 2-5 |
| Penalties | 4-30 | 3-25 |
| Turnovers | 2 | 2 |
| Fumbles lost | 1 | 0 |
| Interceptions thrown | 1 | 2 |
| Defensive / Special Teams TDs | 0 | 0 |
| Possession | 25:35 | 34:25 |
Scoring Summary
FIRST QUARTER
TB
CAR
FG
09:10
Rian Lindell 27 Yd
3
0
TD
06:08
Brandon LaFell 16 Yd Pass From Cam Newton (Graham Gano Kick)
3
7
FG
02:14
Rian Lindell 53 Yd
6
7
SECOND QUARTER
TB
CAR
FG
06:23
Graham Gano 23 Yd
6
10
TD
00:25
Cam Newton 1 Yd Run (Graham Gano Kick)
6
17
THIRD QUARTER
TB
CAR
TD
10:50
Ted Ginn Jr. 36 Yd Pass From Cam Newton (Graham Gano Kick)
6
24
FOURTH QUARTER
TB
CAR
FG
06:40
Graham Gano 22 Yd
6
27
Research Notes
Cam Newton
's 56-yard scramble in the first quarter was the second-longest rush of Newton's career and his longest scramble. Newton had a 72-yard touchdown run in Week 14 of 2012 against the Falcons. Two plays later, Newton hit
Brandon LaFell
for a 16-yard touchdown pass.
Mike Glennon
completed all 11 passes over the middle of the field Sunday, but went just 3-of-10 with an interception on passes outside the painted numbers. Glennon attempted all of his passes more than 20 yards downfield outside the numbers, going 1-of-4 on those attempts with the interception.
Cam Newton
leads the NFL with 20 games featuring a passing and rushing TD since entering the league in 2011 - in fact, his 5 such games during Carolina's franchise-record 8-game win streak would be good for second all by itself.
[+]
From Elias:
Cam Newton
threw 2 touchdowns and ran for another today. Since coming into the league 3 years ago, he now has 20 games where he has thrown a TD and run for one. That is by far the fastest such start to a career.
[+]
Cam Newton
's 56-yard scramble in the first quarter was the second-longest rush of Newton's career and his longest scramble. Newton had a 72-yard touchdown run in Week 14 of 2012 against the Falcons. Two plays later, Newton hit
Brandon LaFell
for a 16-yard touchdown pass.
ESPN Stats & Information