1:00 PM ET, December 1, 2013
Reliant Stadium, Houston, TX
Top Performers
Passing: T. Brady (NE) - 371 YDS, 2 TD, 1 INT
Rushing: B. Tate (HOU) - 22 CAR, 102 YDS, 3 TD
Receiving: R. Gronkowski (NE) - 6 REC, 127 YDS, 1 TD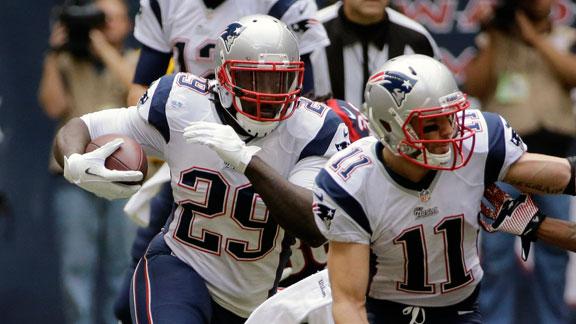 Sunday Blitz: Patriots-Texans Recap
Sunday Blitz: Patriots-Texans Recap
VIDEO PLAYLIST
HOUSTON -- Tom Brady was glad to escape Houston with a win.
He would have been much happier if his New England Patriots didn't have to overcome another first-half deficit to do it.
Brady threw for 371 yards and two scores, and Stephen Gostkowski made two long field goals in the fourth quarter Sunday as the Patriots rallied for a 34-31 win over Houston.
More Patriots-Texans coverage

On a day when the New England Patriots were not at their best, their kicker Stephen Gostkowski might have had his finest hour in the NFL, writes Mike Reiss. Blog
---

Quarterback Case Keenum showed marked improvement by trusting his offensive line as the Texans fell just short of upsetting the Patriots, writes Tania Ganguli. Blog
• Radio: Mike & Mike weigh in
"I wish we could start fast and put the foot on the gas pedal the whole way," Brady said.
New England coach Bill Belichick echoed Brady's feelings.
"It's not the way we want to play," he said. "Hopefully, I can find a way to coach better than I've done, find a way to get ahead."
The Texans' franchise-record skid reached 10 games. Gary Kubiak coached from the sideline for the first time since suffering a mini-stroke Nov. 3. He missed one game before working the last two games from the booth.
"We're playing hard, we're not always playing good," Kubiak said. "We had a lot of opportunities to make plays ourselves, just didn't make enough."
New England overcame a 24-point first-half deficit last week to beat the Broncos 34-31 in overtime. The Patriots (9-3) trailed by 10 at halftime in this one and the lead changed five times in a wild second half. New England tied it with a 53-yard field goal and took a 34-31 lead with another one from 53 with about three minutes left.
"Whatever we're doing is not good enough, and we can't keep getting behind because you have to play too well in the second half to overcome," Brady said.
The Texans (2-10) had a chance late, but the offense stalled. On fourth-and-13, Case Keenum threw an incompletion as he was being hit.
Ben Tate ran for 102 yards and three touchdowns for the Texans, who haven't won since Sept. 15. It was the first 100-yard rushing game since 2011 for Tate, who has been slowed since Oct. 20 with four broken ribs.
The victory ended a three-game road skid for the Patriots, who have won their last eight December games and 16 of their last 17 in the month. The victory assured them their 13th straight winning record.
"It's a big plus," Belichick said. "We have to find a way to win on the road. Fortunately this week we did it. The last three we were in similar situations to this and didn't do it."
Rob Gronkowski had six receptions for 127 yards and Julian Edelman added 101 yards receiving on nine catches. New England didn't miss starting running back Stevan Ridley, who was not active after having fumbling problems recently. Belichick evaded questions about why he was inactive.
Keenum threw for 272 yards with an interception and Andre Johnson had eight receptions for 121 yards.
Tate's third score came when he ran 10 yards to make it 31-28. The key play of that drive came on a 66-yard reception by rookie DeAndre Hopkins.
LeGarrette Blount's 7-yard touchdown run had given New England a 28-24 lead.
Before that, Keenum put Houston back on top when he took a keeper 5 yards late in the third quarter.
Brady had picked apart Houston's secondary on a drive he finished by finding Shane Vereen wide open for a 9-yard touchdown to give New England its first lead, 21-17.
Brady used a 50-yard pass to Gronkowski to get New England to the Houston 13 early in the third quarter. James Develin was hit by four Texans but kept his feet moving and plunged into the end zone for a 1-yard score to cut the lead to 17-14.
A 20-yard touchdown run by Tate extended Houston's lead to 17-7 late in the second period.
Brady had at least five seconds to throw on a 23-yard TD pass to Gronkowski in the first quarter. Gronkowski scooped up the low throw and fell into the end zone for the score.
Keenum was intercepted by rookie Logan Ryan when he threw as he was being hit on Houston's ensuing possession.
Gostkowski's 55-yard field goal attempt that sailed wide right broke his streak of 21 straight made field goals, the second longest in team history.
Tate put Houston up early on an 8-yard run and Randy Bullock made a 43-yard field goal to push the lead to 10-0.
Game notes
Johnson became the 15th player in NFL history to reach 900 receptions. He did it in his 150th career game, making him the second fastest to reach the mark behind
Marvin Harrison
, who did it in 149 games. ... New England was not called for a penalty. The Patriots did the same thing on Oct. 6 in a loss at Cincinnati ... Houston had four touchdowns rushing Sunday after entering the game with two this season.
Copyright by STATS LLC and The Associated Press
Photo Wire
HOUSTON, TX - DECEMBER 01: Tom Brady #12 of the New England Patriots works out on the field before the game...
(Photo by Scott Halleran/Getty Images)
Team Stat Comparison
| | NE | HOU |
| --- | --- | --- |
| 1st Downs | 28 | 19 |
| Passing 1st downs | 20 | 11 |
| Rushing 1st downs | 7 | 8 |
| 1st downs from Penalties | 1 | 0 |
| 3rd down efficiency | 5-12 | 5-11 |
| 4th down efficiency | 0-0 | 0-1 |
| Total Plays | 69 | 59 |
| Total Yards | 453 | 385 |
| Yards per play | 6.6 | 6.5 |
| Total Drives | 11 | 12 |
| Passing | 365 | 264 |
| Comp - Att | 29-41 | 15-30 |
| Yards per pass | 8.9 | 8.8 |
| Interceptions thrown | 1 | 1 |
| Sacks - Yards Lost | 1-6 | 1-8 |
| Rushing | 88 | 121 |
| Rushing Attempts | 27 | 28 |
| Yards per rush | 3.3 | 4.3 |
| Red Zone (Made-Att) | 3-3 | 3-3 |
| Penalties | 0-0 | 2-25 |
| Turnovers | 1 | 1 |
| Fumbles lost | 0 | 0 |
| Interceptions thrown | 1 | 1 |
| Defensive / Special Teams TDs | 0 | 0 |
| Possession | 33:45 | 26:15 |
Scoring Summary
FIRST QUARTER
NE
HOU
TD
08:44
Ben Tate 8 Yd Run (Randy Bullock Kick)
0
7
FG
04:10
Randy Bullock 43 Yd
0
10
TD
01:25
Rob Gronkowski 23 Yd Pass From Tom Brady (Stephen Gostkowski Kick)
7
10
SECOND QUARTER
NE
HOU
TD
01:47
Ben Tate 20 Yd Run (Randy Bullock Kick)
7
17
THIRD QUARTER
NE
HOU
TD
12:41
James Develin 1 Yd Run (Stephen Gostkowski Kick)
14
17
TD
08:06
Shane Vereen 9 Yd Pass From Tom Brady (Stephen Gostkowski Kick)
21
17
TD
02:11
Case Keenum 5 Yd Run (Randy Bullock Kick)
21
24
FOURTH QUARTER
NE
HOU
TD
13:09
LeGarrette Blount 7 Yd Run (Stephen Gostkowski Kick)
28
24
TD
11:35
Ben Tate 10 Yd Run (Randy Bullock Kick)
28
31
FG
07:16
Stephen Gostkowski 53 Yd
31
31
FG
03:12
Stephen Gostkowski 53 Yd
34
31
Research Notes
The Texans lost their 3rd game this season after leading by double digits, all at home. In each game, the Texans' win probability was greater than 85% at halftime. According to Elias, the last team to lose more games at home when leading by double-digits in a season was the 1980 Buccaneers (4).
[+]
The Texans' blitz gave
Tom Brady
problems in the first half. Houston held Brady to 2-of-7 passing for 22 yards, an interception and a sack sending at least five rushers before halftime. But Brady was 7-of-9 for 137 yards and a touchdown without a sack in the second half against the Texans' blitz, which Wade Phillips dialed up almost twice as often as in the first two quarters.
[+]
From Elias: The Patriots recorded their 1st win in team history against a team that entered the game on a 9+ game losing streak (includes streaks that span seasons). Entering today, the Patriots were 0-4 in those games.
Brady's interception was his first pick against at least five rushers since Week 14 of 2011. He had thrown 31 straight touchdowns between interceptions. It was also the fourth interception of the season targeting
Rob Gronkowski
, at least twice as many as Brady had thrown to any other target. Gronkowski missed the first six weeks of the season. Brady beat the Texans' blitz last year in both games he faced Houston. Brady was 25-of-38 for 356 yards, five touchdowns and no interceptions in Week 14 and the Divisional Round Playoff combined when Houston sent at least five rushers. Brady's average throw against Houston's blitz was 15.0 yards downfield in the first half and 8.5 yards downfield in the second half.
From Elias: The Patriots clinch their 13th straight winning seasons
[+]
Last season, the Texans were 11-1 through Week 13, tied with the Falcons for the best record in the league, meaning the Texans held the No. 1 seed in the AFC playoffs through 12 games. This season, the Texans are 2-10 and are currently projected to have the No. 1 overall pick in the 2014 NFL Draft.
Rob Gronkowski
has 42 Rec TD, the 4th most by a player through 4 seasons in NFL history.
[+]
Ben Tate
's 20-yard touchdown run was the first rush TD of at least 20 yards New England allowed since Week 15 of 2011. The Patriots and the Broncos entered Sunday as the only two teams to not surrender a 20+ yard rush TD since the start of 2012.
At halftime,
Tom Brady
is 2-for-7 for 22 yards with an interception and a sack. Brady's interception was his first INT against at least 5 rushers since Week 14 of 2011 (31 TDs between picks against blitz). In two meetings last year (Week 14 + Divisional Round), Brady was 25-for-38 (65.8 comp pct) for 356 yards, 5 TD, 0 Int and one sack.
Texans have never led a halftime in any of their 5 previous games against the Patriots (incl. playoffs). HOU was tied with NE at half of their only win in their all-time series (Week 17, 2009 - tied 13-13 at half, Texans won 34-27).
Tom Brady
threw his fourth interception of the year targeting
Rob Gronkowski
, twice as many as when targeting any other Patriot. Gronkowski and
Zach Sudfeld
were the only players targeted on multiple Brady interceptions this season. Gronkowski missed the first six games of the season.
ESPN Stats & Information