4:05 PM ET, December 8, 2013
Sports Authority Field at Mile High, Denver, CO
Top Performers
Passing: P. Manning (DEN) - 397 YDS, 4 TD
Rushing: K. Moreno (DEN) - 14 CAR, 78 YDS, 1 TD
Receiving: E. Decker (DEN) - 8 REC, 117 YDS, 1 TD
Matt Prater hits record-breaking FG as Broncos clinch playoff spot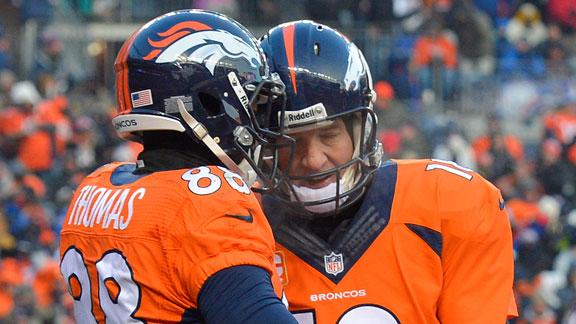 Sunday Blitz: Titans-Broncos Recap
Sunday Blitz: Titans-Broncos Recap
VIDEO PLAYLIST
DENVER -- Peyton Manning and Matt Prater were more about big numbers than the little one Sunday.
As in, an NFL-record 64-yard field goal to go along with 39 completions, 397 yards passing and, of course, 51 points.
That the temperature was only 18 degrees at kickoff and only 14 when Prater kicked his way to one of the most iconic records in the game felt more annoying than anything. Same for the opponent -- the Tennessee Titans, who fought gamely for a half before falling 51-28 on Sunday to the Broncos, who clinched a playoff berth.
More Titans-Broncos coverage

Another botched call had Bernard Pollard and the Titans furious, and they weren't shy about saying so, writes Paul Kuharsky. Story
---

It was 18 degrees at kickoff and Peyton Manning threw for almost 400 yards and four TDs, showing he can indeed weather the cold, writes Jeff Legwold. Story
• Radio: 'Mike & Mike' weighs in
As for all those doubts about Manning's abilities in the cold: "I won't try to answer it because I didn't give it any validation in the first place," said the quarterback, who is now 4-7 in games where the temperature is 32 or below at kickoff.
The cold certainly didn't bother Prater, who lashed his 64-yarder through the icy air on the last play of the first half. Yes, it was at altitude in Denver, same as two of the four 63-yarders from years past.
"But I think the 10-degree weather takes out the altitude," Prater said.
Manning's 39 completions set a team record. His 59 attempts matched a franchise high. His seven games this year with at least four touchdowns are the most in NFL history. He's now in the playoffs for the 13th time, which breaks a record for a quarterback that he shared with Brett Favre. Manning led the Broncos (11-2) past the 50-point mark for the third time this year, the first time a team has done that since the NFL merger in 1970.
The Broncos ran a whopping 91 plays on offense, giving them plenty of chances to eat away at a 21-10 second-quarter deficit.
"We were doing well at the beginning, but they took off like a rocket," Titans cornerback Alterraun Verner said.
Despite the gaudy numbers, Manning and Prater were about the only Broncos clicking on all cylinders on the day coach John Fox rejoined the team and coached from the sideline after missing four games because of heart surgery.
The special teams gave up a 95-yard kickoff return -- the second return of 90-plus it has allowed in the last two games.
The Titans (5-8) burned the Denver defense a few times early, most notably when Ryan Fitzpatrick (13 for 24, 172 yards) picked on rookie cornerback Kayvon Webster on the first drive for a 57-yard completion to Justin Hunter that set up the game's first touchdown.
There were about a half-dozen dropped passes and the Broncos had a whale of a time punching the ball in from the 1. They needed 11 snaps from that distance to get two touchdowns and a field goal.
Those struggles turned Prater's record-setting attempt into much more than a theatrical flourish, which is what most field goals are for a team that has now put up 515 points through 13 games.
Denver had cut its deficit to 21-17 and a penalty forced Manning to start from his 15 with 52 seconds left in the first half. An 18-yard pass to Demaryius Thomas got the ball near midfield with 7 seconds left. Then Manning completed a quick 7-yarder to Jacob Tamme, who went out of bounds with 3 seconds.
On came Prater. With steam pouring from his mouth, he lined up on the right hash mark at the Denver 46, just a few steps over from the eye of the Broncos logo. The kick cleared the crossbar with a bit of room to spare, and holder Britton Colquitt jumped piggyback onto the kicker to celebrate.
"I think I just said, 'Kick it as hard as you can,' " Colquitt said. "I didn't want to put that bug in, 'Hey, this is the record.' "
Prater broke the mark held by four kickers, set first in 1970 by Tom Dempsey and most recently matched by David Akers, whose kick last season in Green Bay bounced on the crossbar before going over.
Manning led the Broncos on an 80-yard scoring drive to open the third quarter and the Broncos didn't trail again.
And speaking of big numbers: The quarterback's 4,522 yards and 45 touchdowns this season remain on pace to break the NFL records of 5,476 and 50.
Game notes
The Broncos dedicated the press box to longtime public-relations man Jim Saccomano, who is retiring after the season. ... Titans WR Hunter cracked the 100-yard mark for the second time in three weeks, finishing with four catches for 115 yards. ...
Knowshon Moreno
and
Wes Welker
each reached double digits in touchdowns Sunday and the Broncos became the first team to have four players score 10 or more in a season.
Copyright by STATS LLC and The Associated Press
Photo Wire
DENVER, CO - DECEMBER 8: Head Coach John Fox of the Denver Broncos walks on the field for the first time since...
(Photo by Justin Edmonds/Getty Images)
Team Stat Comparison
| | TEN | DEN |
| --- | --- | --- |
| 1st Downs | 15 | 39 |
| Passing 1st downs | 6 | 25 |
| Rushing 1st downs | 8 | 9 |
| 1st downs from Penalties | 1 | 5 |
| 3rd down efficiency | 2-9 | 5-13 |
| 4th down efficiency | 2-3 | 3-3 |
| Total Plays | 48 | 91 |
| Total Yards | 254 | 551 |
| Yards per play | 5.3 | 6.1 |
| Total Drives | 11 | 13 |
| Passing | 158 | 397 |
| Comp - Att | 13-24 | 39-59 |
| Yards per pass | 6.6 | 6.7 |
| Interceptions thrown | 1 | 0 |
| Sacks - Yards Lost | 2-14 | 0-0 |
| Rushing | 96 | 154 |
| Rushing Attempts | 22 | 32 |
| Yards per rush | 4.4 | 4.8 |
| Red Zone (Made-Att) | 2-2 | 5-7 |
| Penalties | 8-66 | 7-60 |
| Turnovers | 2 | 0 |
| Fumbles lost | 1 | 0 |
| Interceptions thrown | 1 | 0 |
| Defensive / Special Teams TDs | 0 | 0 |
| Possession | 20:40 | 39:20 |
Passing Leaders
TEN
C/ATT
YDS
AVG
TD
INT
SACKS
Fitzpat...
13/24
172
7.2
1
1
2-14

DEN
C/ATT
YDS
AVG
TD
INT
SACKS
Manning
39/59
397
6.7
4
0
0-0
Scoring Summary
FIRST QUARTER
TEN
DEN
TD
12:37
Shonn Greene 1 Yd Run (Rob Bironas Kick)
7
0
TD
07:28
Wes Welker 1 Yd Pass From Peyton Manning (Matt Prater Kick)
7
7
TD
07:01
Chris Johnson 3 Yd Run (Rob Bironas Kick)
14
7
FG
00:25
Matt Prater 25 Yd
14
10
SECOND QUARTER
TEN
DEN
TD
06:58
Shonn Greene 28 Yd Run (Rob Bironas Kick)
21
10
TD
01:50
Julius Thomas 8 Yd Pass From Peyton Manning (Matt Prater Kick)
21
17
FG
00:00
Matt Prater 64 Yd
21
20
THIRD QUARTER
TEN
DEN
TD
11:52
Demaryius Thomas 4 Yd Pass From Peyton Manning (Matt Prater Kick)
21
27
TD
07:34
Knowshon Moreno 1 Yd Run (Matt Prater Kick)
21
34
TD
04:50
Justin Hunter 41 Yd Pass From Ryan Fitzpatrick (Rob Bironas Kick)
28
34
FOURTH QUARTER
TEN
DEN
FG
13:15
Matt Prater 19 Yd
28
37
TD
09:12
Eric Decker 20 Yd Pass From Peyton Manning (Matt Prater Kick)
28
44
TD
03:07
Montee Ball 5 Yd Run (Matt Prater Kick)
28
51
Research Notes
After entering this season with just 1 50-point game in franchise history (804 games), the Broncos have scored at least 50 points 3 times in 13 games this season.
[+]
Three former University of Tennessee wide receivers, who are rookies this season, made big impacts on Sunday. Justin Hunter had 114 yards and a TD for the Titans, Cordarrelle Patterson posted 141 yards and a TD for the Vikings and Da'Rick Rogers (played last year at Tennessee Tech after transferring from UT) posted 107 yards and 2 TD for the Colts.
The Broncos have scored 515 points this season... With 3 games remaining, that's already 11th on the all-time list for a single season. If they score at their season average over the final 3 games, they'll break the NFL record by 44 points.
Peyton Manning
was 35-of-45 with four touchdowns when the Titans brought four or fewer pass rushers Sunday. The Titans had allowed only three passing touchdowns when using such pass rushes all season. Manning wasn't sacked and was put under duress on only two of those 45 dropbacks against four or fewer rushers (4.4%), his lowest percentage under pressure this season.
If history is any indication,
Tom Brady
and
Peyton Manning
are set to make things interesting atop the AFC standings. Tom Brady is 46-10 against the Patriots remaining opponents, the 2nd-best career win pct among QB with 10+ combined games vs their team's remaining opponents. Peyton Manning isn't far behind; he has the 3rd-best career win pct (.764) among QB with 10+ combined games vs their team's remaining opponents.
[+]
Eric Decker
caught all three of his targets on passes 15 yards or more downfield Sunday, including a touchdown. Decker is just the second player to have such a touchdown against the Titans this season.
[+]
Peyton Manning
posted a 91.6 Total QBR against the Titans. It is his 14th game with a Total QBR above 90 in 29 starts with the Broncos, most in the NFL.
[+]
Shonn Greene
has two rushing touchdowns in the first half. He had one touchdown coming into the game.
ESPN Stats & Information