1:00 PM ET, December 8, 2013
Heinz Field, Pittsburgh, PA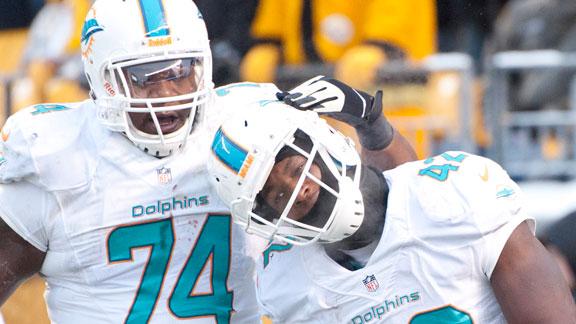 Sunday Blitz: Dolphins-Steelers Recap
Sunday Blitz: Dolphins-Steelers Recap
VIDEO PLAYLIST
PITTSBURGH -- Considering everything the resilient Miami Dolphins have put themselves through over the last two months, a couple of snowflakes were hardly going to be a problem.
Not with Ryan Tannehill throwing and running like a guy who enjoys the white stuff. Not with Charles Clay muscling through the arm tackle of a likely Hall of Famer for the winning score. Not even with a Keystone Kops finale that ever so briefly appeared to be for real.
Clay bulled through Pittsburgh safety Troy Polamalu and cornerback Cortez Allen to score a 12-yard touchdown with 2:53 remaining to put the Dolphins in front to stay and Miami survived a wild finish to edge the Steelers 34-28 on Sunday.
More Dolphins-Steelers coverage

The Dolphins are playing some of their best football as they chase a wild-card berth -- but luck also played a role in Pittsburgh, James Walker writes. Blog
---

Coming up short on what would have been a miraculous play at the end seemed to epitomize the entire season for the Steelers, Scott Brown writes. Blog
"I think I need some blood pressure medicine or something," Dolphins defensive end Cameron Wake said. "That's December football."
Daniel Thomas ran for 105 yards and a score for Miami, including a zig-zag 55-yard burst to set up Clay's winner. Clay had seven receptions for 97 yards and two touchdowns. Tannehill, playing in wintry conditions for the first time in his life, completed 20 of 33 passes for 201 yards and three scores and also ripped off a career-long 48 yard run for the Dolphins (7-6).
Miami blew a pair of second-half leads but improved to 3-1 in its last four games. Heady territory for an organization reeling a month ago after a bullying accusation against offensive lineman Richie Incognito by Jonathan Martin that threatened to rip the locker room apart.
"Big win of us," Thomas said. "We have a do or die mentality."
One the Dolphins nearly saw both sides of in the final three minutes. Caleb Sturgis drilled a short field goal after Clay's second touchdown to put Miami up six. The Steelers got the ball back with 1:08 left but no timeouts.
Three plays went nowhere and on fourth-and-4 from the Pittsburgh 26 Ben Roethlisberger took the snap just before the clock hit all zeroes.
Emmanuel Sanders caught the pass and made it 20 yards before things went haywire. Sanders flipped it to Jerricho Cotchery, who handed it to Le'Veon Bell, who then tossed it to 330-pound tackle Marcus Gilbert. Gilbert flipped it to Roethlisberger, who ran to the Pittsburgh 33 before throwing what appeared to be an illegal forward pass to Brown. No flags were thrown, however, as Brown raced down the sideline.
As the Dolphins gave chase, Brown crossed the goal line. While he celebrated, an official pointed at the turf and ruled Brown's left foot stepped out of bounds at the Miami 12. That sent the resurgent Dolphins spilling onto the field after the franchise's first win in Pittsburgh in 23 years, one that came in the unlikeliest of settings.
"I thought I had it clean," Brown said. "I thought I separated really good getting to the sideline, but it didn't seem quite enough."
It never has been this year for Pittsburgh (5-8), which lost its second straight to all but end any outside shot of making the playoffs. Roethlisberger passed for 349 yards and three scores, but could do little but trudge to the locker room in disgust with his team assured of a second straight non-winning season.
SportsNation: Flurries & football

Philly, Baltimore and several other cities saw snow Sunday. Do you like football in this weather? Vote! »
"There isn't going to be any quit from anybody," Roethlisberger said.
The defeated capped a distracting 10 days for the Steelers. Head coach Mike Tomlin was fined $100,000 for interfering with Baltimore kickoff returner Jacoby Jones during a loss to Baltimore on Thanksgiving night. The kind of furor overshadowed the fact what little margin for error the Steelers had heading into December was gone.
Now it's vanished completely.
"We've still got games to play," Pittsburgh cornerback Ike Taylor said. "We've got no time to be whining pouting, thinking about the season."
Neither do the Dolphins. Then again, they have something considerably more tangible to play for after showing they're not afraid to get a little snow on their pristine white-and-teal jerseys.
Miami settled itself as the snow tapered off, taking a 17-7 lead early in the third quarter then continually responding whenever the Steelers appeared ready to take control in a game that featured four lead changes in the last 23 minutes.
Game notes
Miami WR
Mike Wallace
had two catches for 19 yards in his return to Pittsburgh, where he played from 2009-12. ... Miami RB
Lamar Miller
left in the third quarter with a concussion and did not return. ... Roethlisberger's first-quarter touchdown pass to Sanders gave him 213 in his career, breaking a tie with Terry Bradshaw for the most in team history ... Polamalu returned an interception 19 yards for a score in the third quarter, the fifth touchdown of his career. ... Brown became the second Steeler to reach 90 receptions in a season.
Hines Ward
did it four times.
Copyright by STATS LLC and The Associated Press
Photo Wire
PITTSBURGH, PA - DECEMBER 08: Emmanuel Sanders #88 of the Pittsburgh Steelers celebrates his first quarter...
(Photo by Gregory Shamus/Getty Images)
Team Stat Comparison
| | MIA | PIT |
| --- | --- | --- |
| 1st Downs | 18 | 16 |
| Passing 1st downs | 12 | 12 |
| Rushing 1st downs | 5 | 4 |
| 1st downs from Penalties | 1 | 0 |
| 3rd down efficiency | 6-14 | 8-17 |
| 4th down efficiency | 0-0 | 1-2 |
| Total Plays | 60 | 63 |
| Total Yards | 360 | 412 |
| Yards per play | 6.0 | 6.5 |
| Total Drives | 13 | 12 |
| Passing | 179 | 328 |
| Comp - Att | 20-33 | 23-39 |
| Yards per pass | 5.4 | 8.4 |
| Interceptions thrown | 1 | 0 |
| Sacks - Yards Lost | 2-21 | 3-21 |
| Rushing | 181 | 84 |
| Rushing Attempts | 25 | 21 |
| Yards per rush | 7.2 | 4.0 |
| Red Zone (Made-Att) | 4-6 | 2-2 |
| Penalties | 5-36 | 9-63 |
| Turnovers | 1 | 1 |
| Fumbles lost | 0 | 1 |
| Interceptions thrown | 1 | 0 |
| Defensive / Special Teams TDs | 0 | 1 |
| Possession | 28:55 | 31:05 |
Passing Leaders
MIA
C/ATT
YDS
AVG
TD
INT
SACKS
Tannehill
20/33
200
6.1
3
1
2-21

PIT
C/ATT
YDS
AVG
TD
INT
SACKS
Roethli...
23/39
349
8.9
3
0
3-21
Scoring Summary
FIRST QUARTER
MIA
PIT
TD
04:20
Emmanuel Sanders 5 Yd Pass From Ben Roethlisberger (Shaun Suisham Kick)
0
7
FG
00:40
Caleb Sturgis 30 Yd
3
7
SECOND QUARTER
MIA
PIT
TD
08:15
Charles Clay 6 Yd Pass From Ryan Tannehill (Caleb Sturgis Kick)
10
7
THIRD QUARTER
MIA
PIT
TD
10:50
Daniel Thomas 4 Yd Run (Caleb Sturgis Kick)
17
7
TD
08:58
Antonio Brown 43 Yd Pass From Ben Roethlisberger (Shaun Suisham Kick)
17
14
TD
08:05
Troy Polamalu 19 Yd Interception Return (Shaun Suisham Kick)
17
21
TD
04:52
Brian Hartline 4 Yd Pass From Ryan Tannehill (Caleb Sturgis Kick)
24
21
FOURTH QUARTER
MIA
PIT
TD
14:56
Jerricho Cotchery 16 Yd Pass From Ben Roethlisberger (Shaun Suisham Kick)
24
28
TD
02:53
Charles Clay 12 Yd Pass From Ryan Tannehill (Caleb Sturgis Kick)
31
28
FG
01:08
Caleb Sturgis 27 Yd
34
28
Research Notes
Ryan Tannehill
was 8-of-10 with 3 touchdowns passing inside the red zone Sunday. It's just the second time in the last five seasons the Steelers have allowed 3 passing touchdowns inside the red zone.
Ryan Tannehill
was 0-of-2 targeting
Mike Wallace
15 yards or more downfield Sunday. The duo entered the week completing 23.3% of those attempts, second-worst of any combination with at least 20 attempts (
Tom Brady
to
Aaron Dobson
, 22.7%).
Ben Roethlisberger
completed 46.5% of his attempts to Wallace 15 yards or more downfield from 2009 to 2012, with an NFL-high 20 touchdowns.
ESPN Stats & Information